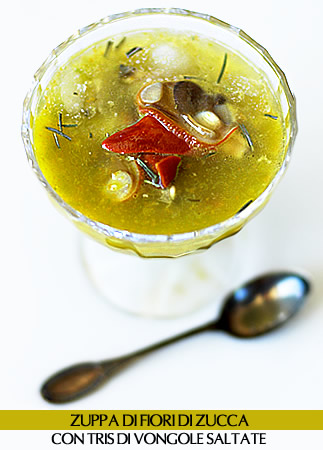 Per settimane mi sono ostinata a non accendere l'aria condizionata e a salvare quel poco di pianeta che è ancora salvabile. Ma ieri mi sono detta "Fiordì, o salvi il mondo o crepi di caldo". E così mi sono decisa e l'ho accesa. O almeno credevo di averla accesa fino a che non mi sono accorta che invece di aria fredda, il fattapposta sputava aria tiepida! L'aria condizionata che si ribella alla mia non più ostinazione di salvare il pianeta!
Per fortuna il tecnico me l'ha riparata in meno di 24 ore (Ah, che efficienti questi italiani!) così oggi bella fresca fresca posso finalmente stare seduta al computer senza grossi drammi.
Quindi come promesso, ecco la mia ricetta con i fiori di zucca. Una versione insolita ma decisamente estiva per temperature esotico-tropicali. Si tratta di una zuppetta fredda (nella foto in alto se notate ho anche aggiunto del ghiaccio, facoltativo) decorata con vongole saltate al rosmarino.
Le vongole sono anch'esse facoltative, la zuppa è deliziosa già gustata così al naturale e le varianti possono essere tante: più o meno speziata, con o senza zafferano, calda, fredda o bollente.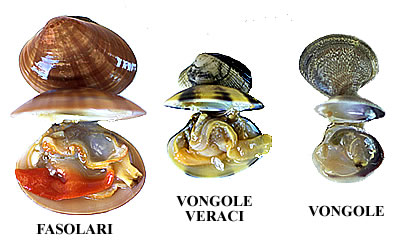 Le vongole veraci non le mangiavo da secoli e nonostante c'è chi dice che quelle normali siano più buone, io queste le ho adorate! Sarà che erano belle fresche e corpose, ma avevano un gusto tutto di vongola verace, proprio così!

Veràce

1 (lett.) che ha in sé verità, che è fonte di verità: Segnor mio Iesù Cristo, Dio verace (DANTE Par. XXXI, 107)
2 che risponde al vero; non falso, non ingannevole: parole veraci; amicizia verace | di persona, che dice il vero, che non dissimula: testimone verace
3 (region.) genuino, di sicura origine: pomodori veraci; un napoletano verace

Ingredienti per 4 persone
una decina di fiori di zucca
1 cipolla piccola
1 patata media
brodo vegetale
2 bustine di zafferano
200gr di misto vongole tra fasolari, vongole veraci e vongole
olio
burro
rosmarino
1 spicchio d'aglio

sale e pepe
Rosolate la cipolla tagliate fine con un po' di burro. Aggiungete i fiori di zucca tagliati a metà, la patata tagliata a dadini e un po' di brodo vegetale. Fate cuocere per qualche istante fino a quando la patata non si sarà ammorbidita. Aggiungete le bustine di zafferano, mescolate bene, aggiustate di sale e pepe e spegnete.
In un'altra padella soffriggete leggermente uno spicchio d'aglio e 1 cucchiaio di rosmarino tritato con un po' di olio. Versate le vongole e fatele saltare fino a quando non si saranno aperte.
Passate la zuppa nel mixer ed aggiungete più o meno brodo per ottenere la densità desiderata. Versate nei piatti e decorate ognuno con un cucchiaio di vongole. Guarnite con fiori di zucca o rosmarino a piacere.


Sognando:
so
gnare
fiori colorati
indica sentimenti corrisposti; sognare
fiori freschi
indica circostanze imprevedibili; sognare
fiori finti
indica danni e ostacoli; sognare di
comprare fiori
indica vita tranquilla; sognare di
regalare fiori
indica soddisfazioni sentimentali; sognare di
coltivare fiori
indica rottura di rapporti; sognare di
ricevere fiori
indica fedeltà nell'amicizia.

Haiku:
Salta la rana - è di carta piegata - un origami (Frank)


Archiviando:
clicca qui per scaricare questa ricetta in formato .pdf
---
English please:
Courgette flowers soup with tris of clams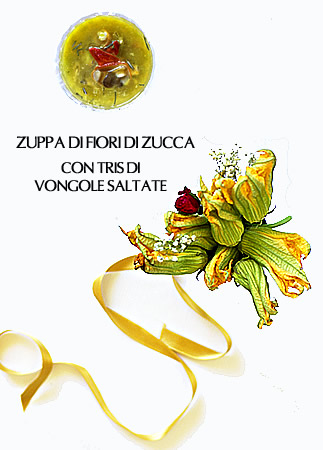 Ingredients for 4 people


about 10 courgette flowers

1 small onion

1 medium potato

vegetable stock
2 pinches of saffron or 2 small pinches of saffron in powder

200gr mixed clams

olive oil

butter
1 garlic clove

1 Tbsp chopped dried rosemary
salt and pepper

Gently fry the chopped onion with a bit of butter. Add the courgette flowers cut into half, the chopped potatoes and a bit of vegetable stock. Cook for a few minutes until the potato is tender. Add the saffron, adjust with salt and pepper.
In another pan, gently fry a garlic clove with the chopped rosemary and olive oil. Add the clams and sautè them until they are open but not overcooked.
Pour the soup into a mixer and add more or less stock accordingly to your dentisy preferences. Pour into plates or cups, add the sauted clams and decorae with courgette flowers or rosemary. Serve cold or warm.