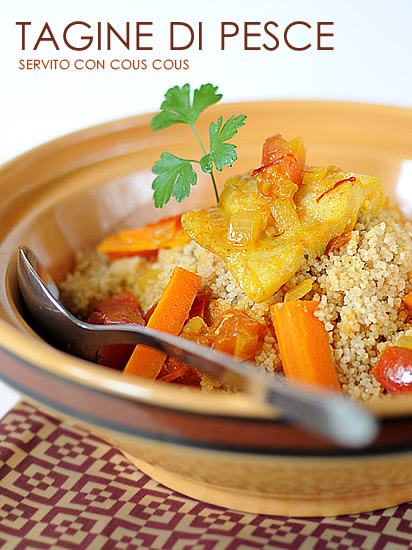 Una delle prime volte che ho mangiato una ottima tagine è stato nel sud del Portogallo, qualche anno fa, in un ristorante marocchino. Da allora ho sperimentato con diverse ricette soprattutto di
carne di manzo
o di agnello, ma con il pesce non avevo ancora mai provato. La tagine per definizione è proprio il nome del piatto, a forma di cono rovesciato, in cui soprattutto i nord africani usano cucinare. Se avete un forno capiente (non come il mio alto quanto una gazzosa) potete cucinare il tutto in forno e direttamente nella tagine, aggiustando i tempi di cottura a quelli che solitamente utilizzereste per cucinare il pesce. Alcune tagine moderne hanno il fondo con un certo spessore di metallo in modo da permettere di rosolare e soffriggere alcuni ingredienti base prima di passare il tutto in forno. In alternativa, una pentola normale andrà più che bene, dato che il filetto di pesce non richiede una cottura particolarmente lunga.
Ingredienti per 1 persona

1 filetto di merluzzo
2 carote
2 pomodori
una cipolla piccola
1 spicchio d'aglio
mezzo cucchiaino di paprika
mezzo cucchiaino di cumino in polvere

mezzo cucchiaino di coriandolo in polvere
mezzo cucchiaino di curcuma in polvere
qualche filo di zafferano
olio
sale, pepe
coriandolo o prezzemolo fresco per decorare


Ingredienti per il cous cous

50gr di cous cous
50ml di acqua
1 pizzico di cannella in polvere
1 pizzico di sale
1 cucchiaino di olio


In una padella soffriggete lo spicchio d'aglio con la cipolla e tutte le spezie. Lasciate che gli odori si mescolino tra di loro per qualche istante poi aggiungete i pomodori tagliati a cubetti, cuocete per qualche minuto poi aggiungete le carote tagliate per il lungo e mescolate bene aggiustando di sale e pepe. Tagliate il filetto di pesce a pezzi e adagiatelo sopra il soffritto e le carote. Versate mezzo bicchiere d'acqua e cuocete a fuoco basso per circa 15 minuti. A parte cuocete il cous cous. In un contenitore fondo versate il cous cous, la cannella, l'olio e il sale. Mescolate con una forchetta poi coprite con acqua bollente e coprite il contenitore per circa 10 minuti. Dividete il cous cous con una forchetta e servitelo con il filetto di pesce decorando con foglie di prezzemolo o coriandolo fresco.


Sognando:
so
gna
re una
pianta di zafferano
indica grandi illusioni; sognare
zafferano in polvere
indica trionfo su difficoltà; sognare di
comprare zafferano
indica proposte da rifiutare; sognare di
condire con lo zafferano
indica azioni stravaganti.

Parolando:
Il termine
zafferano
deriva da Za'faran parola dell'Africa settentrionale (in arabo Jafaran). Entrambe si rifanno al persiano antico Sahafaran, radice Asfar, che significa 'giallo'. Nell'antico Egitto si credeva che chi aveva subito un furto, bruciando zafferano, potesse vedere l'immagine del ladro. Omero lo cita insieme al loto ed al giacinto come ornamento del letto di nuvole di Zeus.

Archiviando:
clicca qui
per scaricare questa ricetta in formato .pdf
English please
Fish tagine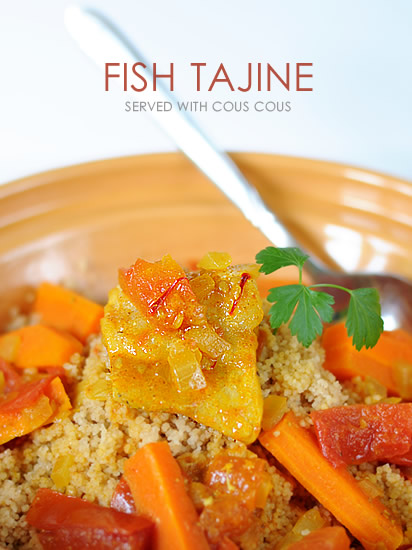 Ingredients for 1 person

1 white fish fillet
2 carrots
2 tomatoes
1 small onion
1 garlic clove
half tsp paprika
half tsp cumin powder

half tsp coriander powder
half tsp turmeric powder
some saffron threads
olive oil

salt, pepper
fresh coriander or parsley to garnish


Ingredients for the cous cous

50gr cous cous
50ml water
1 pinch cinnamon
1 pinch salt
1 tsp olive oil


Chop the onion and gently fry it in a saucepan with a bit of olive oil, garlic clove and spices. Dice the tomatoes and add them. Cook for a few minutes. Slice the carrots and mix them to the sauce, adjust with salt and pepper and mix well. Cut the fish in small chunks and lay them on top of the carrots. Cover with half glass of water and cook with a lid on for about 15 minutes or until carrots are tender. Prepare the cous cous aside by boiling some water. Mix cous cous, cinnamon, olive oil and salt and mix well. Cover with hot boiling water and leave to stand covered with a lid for 10 minutes. Divide the cous cous with a fork and serve it with the fish tagine. Garnish with fresh coriander or parsley leaves.