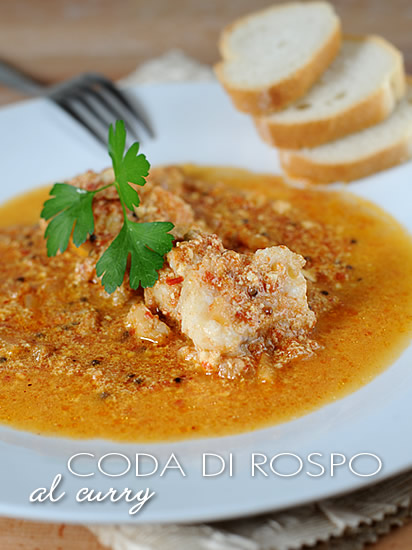 La coda di rospo, che bontà! In vita mia l'ho mangiata poche volte, forse perché non sapevo fosse così buona, né esattamente sapevo come cucinarla. Forse mia mamma cuoceva questo pesce, dall'aspetto più che sgradevole, aggiungendolo nella zuppa di pesce, ma ne ho un ricordo piuttosto vago. Durante la mia abituale visita dal mio pescivendolo di fiducia, (
n.d.r. Fresh Fish From Around The World, 111, Stoke Newington Hight Street, N16 0PH
) mi sono imbattuta in un piccolo ma sostanzioso trancio di pesce monaco. Chissà perché gli inglesi lo chiamano pesce monaco e noi coda di rospo. Fatto sta che è il pesce più costoso del banco, se non consideriamo i crostacei come l'aragosta o il granchio, ma tutto sommato ne vale la pena. Un pezzo è finito in insalata, con cipolla e pomodori freschi tagliati a dadini e tanto olio pugliese (biologico, che mio padre ci tiene a dirlo); quel che è avanzato ho voluto provare a cucinarlo con questa salsa speziata e gustosa al curry. Da riprovare con altri tipi di pesce che non si sfaldano, e magari costano anche meno, come per esempio il baccalà.
Ingredienti

200gr di coda di rospo tagliata a pezzetti
1 cipolla media
1 spicchio d'aglio
1 cucchiaino di peperoncino secco
150gr di yogurt naturale
150ml di acqua calda

2 cucchiai di passata di pomodoro
1/2 cucchiaino di garam masala in polvere
1/2 cucchiaino di cumino in polvere
1/2 cucchiaino di curry in polvere
1/2 cucchiaino di paprika
1 cucchiaino di semi di mostarda
olio d'oliva
sale, pepe
coriandolo o prezzemolo per decorare

Riscaldate un cucchiaio di olio in una padella. Aggiungete i semi di mostarda, coprite con un coperchio e lasciate tostare per un paio di minuti finché i semi non inizieranno a scoppiettare. Aggiungete la cipolla, poi il peperoncino, l'aglio e soffriggete a fuoco medio per qualche minuto. In una scodella a parte riunite lo yogurt naturale insieme all'acqua calda e alle spezie rimaste e mescolate bene. Se lo yogurt che usate non ha molta consistenza non aggiungete l'acqua. Versate il composto di yogurt nella padella insieme alla passata di pomodoro. Aggiustate di sale e pepe, portate ad ebollizione e cuocete per qualche minuto finché la salsa non si sarà rappresa un po'. Aggiungete la coda di rospo tagliata a pezzetti, cuocete per qualche minuto mescolando bene alla salsa e servite con pane o riso basmati, decorando con prezzemolo o coriandolo fresco.


Sognando:
so
gna
re un
rospo in casa
indica capricci momentanei; sognare un
rospo in strada
indica interessi contrastati; sognare un
rospo che salta
indica notizie strane; sognare di
vedere un rospo
indica inganno d'amore.

Parolando:
Con il termine
rospo
si indica una delle due forme base degli anuri - dal greco
an
=senza e
oura
=coda. Il termine deriva dal nome di una delle caratteristiche principali, oltre alla maggiore dimensione, che distingue il rospo dalla rana: la pelle che è bitorzoluta, ruvida, asciutta e dura; e da qui la parola latina
rusp
che significa appunto, essere ruvido, rigido, duro.

Archiviando:
clicca qui
per scaricare questa ricetta in formato .pdf
English please
Monkfish in curry sauce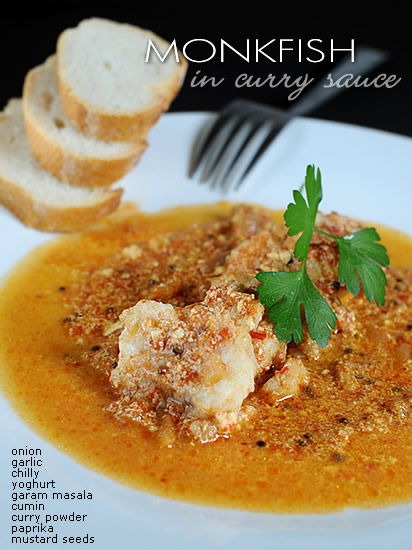 Ingredients

200gr monkfish cut into chunks
1 small chopped onion
1 chopped garlic clove
1 tsp dry chilly
150gr natural yoghurt
150ml hot water
2 Tbsp plain tomato sauce
1/2 tsp garam masala
1/2 tsp ground cumin
1/2 tsp curry powder
1/2 tsp paprika
1 tsp mustard seeds
olive oil
salt, pepper
coriander for garnish


Heat a table spoon of olive oil in a non-stick saucepan. Add the mustard seeds, cover with a lid and leave for a couple of minutes until the seeds start to pop. Add the chopped onion, dry chilly and garlic, sautè for a few minutes. In a bowl aside, mix together the yogurt, hot water and spices. Add the mixture to the saucepan along with the tomato sauce. Bring to a boil then simmer for a few minutes. Finally add the chopped monkfish and cook for a few minutes until cooked through. Adjust with salt and pepper and serve garnished with parsley or fresh coriander leaves. Serve with bread or basmati rice.