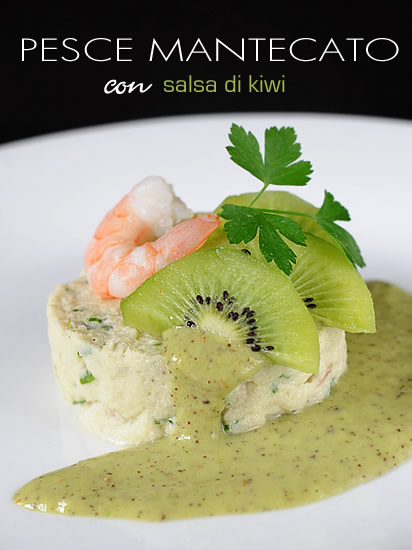 Sono nel mio periodo sperimentale, nonché confusionale, nonché. Cercavo dei mirtilli blu, poi del cioccolato bianco, poi dei lamponi per farci un'altra cosa che magari farò ugualmente, ma mi sono capitati i kiwi sott'occhio, in una piccola cassetta sul lato sinistro del bancone di frutta e verdura. Non entrano quasi mai nel mio cestino della spesa, chissà perchè. Eppure, 3 kiwi 1 sterlina, se non ricordo male. Il prezzo mi pare anche politico. Mi ricordo una volta, tanti anni fa, qualcuno mi disse che mangiare i kiwi insieme alla loro buccia faceva bene, che era ricca di vitamine e che si poteva mangiare benissimo. Chi me lo disse, dimenticò di dire che per mangiare la scorzetta dei kiwi, bisognava prima spazzolarli per bene per eliminare le micro spine. Beh, immaginatevi voi l'effetto che fa la scorza di un kiwi sulla lingua. Un piccolo trauma che però non mi ha impedito di avventurarmi, sia nell'acquisto che nella preparazione di una ricetta dall'abbinamento bizzarro. Ad onor del vero, ho trovato più interessante l'abbinamento con i gamberi e i kiwi, ma servito a piccole dosi, per i palati più avventurosi, anche il pesce ci sta.

Ingredienti


filetto di pesce bianco tipo merluzzo
prezzemolo
olio d'oliva
kiwi
sale, pepe
gamberi a piacere


Cuocete il pesce a vapore e frullatelo insieme al prezzemolo aggiungendo olio d'oliva a filo finché non avrete ottenuto un composto morbido. Sbucciate i kiwi e frullateli insieme ad un po' di olio d'oliva, sale e pepe. Servite il pesce mantecato con la salsina di kiwi e decorate con prezzemolo e gamberi cotti sgusciati.


Sognando:
so
gna
re un
prato verde
indica invito gradito; sognare un
tessuto verde
indica progetti entusiasmanti; sognare un
vestito verde
indica trattative laboriose; sognare una
pianta verde
indica riconoscimento meritato; sognare di
essere al verde
indica fantasticherie inutili.

Parolando:
Con il termine
mantecare
si definisce il mescolare un qualsiasi ingrediente con burro, olio o strutto fino ad ottenere un composto cremoso. La parola deriva dall'arabo
mantaco
(sacco di pelle) con il quale gli arabi preparavano il burro. Col tempo lo stesso nome venne usato per definire il burro e tutti gli altri grassi usati per condire.

Archiviando:
clicca qui
per scaricare questa ricetta in formato .pdf
English please
Whitefish with kiwi sauce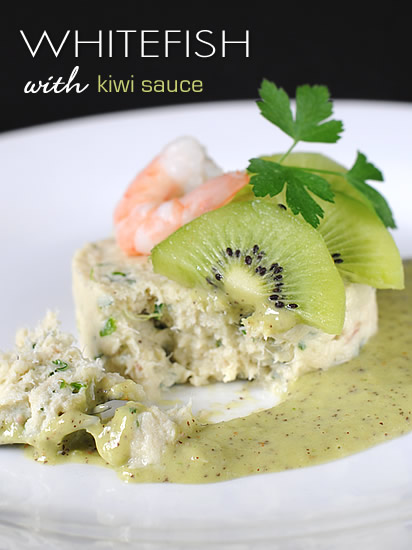 Ingredients


whitefish fillet
parsley
olive oil
kiwi
salt, pepper
shrimps to taste


Steam the whitefish fillet, blend it with parsley and olive oil until you get a smooth mixture. Remote the skin from the kiwi fruit, mix them with a bit of olive oil, salt and pepper. Serve the whitefish the kisi sauce and boiled or steamed shrimps to taste.