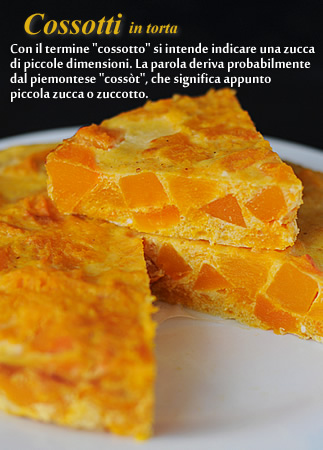 Un amante della zucca come me, non poteva di certo esimersi dal provare questa ricetta. L'ho trovata sfogliando questa bellissima enciclopedia che già dalla copertina prometteva bene, una a caso, la prima che mi è balzata all'occhio e che ho voluto subito provare. I libri di cucina in generale senza foto mi scoraggiano notevolmente e nonostante tutta la buona immaginazione, non riesco proprio a farmeli piacere, manca quel non so che che ti fa venire voglia di provare quella determinata ricetta. Non vedi, non percepisci, non riesci ad andare oltre gli ingredienti insomma.
La ricetta in questione proviene dal Monastero di Santa Maria della Neve a Torrechiara, in provincia di Parma. Nello stesso Monastero si produce miele che poi viene usato per la realizzazione di cosmetici, unguenti per scottature e antireumatici, collutori e tisane su ricette dell'antica farmacia di San Giovanni, a Parma.
Le ricette sono tante e tutte corredate da bellissime foto. Interessantissime quelle più semplici come gli Gnocchi ripieni di carne, gli Strichetti con i carciofi, la Zuppa di uova e pancetta e la Pasta dell'ostensorio, un dolce tipico preparato utilizzando tanto vino bianco.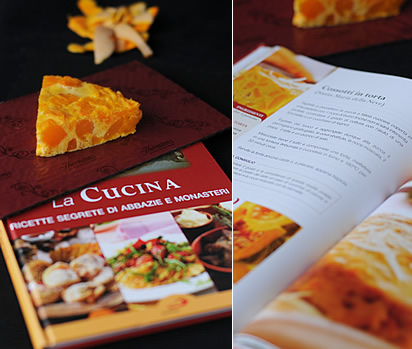 (Pubblicità)
Tutte queste ed altre interessanti informazioni le potete trovare in edicola dall'8 maggio con Famiglia Cristiana. In allegato troverete l'Enciclopedia del Mangiar Sano: Ricette Segrete di Abbazie e Monasteri. Otto libri inediti con le antiche ricette di una tradizione bimillenaria di una cucina rinomata per genuinità e proprietà benefiche. Prima uscita: LA CUCINA. Poi L'ORTO, la CANTINA, le TISANE, LA CUCINA DEI PELLEGRINI, LA CUCINA DEI PAPI, LA CUCINA DEI SANTI, LA CUCINA POVERA.
(Fine Pubblicità)
Ingredienti


400gr di zucca
3 uova
3 cucchiai di latte
40gr di burro
3 cucchiai di parmigiano grattugiato
noce moscata
sale, pepe


Tagliate la zucca a pezzettoni e cuocete con il burro in una padella antiaderente finché non si sarà intenerita. Togliete dal fuoco e aggiungete il parmigiano grattugiato, le uova sbattute, la noce moscata, latte, sale e pepe. Mescolate bene il tutto e mettete in una tortiera imburrata di circa 23cm con il fondo estraibile. Infornate a 180 C per 30 minuti circa. Servite calda o tiepida.

Sognando:
so
gnare una padella
di ferro indica dispersione di forze; sognare una padella di rame indica decisione da prendere; sognare una padella con olio indica trascuratezza pericolosa; sognare una padella con burro indica buona salute; sognare di lavare una padella indica intima ribellione; sognare di comprare una padella indica previdenza.



Due monaci pregano senza sosta, uno è corrucciato, l'altro sorride. Il primo domanda: "Com'è possibile che io viva nell'angoscia e tu nella gioia se entrambi preghiamo per lo stesso numero di ore?" L'altro risponde: "Perché tu preghi sempre per chiedere e io prego solo per ringraziare."
(Alejandro Jodorowsky
)

Archiviando:
clicca qui per scaricare questa ricetta in formato .pdf
---
English please:
Pumpkin cake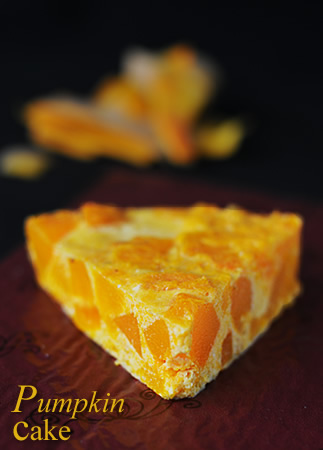 Ingredients


400gr pumpkin flash

3 eggs

3 Tbsp milk
40gr butter
3 Tbsp grated parmesan cheese
nutmeg
salt, pepper


Chop the pumpkin and cook it with the butter in a saucepan with a lid on until tender. Remove from heat then add beated eggs, nutmeg, milk, salt and pepper. Mix well and pour everything in a lightly buttered oven tin of 23cm diameter. Bake at 180 C for about 30 minutes. Serve warm or cold.