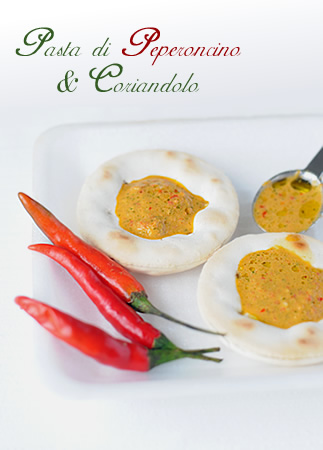 Qualche giorno fa, l'ennesimo Bank Holiday. Mia madre mi domanda: ma che festa è? Io rispondo: è la festa di primavera, non si capisce esattamente perché caschi in questo periodo visto che piove, ma quel che è sicuro è che non si lavora. Guarda caso dopo tanti giorni di ciel sereno, il Bank Holiday casca nei giorni peggiori della settimana. Sabato è l'unico giorno di sole secondo le previsioni meteo. Ne approfitto per fare un salto sul Tamigi e vedere che si combina di bello alla
Tate Gallery
e dintorni.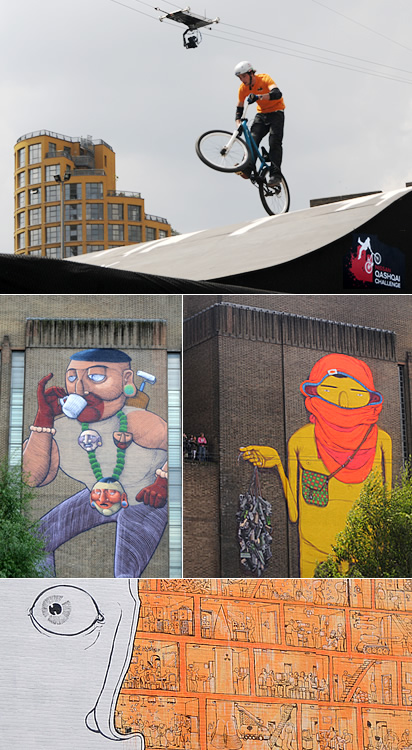 Domenica e lunedì invece, pioggia continua e del tipo più antipatico: quella che non piove esattamente, ma pioviggina fitto fitto che sei comunque costretta a portare l'ombrello ma siccome c'è anche un gran vento è una battaglia persa in partenza. L'ideale per starsene a casa insomma. E invece no, lo
Chef avventuroso
, che altrimenti non sarebbe, dice che è il giorno giusto per andare a fare un po' di shopping. Ma sei sicuro? Piove! Il mio ombrello è scassato, le mie scarpe non ne parliamo. Si si, non ti preoccupare, è solo acqua!
Ce ne andiamo in giro per Camden Town alla ricerca di niente, così tanto per gradire e fare due chiacchiere e due passi in generale, sotto la pioggia. Mangiamo un po' di cous cous in un piccolo take away marocchino che di marocchino a parte il cous cous niente male ha molto poco, visto che dall'altra parte della chioschetto viene pompata musica house a tutto volume. Ma lo chef avventuroso è anche un grande ottimista. Andiamo a Cina Town?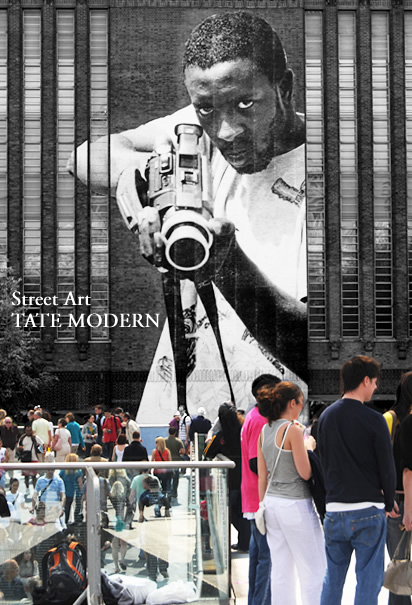 Le mie scarpe, quelle della cosiddetta primavera, sono già ad un livello di inzuppamento notevole. Ma
è solo acqua
e ci avventuriamo verso Oxford Circus e poi da lì a piedi verso Soho. Peccato che tra me e lui, a dire il vero più me che lui, non imbrocchiamo la strada giusta, (perché in realtà sono io a guidarlo, del tipo
dai vieni di qui che ti ci porto io a Cina Town!
) e dopo aver camminato ed inzuppato ancora i piedi nell'acqua per dieci minuti buoni, ci ritroviamo nuovamente ad Oxford Street. Abbiamo fatto il giro dell'oca insomma. Ci fermano due straniere e ci chiedono indicazioni su China Town. Proprio a noi. Rispondiamo che è proprio nella direzione in cui stiamo andando. Loro invece ci dicono che sono appena arrivate da lì e non c'è traccia di cinesi. Alla fine sono loro a dirci che dobbiamo tornare indietro e l'odore di anatre arrosto e salsicce e altra roba ben poco identificabile, portano i nostri nasi e tutto il resto, alle porte della Città Cinese.
Ivano già conosce qualche piccolo market cinese e ci avventuriamo all'interno. C'è di tutto e di più: dalle spezie alle verdure, dalla carne al pesce, lingue di maiale, orecchie di maiale, interiora di chi lo sa chi, teste di pesce e chissà che altro. Più che un mini market sembra un museo degli orrori. Il mio umore sta giusto sotto i piedi e non riesco a concentrami su niente tranne che al rumore
ciccheccìo
che le mie scarpe producono ad ogni passo.
Lo Chef Avventuroso conosce tutto. Ma come fa? E' tutto scritto in cinese! Dal pandan (non quello che fa pandan con quell'altro) al pepe fresco in grani, al basilico thai, dal kitchenware ai tè. Impressive! Un vero portento della natura, insomma non a caso è uno Chef. Neanche lo shopping riesce a consolarmi, l'unica cosa che riesco a comprare, forse attratta dal colore solare, dal fatto che mi ispirano calore, sono proprio dei piccoli peperoncini rosso fuoco.
Ci lasciamo le porte cinesi e le lingue di porco alle spalle e dopo qualche passo ci ritroviamo in una Tea Room davanti ad una tazza calda di
Lapsang Souchong
, tanto per restare in tema Cina, e da li, con il mio
cicchecchìo
me ne torno a casa a continuare il pediluvio nella vasca da bagno.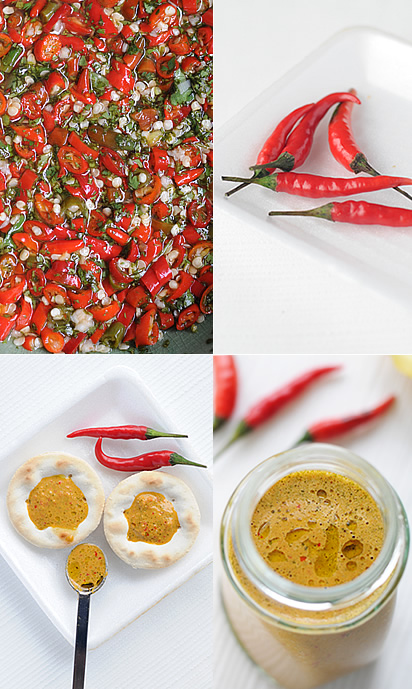 Dopo il pediluvio ho guardato questi peperoncini intensamente e dopo un breve colloquio abbiamo deciso che era un peccato lasciarli seccare, così ho pensato di farne una pasta super piccante da utilizzare all'occorrenza come mi pare. Come base per un soffritto, per condire un cous cous dell'ultimo momento, per le zuppe, per condire la carne o il pesce. Il coriandolo dà un sapore distintivo, ovviamente si può sostituire con il prezzemolo ma ne risulterà una pasta un po' meno esotica. Piccante al punto che farebbe sudare anche i cavalli, come direbbe mio padre. Da usare quindi con molta moderazione.
Ingredienti


100gr di peperoncini rossi piccanti
il succo di 2 limoni
2 cucchiaini di zucchero
2 cucchiaini di sale
3 cucchiai di coriandolo fresco tritato
1 spicchio d'aglio
olio di oliva


Portate ad ebollizione un po' di acqua. Mettete i peperoncini in una scodella capiente, coprite con acqua calda e lasciate in ammollo per 5 minuti. Scolateli dall'acqua ed asciugate i peperoncini con un panno pulito. Eliminate i gambi e tagliate i peperoncini senza eliminarne i semi. Mettete in una ciotola insieme al succo di limone, coriandolo tritato finemente, lo zucchero, il sale e lo spicchio d'aglio tritato. Coprite e mettete in frigo a riposare per una notte. La mattina successiva con un frullatore ad immersione frullate il tutto aggiungendo olio d'oliva quanto basta ad ottenere un composto omogeneo. Mettete in vasetti di vetro, coprite con un filo d'olio e riponete in frigo usandolo all'occorrenza.

Sognando:
so
gnare
peperoni rossi indica socievolezza e simpatia; sognare peperoni freschi indica propositi oscillanti; sognare di mangiare peperoni indica fastidi di breve durata.



Un giorno mi lamentavo perché non avevo le scarpe nuove, poi vidi un uomo senza piedi e smisi.
(Jim Morrison
)

Archiviando:
clicca qui per scaricare questa ricetta in formato .pdf
---
English please:
Red hot chilli and coriander paste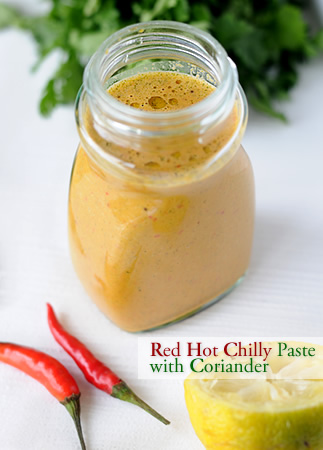 Ingredients


100gr red hot chilli

juice of 2 lemon
2 tsp sugar
2 tsp salt
3 Tbsp fresh chopped coriander
1 garlic clove

extra virgin olive oil


Soak the red chilli in boiling water for about 5 minutes. Drain them from the water and pat dry with a clean cloth. Cut the chilli without removing the seeds, put them in a bowl with the lemon juice, sugar, salt, chopped coriander and garlic. Give it a mix and rest in the fridge overnight. The day after, put everything in a mixer and blend adding olive oil until you reach the consistency you want. Place it in glass jars, cover with a drizzle of more olive oil and store in the fridge until you are ready to use it.