A volte dietro un piatto o una ricetta si nasconde una storia, certe volte semplicemente niente. Questa è una di quelle volte di niente, in cui sullo scaffale hai una confezione di lasagne e quel che resta di una busta di lenticchie verdi. Sempre loro, le stesse della
zuppa con gli spinaci
, ne sono avanzate abbastanza da sfamare un mezzo esercito, mentre le lasagne le avevo comprate qualche settimana fa per farci tutt'altra cosa, ma vuoi per questo e vuoi per quell'altro, quello che volevo fare per ora mi è passato di mente.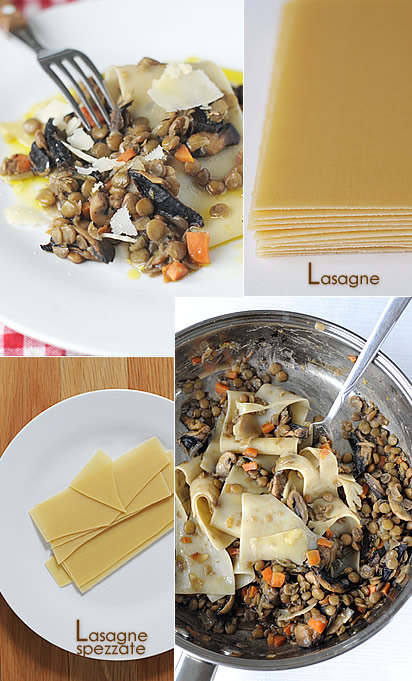 Ho messo insieme le due cose ed è venuto fuori un piatto molto povero dal punto di vista economico, il fruttivendolo mi ha fatto persino lo sconto sui funghi pagati circa 40 pence, ma ricco a livello nutrizionale. In totale il tutto non costa più di 2 sterline, incluso le scaglie di parmigiano rigorosamente made in Italy. Qualcuno spesso mi ha fatto notare la mia smisurata passione per l'olio. Quando si parla di olio crudo per me vale sempre il detto:
m
eglio abundare quam deficere
. In generale mi tengo molto bassa con le quantità di olio quando faccio il soffritto e poi mi scateno alla fine usando olio buono e rigorosamente a crudo. Il gusto ci guadagna. Buona mese di Giugno!
Ingredienti

50gr di lenticchie verdi

50gr di funghi champignon
1 foglia d'alloro

1 carota
1 cipolla piccola
1 spicchio d'aglio
lasagne secche spezzettate in due

formaggio a piacere

sale, pepe, olio

Cuocete le lenticchie in acqua non salata, assieme ad una foglia di alloro e ad uno spicchio di aglio. A parte, soffriggete la cipolla in un po' di olio, poi aggiungete le carote tagliate a dadini ed infine i funghi. Quando le lenticchie saranno cotte, aggiungetele al soffritto, aggiustate di sale e pepe. A parte cuocete le lasagne spezzate in due. Scolatele e versatele nella padella con le lenticchie, amalgamando il tutto con un po' di acqua di cotture delle lenticchie. Condite con olio a crudo e scaglie di parmigiano grattugiato.


Sognando:
so
gnare funghi
crudi indica carriera difficile; sognare funghi cotti indica indecisione pericolosa; sognare funghi secchi indica ostacoli imprevisti; sognare funghi velenosi indica amore contrastato; sognare di mangiare funghi indica orgoglio esagerato.



Lo mettevo dappertutto. Cominciavo la mattina sommergendo il mio pane tostato in un piatto con dell'olio d'oliva dove nuotava una moltitudine di acciughe. La considerevole quantità, che rimaneva nel piatto, la bevevo direttamente come fosse un liquido prezioso. Alla fine ne versavo le ultime gocce sulla testa e sul petto. Mi sfregavo i capelli che tornavano a crescere con rinnovato vigore e tanto forti da rompere i pettini.
(Salvador Dalì
)

Archiviando:
clicca qui per scaricare questa ricetta in formato .pdf
---
English please:
Lasagne with lentil and mushrooms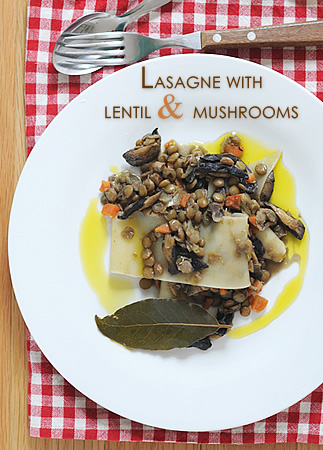 Ingredients

50gr green lentil

50gr champignon mushrooms

1 bay leave

1 carrrot
1 small onion
1 garlic clove
dry lasagne sheets cut in half

grated parmesan cheese to taste

salt, pepper, olive oil

Cook the lentil in unsalted water with one bay leave and a clove of garlic. In another pan, gently fry the chopped onion, carrot and mushrooms. When the lentils are cooked, add them into the pan and mix all together. Adjust with salt and pepper and set aside. Cut the lasagne in half, cook them in salted boiling water, drain them al dente and toss in the pan with the lentils. Serve with extra virgin olive oil and grated parmesan cheese to taste.