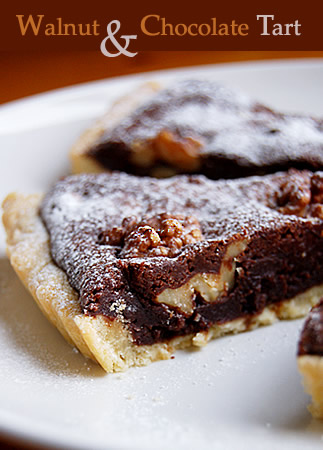 Le crostate sono la mia passione, si sará capito. Semplici da preparare, con mille modi di riempirle e buone per ogni occasione. Le noci sono di stagione e come gran parte della frutta secca, si sposano benissimo con il cioccolato e con il cacao.

Ingredienti per la pasta: 200gr di farina, 100gr di burro, 1 uovo, acqua fredda
Ingredienti per il ripieno: 50gr di farina, 4 cucchiai di cacao amaro, 100gr di zucchero muscovado, 100gr di zucchero, 120gr di burro, 2 uova, 1 cucchiaino di estratto di vaniglia, 150gr di noci sgusciate, zucchero a velo per servire

Preparate la pasta della crostata mescolando tutti gli ingredienti con un mixer elettrico. Mixate fino a quando non si sará formata una palla compatta, aggiungete acqua fredda se necessario. Avvolgete la pasta nella pellicola trasparente e lasciate in frigo per 30 minuti.
Per il ripieno mescolate la farina setacciata con il cacao. Aggiungete lo zucchero, le uova, il burro sciolto, la vaniglia ed infine incorporate 100gr di noci.
Stendete la pasta all'interno di una teglia per crostate di circa 22/24cm di diametro. Versate il ripieno, livellate con una spatola ed infine arrangiate le restanti noci a raggiera.
Infornate a 190 C per circa 30 minuti o fino a quando non il ripieno non sará cotto e la crostata non si sará arrossata. Fate raffreddare e decorate con zucchero a velo.


Sognando:
sognare zucchero indica i piaceri e le gioie che vi state negando nella vita reale. Dovete essere piú indulgenti con voi stessi dimenticandovi delle conseguenze; sognare di vedere o mangiare un cubetto di zucchero indica che é arrivato il momento di essere meno seri e dare piú vita alle vostre giornate.



Naturalmente:
La noce che comunemente chiamiamo e conosciamo come frutto o gheriglio è in realtà il seme dell'albero del noce (Juglans regia). Di questo possente e vigoroso albero si utilizza un pò tutto: in fitoterapia le foglie raccolte tra maggio e agosto, il mallo (l'involucro che ricopre la noce) quando verde e fresco e poi in cucina si utilizza e si gusta il "frutto" secco. Il noce è ricco di vitamine A, PP e gruppo B, oli e tannino ed ha proprietà toniche, digestive, stomachiche, ipoglicemizzanti, antiinfiammatorie e antisettiche. Il frutto secco è estremamente nutriente (650kcal per 100gr) e contiene inoltre l'acido alfa-linoleico (della famiglia degli acidi grassi omega-3) e sali minerali (zinco, rame). L'infuso delle foglie è d'aiuto in caso di stanchezza e anemia, per depurare l'organismo e per aiutare le digestioni difficili. Sempre con le foglie possiamo preparare un decotto che aiuta a prevenire la forfora e la caduta dei capelli (5 gr di foglie in un litro d'acqua da far bollire insieme
per 5 minuti) da utilizzare dopo lo shampoo o anche sotto forma di compresse per alleviare le pelli arrossate e irritate. In cosmesi viene usato il mallo di noce per le sue proprietà coloranti, sia in creme abbronzanti che per colorare di bruno i capelli. Volendo, se vogliamo dare un riflesso più castano alla nostra chioma, possiamo preparare in casa un decotto con 20gr di mallo di noce, 1dl d'acqua e 30 gr di alcol puro, facendo bollire per 15/20 minuti. Usate questo decotto per frizionare i capelli dopo lo shampoo.

Haiku:
Del cioccolato - aveva il sapore - e bruna pelle
(Frank)

Cuore di noce - rivestito di mallo - cresci silente
(Pib)
---
English please:
Walnut and chocolate Tart
Ingredients for the dough:200gr flour, 100gr butter, 1 egg, cold water

Ingredients for the filling:50gr flour, 4 Tbsp cocoa powder, 100gr dark muscovado sugar, 100gr caster sugar, 120gr butter, 2 eggs, 1 tsp vanilla extract, 150gr walnuts, icing sugar to decorate

Mix all the ingredients for the dough with an electric mixer until they all come together. Add cold water if needed. Take it out from the mixer, give it the shape of a ball, wrap it into cling film and put into the fridge to rest for about 30 minutes.

For the filling mix the sifted flour and cocoa powder together. Stir in sugar, beated eggs, melted butter, vanilla and finally 100gr of walnuts.
Spread the dough into a tarte tin about 22/24cm large. Pour the filling and decorate the top with the remaining walnuts.
Bake at 190 C for about 30 minutes or until the filling is set and the crust goldish. Let it cool and dust with icing sugar.