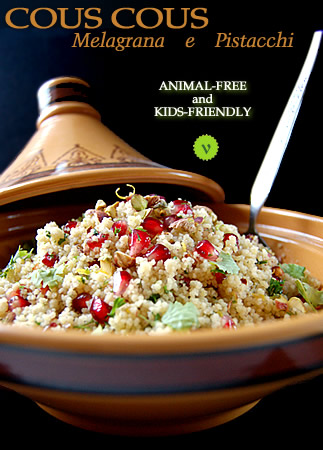 Si chiude con
93
96
(+2 ritardatari) 98 il numero di partecipanti
di questa seconda edizione dei
Pacchetti della felicitá
! Ringrazio nuovamente tutti coloro che hanno scritto sempre in maniera molto affettuosa e gentile. Mi dispiace non aver potuto rispondere a tutti quanti, ma siete davvero tantissimi e spero che la mia risposta e il mio affetto riusciate a percepirli quotidianamente in quello che faccio attraverso il blog.

Detto questo, le coppie sono state formate in base alla localitá e mescolate tra chi aveva o non aveva un blog piuttosto che in base alle richieste. C'é chi voleva mandare
cose piccanti
, c'é chi voleva
cose dolci
, e chi voleva uno scambio con
una bella gnocca
. Spero di aver, seppure in maniera casuale, accontentato tutti e che ognuno di voi riceva una bella sorpresa a prescindere da chi e da cosa.
Riceverete un'email entro domani (Martedí 28 Dicembre), che conterrá il nominativo della persona alla quale spedire il vostro pacco e le note che quella persona ha scritto sul proprio conto in mancanza di un blog.
Se non riceverete l'email fatemelo sapere
, é probabile che in mezzo a tutti quei fogli, io mi sia persa un pezzo o due!
Vi prego di
evitare di scrivermi
per chiedere di chiedere
se piace questo o quell'altro. Non fatevi prendere dal panico. Usate un po' di fantasia e spedite un po' di voi. Sono sicura che questo sará apprezzato piú di un pacco spedito a richiesta. Soprattutto farete un grande favore a me mentre inizio a smistare cosí tante inaspettate partecipazioni. Si sa, la matematica per me é un'opinione, se non fosse stato per
gus gus
a quest'ora starei ancora con i fogli sparsi sul pavimento!
Spedite entro
Sabato 2 Dicembre 2006
e cercate di essere puntuali per evitare che il vostro pacco resti nei magazini postali fino al nuovo anno. Quando avrete ricevuto il pacco, potete fotografarlo e raccontarcelo. Mandate un'email con l'indirizzo del blog nel quale avete pubblicato il vostro post. Raccoglieró tutti i link in un unico post a Gennaio, su questo blog.
Penso di aver detto proprio tutto. Non mi resta altro che andare a preparare il mio pacchetto!
Ingredienti


200gr di cous cous
300ml di acqua
1 cucchiaio di olio
1/2 cucchiaino di cannella in polvere
2 cucchiai di coriandolo tritato
2 melagrana
la scorza grattugiata di 1 limone
2 cucchiai di pistacchi tritati grossolanamente

Fate bollire l'acqua, versate l'olio e la cannella e subito il cous cous. Spegnete e lasciate cuocere il cous cuos a pentola coperta per circa 10 minuti. Versate il cous cous in un recipiente piú grande e rompetelo con la forchetta in modo da separarlo completamente. Aggiungete i semi di melagrana, i pistacchi tritati grossolanamente, la scorza grattuggiata di limone ed il coriandolo. Mescolate bene ed aggiustate di sale ed olio. Servite come piatto unico o come accompagnamento ad un piatto di carne.

Sognando:
so
gnare una
melagrana
indica fertilitá, buona salute e longevitá.

Naturalmente:
Il melograno (Punica granatum) è un albero conosciuto da più di 4000 anni, antichissime e molte le sue leggende, diffusesi nei secoli nei vari continenti, dall'Europa all'Asia ma quasi tutte ricordano e si si riferiscono al melograno come al frutto della fertilità. Oltre a simboleggiare la vita che si rinnova, il vermiglio frutto del melograno è stato usato ed apprezzato anche per le sue proprietà curative, ricco di vitamine A, C, potassio, fosforo, tannini e flavonoidi, la melagrana è astringente, tonica, diuretica, antispasmodica e si stanno rivalutando, soprattutto negli ultimi anni, i benefici che il succo di melagrana apporta al sistema cardiovascolare, grazie a diverse sostanze antiossidanti (come l'acido ellagico) che proteggono il cuore e arterie, abbassano il colesterolo e prevengono l'arteriosclerosi. In cosmesi la melagrana è usata per le sue proprietà nutrienti e in crema per chi ha pelli delicate.

Haiku:
Mangiammo cus-cus - all'ombra di un fico - bevendo caffé
(Frank)
---
English please:
Cous cous with pomegranate and pistachios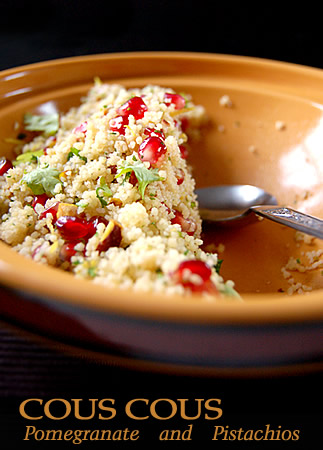 It's
93
98
the number of people that have taken part of this second edition of the
Happy Parcels
! Time is up! You will get an email from me by tomorrow morning, which will contain the name of the person you'll have to send your parcel to, some of the notes that they have left in case they didn't have a blog. Send your happiness by
Saturday December 2nd 2006
and let's hope it will get to destination before Christmas!

When you receive your parcel, write it about on your blog, then send me the link and I'll gather them all together in a post in January, when hopefully all the parcels will have reached destination.
Once again,
thank you all
for joining and partecipating with enthusiasm and joy!
Ingredients


200gr cous cous
300ml water
1 Tbsp olive oil
1/2 tsp cinnamon
2 Tbsp fresh coriander
2 pomegranate
rind of 1 lemon
2 Tbsp chopped pistachios

Boil water, add olive oil, cinnamon and cous cous. Cover, remove from heat and let stand for about 10 minutes. Transfer to a bigger pan and fluff the cous cous with a fork. Stir in pomegranate seeds, coriander, lemon rinds and chopped pistachios. Mix well, add salt if you like and any more oil needed. Serve by itself or with a meat dish.