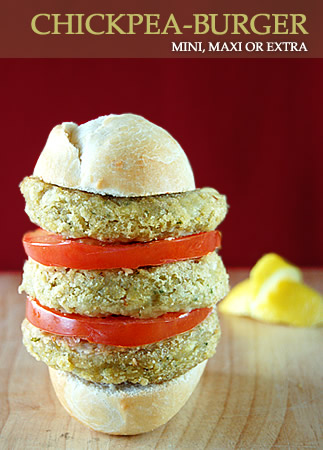 Cibo veloce, ma non troppo, purché sano. La forma dei burger sicuramente invoglia un bel panino, ma al posto della carne si possono usare altri ingredienti come per esempio i ceci o se preferite la carne di soia. La breve doratura finale puó essere sostituita con una spennellata d'olio da entrambe i lati ed un passaggio sotto il grill. Meglio se mangiati caldi o riscaldati il giorno dopo.
Ingredienti: 800gr di ceci, 2 spicchi d'aglio, 1 cucchiaino di cumino in polvere, 1 cipolla piccola, 1 mazzetto di coriandolo fresco, farina bianca, olio d'oliva o di semi
Cuocete i ceci o usate ceci giá pronti in scatola. Metteteli nel mixer insieme alla cipolla e alle spezie e mixate fino a quando non avrete ottenuto una specie di puré. Versate questo composto in una terrina e aggiungete tanta farina bianca quanta ne serve per ottenere un composto morbido ma asciutto in modo da poter formare i burger. Riscaldate un po' d'olio in una padella antiaderente e dorateli da entrambe le parti per un paio di minuti. Salate a piacere e servite.

Sognando:
sognare di
comprare ceci
indica difficoltá con il lavoro; sognare di
mettere a bagno ceci
indica condotta imprudente; sognare di
cucinare ceci
indica forza e salute; sognare di
mangiare ceci
indica speranze che svaniscono; sognare
ceci secchi
indica amici poco sinceri.

Naturalmente:
I ceci (Cicer arietinum) sono legumi di origine antichissima, si dice uno dei primi alimenti consumati dall'uomo sin dall'età del bronzo. Provenienti dal Medio Oriente, si sono poi diffusi un pò ovunque, dal bacino mediterraneo all'Asia dove tuttora restano tra gli ingredienti base della cucina Medio Orientale e Indiana. L'origine del nome deriva dalla parola latina "aries", (ariete) grazie alla forma del seme che, un pò appuntita, richiama la testa d'ariete. I ceci, come un pò tutti i legumi, presentano un buon contenuto di proteine, anche se inferiore rispetto a quello delle lenticchie e dei fagioli secchi, sono leggermente più ricchi in grassi ed inoltre contengono carboidrati, vitamine C e B e sali minerali (potassio, calcio, fosforo, magnesio, silice). Hanno proprietà ipocolesterolemizzanti (abbassano il contenuto di colesterolo e grassi nel sangue) e diuretiche e sembra che il loro consumo moderato sia d'aiuto appunto alle vie urinarie, sia nell'eliminare l'acido urico che nell'espellere piccoli calcoli. I ceci possiamo trovarli anche sotto forma di farina, utile in cucina per prepare svariate ricette sia per prepare in casa una veloce crema da massaggio/peeling ottima per pulire, idratare e tonificare la pelle del viso. Bisogna unire 2 cucchiai di farina di ceci a 2 cucchiaini di olio di senape (o d'oliva in caso non lo si trovi) e 1 cucchiaino di curcuma in polvere. Si miscela bene e si applica questo impasto sul viso massaggiando per 2/3 minuti. Secondo l'antica medicina Ayurvedica questi massaggi, chiamati "Ubatan" sono utili, oltre che a nutrire la pelle anche ad attivare la circolazione sanguigna, rendendo la pelle splendente e donando benessere a tutto il corpo.

Haiku:
Intorno a noi - solo i coriandoli - del nostro amor
(Frank)
---
English please:
Chickpea Burgers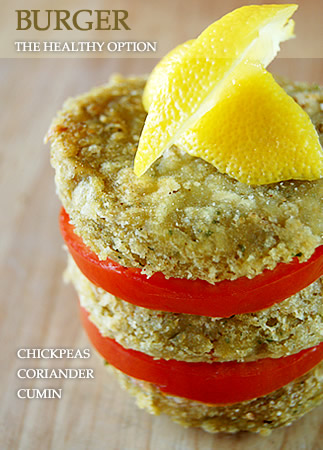 Ingredients: 800gr chickpea, 2 cloves garlic, 1 tsp ground cumin, 1 small onion, 1 small bunch of fresh coriander, flour, olive oil or vegetable
Cook chickpeas or use canned ones. Put them in a mixer along with the onion and spices. Mix until smooth. Stir in as much flour is needed to get a soft but hard enough mixture to make burgers. Warm up a bit of oil into a non stick pan and gently fry them 2 minutes each side or until golden brown. Add salt and serve warm.