Anche il mio
pacchetto della felicitá
é partito ieri per una destinazione lontana e segreta. Molti di voi continuano a chiedermi da chi riceverete il vostro pacchetto, se dalla stessa persona alla quale lo avete mandato. Altri mi chiedono l'indirizzo e-mail del destinatario, per chiedere piú informazioni! Ed io che pensavo di essere stata chiara, forse ho omesso di spiegare esplicitamente che B manda a C ma riceve da A. In buona sostanza, ognuno di noi manderá un pacchetto a qualcuno e ne riceverá un altro da una terza persona. Un intreccio di tre persone quindi, come prendere tre piccioni con una fava.
Non contattate il vostro destinatario per dirgli che gli avete spedito il pacchetto!! Sennó che sorpresa é?
Grazie a tutti voi che siete stati clementi e a parte il primo panico iniziale avete fatto di testa vostra nella scelta del dono da spedire. Se c'é ancora qualcuno che non ha ricevuto l'indirizzo, é pregato di farmelo sapere perché io li ho spediti tutti giá da Lunedí sera.
Quando vivevo in Italia, la mattina mi piaceva fare colazione con le banane spalmate sul pan carré. Colazione un po' strana, indubbiamente. Io invece la trovavo
di lusso
. Mettevo le fette nel tostapane, poi quando ancora ben calde, prendevo le banane mature e le spiaccicavo sopra il pane riducendole in purea con una forchetta. Una tazza di latte e caffé completava il tutto. Avete mai provato?
Ingredienti: 125gr di burro, 250gr di zucchero, 2 uova, 500gr di farina, 3 banane mature, 1 cucchiaino di lievito, 1/2 cucchiaino di sale, 4 cucchiai di yogurt naturale, miele e zucchero a velo per guarnire

Sbattete il burro morbido con lo zucchero fino ad ottenere una crema. Aggiungete le uova e le banane ridotte in purea. Incorporate la farina, il lievito, il sale e lo yogurt. Sbattete tutto fino ad ottenere un impasto omogeneo senza grumi. Infornate in una pirofila alta da plum-cake a
180 C
per circa
1 ora, 1 ora e mezza
. Controllate con uno stuzzicadenti che sia cotto bene all'interno prima di rimuovere dal forno. Lasciate raffreddare nel forno spento con lo sportellino semi-aperto. Grigliate il pane se volete, cospargendolo prima di zucchero a velo. Fate lo stesso con le banane tagliate a pezzetti. Infine cospargete con un paio di cucchiaini di miele.

Sognando:
so
gnare
banane
potrebbe rappresentare la metafora di un desiderio sessuale represso; sognare di
mangiare banane
indica che i vostri sforzi lavorativi saranno ricompensati.

Naturalmente:
La
banana
è un frutto di cui ne esistono numeroso varietà (Musa paradisiaca, Musa sapientum, Musa nana, etc.), estremamente nutriente (20% di zuccheri, 60 kcal per 100gr) ed inoltre è ricca di vitamine A, B1, B2, C, PP, sali minerali (potassio, calcio, ferro, fosforo), carboidrati e ha proprietà remineralizzanti e regolarizzanti della flora intestinale. Per uso esterno la banana a effetti nutrienti e rigeneranti su pelli stanche. Possiamo sfruttarne le sue qualità preparando una maschera, schiacciando la polpa di una banana matura con una forchetta ed aggiungendo un pò di latte o panna (per un effetto più nutriente), fino ad ottenere una crema spalmabile sul viso. Lasciate agire per 10/15 minuti e risciacquate con acqua tiepida.

Haiku:
Banana frozen - il sole dei tropici - e tu qui con me (
Frank
)
---
English please:
Banana Bread with grilled banana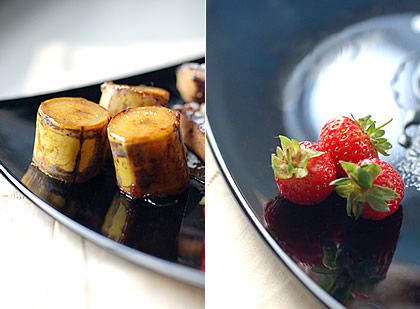 My
Happy Parcel
is on it's way flying to a secret destination. Have you sent yours yet?
Ingredienti: 125gr butter, 250gr sugar, 2 eggs, 500gr flour, 3 ripe bananas, 1 tsp baking powder, 1/2 tsp salt, 4 Tbsp natural yogurt, honey and icing sugar to decorate
Beat butter and sugar together until creamy. Add eggs and mashed bananas. Sift in flour, baking powder and salt, add yogurt and keep beating until you get a smooth mixture. Pour the miture into a oven tin at
180 C
for about
1 hour, 1 hour 1/2
. Check with a thootpick that is well coocked inside before you remove it from the oven. Let it cool in the oven with the door slightly open. Drizzle banana slices with icing sugar and do the same with the banana bread. Grill them on both sides and decorate with a couple of tsp of honey.