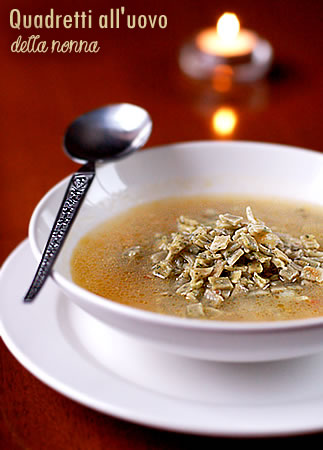 La pastina, come molti altri tipi di pasta, é uno di quei formati che qui in Inghilterra non esistono. Mi domando spesso se i bambini inglesi mangiano fish & chips dalla nascita. La risposta é: probabilmente si! Quando le scorte italiane finiscono, ripiego sulla pastina fatta in casa, rigorosamente all'uovo, come la faceva la nonna Rosa. Si impasta direttamente con il prezzemolo, ma si puó fare anche senza. Facile da tagliare, grazie all'utilizzo della macchina per la pasta. Basta infatti tagliare le tagliatelle a quadrettini, ed il gioco é fatto. Chi l'ha detto che la pastina dev'essere una cosa triste? Buon ponte a voi, perché noi al polo nord, queste feste non le abbiamo, specialmente di venerdí.
Ingredienti: 300gr di farina bianca, 2 uova, 2 cucchiai di prezzemolo tritato finemente, acqua fredda quanto basta

Impastate la farina con le uova ed il prezzemolo ed aggiungete acqua fredda quanto basta per ottenere un impasto morbido ed omogeneo. Dividete la pasta e stendetela con la macchina per la pasta utilizzando il numero 3. Lasciate asciugare le sfoglie poi tagliatele ricavandone delle tagliatelle. Fate asciugare un po', infarinate bene e con un coltello tagliate le tagliatelle a quadrettini, a gruppi di massimo 10 tagliatelle. Infarinate bene per evitare che si attacchi tutto. Lasciate asciugare su un panno asciutto. Cuocete in acqua bollente salta per circa 3 minuti. Se utilizzate i quadretti il giorno dopo, cuocete per qualche minuto in piú, dipende da quanto si sono seccati. I quadretti, dopo essere stati asciugati completamente, si conservano in frigo fino ad una settimana o si possono facilmente congelare ed usare all'occorrenza. Servite con brodo vegetale o animale.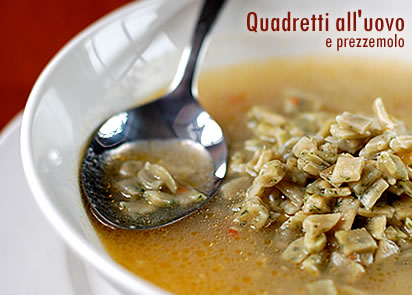 Sognando:
so
gnare un
quadro su una tela
indica acquisti vantaggiosi; sognare un
quadro senza cornice
indica relazioni utili; sognare un
quadro con cornice
indica nervosismo accentuato; sognare un
quadro appeso
al muro indica soddisfazione momentanea; sognare di
comprare un quadro
indica avvenimenti imprevisti; sognare di
regalare un quadro
indica pericolosa debolezza fisica; sognare di
dipingere un quadro
indica nuove e interessanti amicizie.

Haiku:
In ogni quadro - cerco il tuo volto - che non conosco
(Frank)
---
English please:
Hand made "quadretti" pasta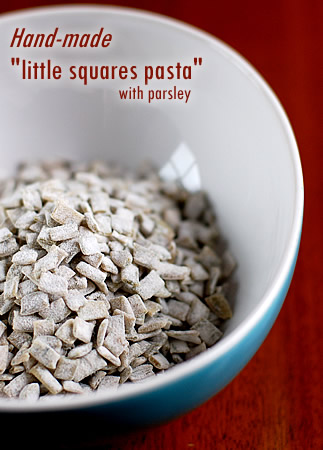 Pastina litterally means little pasta pasta piccola. We eat pastina especially in winter time or when we are sick, and it's something that our mothers give to us when we are very little as well as when we grow up! It's very difficult to find pastina in England so I make my own by using a pasta machine and cutting tagliatelle into quadrettini small squares. An old favourite recipe that my grandmother used to make when I was little.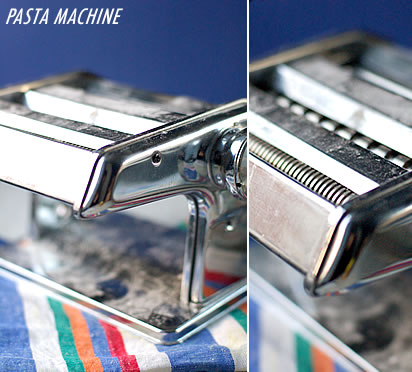 Ingredienti: 300gr white flour, 2 eggs, 2 Tbsp chopped parsley, cold water

Mix flour with eggs, chopped parsley and cold water as needed. Work until you get a soft dough. Divide into quarters and work with your pasta machine into layers. Use the number 3 thickness. Let the layers of pasta dry a bit, then cut into tagliatelle shape. Sprinkle with flour then using a knife, cut little bunches of tagliatelle into little squares. Add more flour so they don't stick together and let them dry further on a clean cotton canvas. Cook in salty boling water for about 3 minutes and serve with vegetables or meat broth. If you use them the day after, cook for more time as they might be very dry. Store in the fridge up to a week once dried or freeze up to a month.