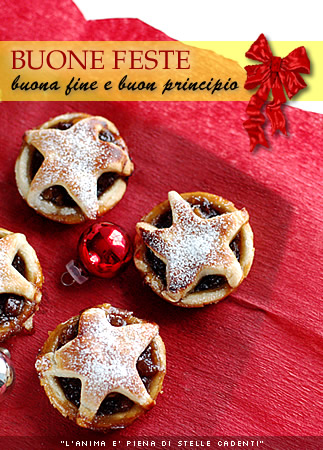 Le mince pies impazzano durante il periodo natalizio, qui in Inghilterra. Acquistati giá confezionati o fatti in casa (molto meglio), sono solo uno dei dolcetti che gli inglesi consumeranno durante i prossimi giorni, accanto al tradizionale Christmas Pudding. L'anno scorso ho realizzato una variante di quest'ultimo, il
Christmas Pudding Ice Cream
, giusto prima di partire per le Canarie. Per chi non lo sapesse, la mince meat (
letteralmente carne macinata
), é un misto di zucchero, uvetta sultanina, frutta candita, black currants, ciliegie glassate, grasso vegetale (o animale), mandorle, mele, brandy e spezie varie. Si puó fare facilmente anche in casa raccogliendo tutti gli ingredienti in una scodella, lasciandoli in frigo per una giornata intera.
Le mince pies sono il mio
dolce tradizionale
inglese
di Natale
, per il
Meme Natalizio
di
Nanna
. Tutti gli altri partecipanti li trovate su
Nannaskitchen
. Le modalitá per votare le ricette, le trovate
qui
.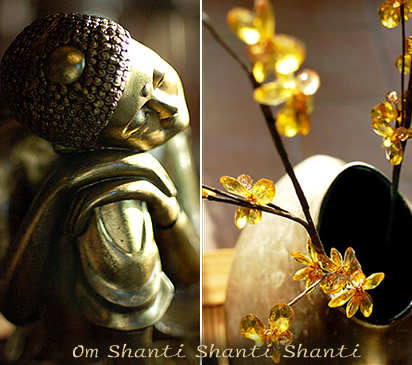 *A tutti voi auguro Buone Feste ricche di pace e di serenitá. Ci rivediamo l'anno prossimo, incredibile ma vero, nel 2007!*

L'anima é piena di stelle cadenti (Victor Hugo)

Ingredienti per la pasta per 12 pies: 250gr di farina, 125gr di burro freddo, 80ml di acqua fredda
Ingredienti per il ripieno: 400gr di mince meat, 2 cucchiai di noci tritate grossolanamente, 2 cucchiai di Brandy, 1 uovo sbattuto per dorare, zucchero a velo per guarnire
Preparate la pasta mescolando tutti gli ingredienti con un mixer elettrico. Mixate fino a quando non si sará formata una palla compatta ed infine aggiungete acqua fredda. Avvolgete la pasta nella pellicola trasparente e lasciate in frigo per 30 minuti.
Preparate il ripieno con il mince meat giá pronto, aggiungete le noci tagliate grossolanamente ed il brandy. Mescolate e mettete in frigo.
Nel frattempo stendete la pasta con uno spessore di circa 5mm. Ricavate delle forme rotonde di circa 6cm di diametro. Riponete questi dischi all'interno di una teglia per muffin precedentemente imburrata ed infarinata. Versate un cucchiaio circa di mince meat all'interno di ogni mini pie. Ricavate lo stesso numero di stelle con una formina per biscotti. Adagiate le stelle sulle pie effettuando una leggera pressione con le dita. Sbattete un uovo e spennellate con uno strato sottile ogni pie.
Infornate a
220 C
per circa
20 minuti
o fino a quando le pie non si saranno dorate.
Fate raffreddare bene prima di spolverizzare con zucchero a velo. Si conservano per qualche giorno al riparo da fonti di calore.
Pacchetti della felicitá: Ricordo ancora una volta che per aggiungere il vostro post alla lista dei pacchetti giá arrivati, é sufficiente mandare una semplice e gratuita email all'indirizzo fiordizucca at gmail punto com, con il link al post ed il nome della persona che ve lo ha spedito. Un'email di conferma di avvenuta consegna del pacco é il minimo che si possa chiedere. Grazie!

Sognando:
sognare una
stella alpina
indica fiducia in se stessi; sognare una
stella polare
indica speranze di nuovi guadagni; sognare una
stella cometa
indica necessitá di prudenza; sognare una
stella cadente
indica dispiaceri e noie.



Haiku:
Anche in silenzio - le tue braccia alle spalle - il cielo muto
(apnea)

Cadon le stelle - lo fanno in silenzio - senza paura
(Frank)
---
English please:
Star Mince Pies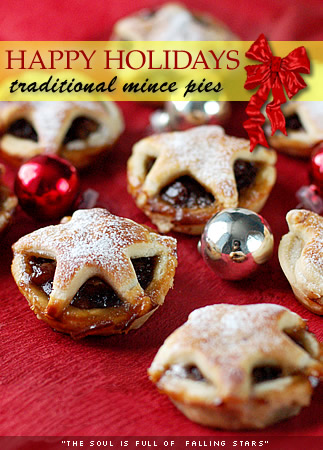 Happy holidays everybody, see you next year!
Ingredients for 12 pies:
250gr flour, 125gr chilled butter, 80ml cold water
Ingredients for the filling:
400gr mince meat, 2 Tbsp ground walnuts, 2 Tbsp Brandy, 1 beaten egg, icing sugar to dust
Put the flour in a food processor along with the chilled butter and mix until it resembles bread crumb. Add chilled water, mix again. Remove from the processor and wrap in clingfilm giving it a shape of a ball. Put in the fridge for 30 minutes.
Use ready-made mince meat or make your own. Add 2 Tbsp Brandy and the chopped walnuts. In the meantime roll out the pastry to 5mm thickness and obtain circles of about 6cm diameter. Line the circles into a muffin pan, shaping them inside with your fingers. With a biscuit cutter, make as many stars as you need to top up the pies. Fill with about 1 Tbsp of mince meat and top up with a star. Lightly beat one egg and brush the tops.
Cook in a pre-heated oven at
220 C
for about
20 minutes
or until golden.
Cool completely on a wire rack and serve dusting with icing sugar. Store in a airtight container for a few days.