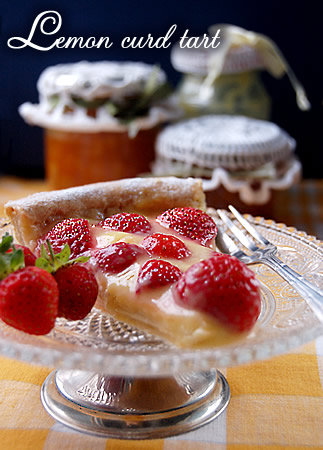 Erano mesi che volevo cimentarmi nel fare la Lemon curd, ma tra tutte le ricette che ho in lista d'attesa, questa era più o meno a metà. Meglio se si hanno degli amici,
vicini di casa
, che non solo sperimentano per te, ma condividono con te quello che preparano. E cosí che Antonella mi ha passato un bel vasetto di Lemon Curd, fatto con le sue manine, mentre con le mie, ho pensato semplicemente di stenderla su una base di crostata e decorarla con fragole. Tipicamente
english,
la lemon curd si utilizza per riempire crostate o torte, si spalma sui muffins, sul pane, sugli scones, oppure si prende un bel cucchiaio (o se preferite con le dita) e si affonda fino a raschiare il fondo. Grazie ad Antonella per la ricetta. Il vasetto é già finito, toccherà rifarne ancora!
Ingredienti per 450gr circa di lemoncurd


3 limoni non trattati
200gr di zucchero
115gr di burro
4 uova

Per la base della crostata ho usato quella della Crostata di noci e cioccolato.





Lavate i limoni, grattugiatene la scorza e mettetela insieme al succo, in un contenitore resistente al calore. Aggiungere lo zucchero e il burro e cuocete a bagno maria fino a quando non si saranno dissolti. Sbattete le uova a parte ed aggiungetele al composto facendole passare attraverso un setaccio. Mescolate fino a quando la crema non avrà iniziato a rapprendersi formando uno strato più denso su un cucchiaio di legno. Rimuovete la crema dal calore e invasatela in vasetti sterilizzati. Si conservano in un luogo fresco ed al buio fino a 3 mesi. Se invece ne fate molto poca, riponetela comodamente in frigo.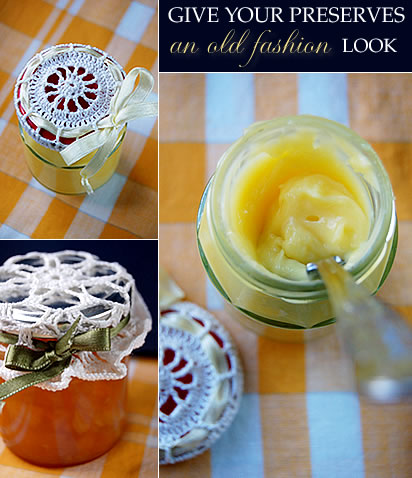 L'uncinetto é un'arte antica tramandata dalla nonna. Si dice che lavorare la maglia o fare l'uncinetto sia terapeutico. Non ho capito bene a cosa serve, ma di certo vengono fuori cose molto interessanti, come questi copri-coperchi improvvisati. Un'idea diversa e romantica per personalizzare le nostre conserve. Per questi piccoli centrini ho usato cotone perlato 8, uncinetto numero 1 e tante catenelle. Decorare con nastrini di raso colorati.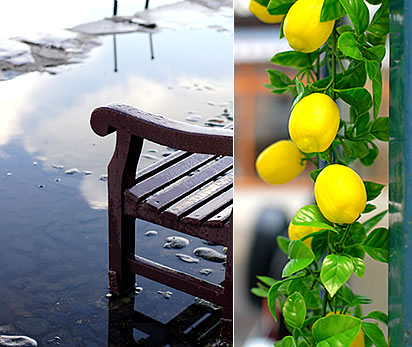 In questi giorni burrascosi, grigi e piovosi e soprattutto prima di Natale, starsene seduti davanti al camino ad intrecciare fili, é il modo migliore per rilassarsi.


Sognando:
so
gnare
limoni sulla pianta
indica legami difficili; sognare
limoni gialli
indica nuove prospettive; sognare
limoni verdi
indica timore e gelosia; sognare di
spremere limoni
indica spese impreviste; sognare di
mangiare limoni
indica fatiche inutili.

Naturalmente:
Il
limone
(Citrus limonum) è uno di quei frutti che non mancano mai nelle nostre cucine, cosa buona poiché è un vero concentrato di grandi virtù curative. Il limone è ricco infatti di olio essenziale, acido citrico, acido malico, vitamine C, B1, B2, B3, A, PP, sali minerali (specialmente potassio), oligoelementi, zuccheri, mucillagini, flavonoidi (esperidina) ed ha proprietà antiscorbutiche (grazie alla vitamina C), depurative, toniche, equilibranti a livello metabolico, rinfrescanti, toniche, digestive, diuretiche, antisettiche, astringenti e demineralizzanti, venotoniche e capillaroprotettrici (grazie ai flavonoidi). L'utilizzo del succo di limone a digiuno ha un'ottima azione depurativa su tutto l'organismo ed aiuta la diuresi (consigliato in periodi di dieta dimagrante). Un vecchio rimedio in caso di indigestione è quello di bere mezzo bicchiere d'acqua con il succo di un limone e un cucchiaino di bicarbonato di sodio. Parte preziosa del limone è il suo olio essenziale, contenuto nella buccia ed estratto per pressione a freddo. Esso racchiude in sé tutte le doti descritte, soprattutto le proprietà tonificanti e ricostituenti sia a livello fisico che psichico e un forte potere battericida. L'olio essenziale, bruciato negli appositi fornelletti è d'aiuto nell'aumentare le energie e migliorare la capacità di concentrazione. Un consiglio per chi ha i capelli grassi è quello di aggiungere alcune gocce di olio essenziale di limone allo shampoo specifico (10 gocce per 50ml di prodotto), per aiutare a rendere i capelli meno unti e meno opachi.

Haiku:
Pizzi di lino - tra le agili dita - prendono forma
(Frank)
---
English please:
Lemon curd tart with strawberries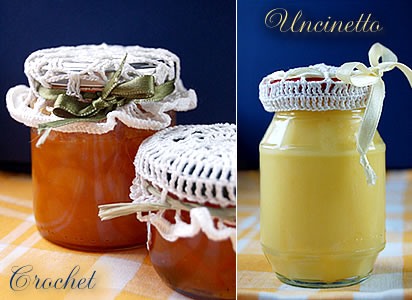 For the covers I have used pure cotton, needle number 1 and lots of chains. Try it yourself to personalize your preserves.
Ingredients for about 450gr of lemon curd


zest and juice of 3 untreated lemons
200gr sugar
115g r butter
4 eggs

For the tart base I have used the same as the Walnut and Chocolate Tart.



Take a saucepan, add a bit of water and cook the lemon curd at bain marie. Start putting the the zest and juice of the lemon in the container you are using. Add sugar and butter and mix until melted completely. Whisk eggs aside then add to the mixture by letting them pass through a sieve. Mix well until the curd starts to thicken. Remove from heat and pour the cream into hot sterilized jars. Cover immediately and close tight. Store them in a dry and cool place for up 3 months or if you only make a few jars, store them in the fridge.