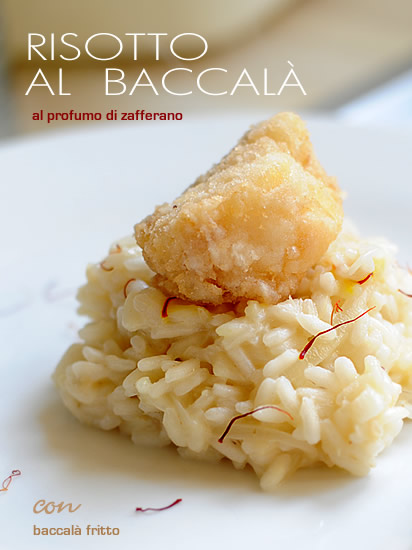 Mia mamma non solo mi da spunti per nuove ricette in questi giorni, ma mi manda persino gli ingredienti per realizzarle. Ma perché, il baccalà, in Inghilterra non si trova? Essì che si trova ma "quello che vendono qui é più buono!", senza sapere che alla fine quello che vendono lì viene comunque dal polo nord. Fatto sta che lei dice di provare ed io, appena trovo due minuti di tempo e sono ispirata, ci provo.
Il risotto di per sé é semplice e delicato, l'aggiunta del baccalà a metà cottura insaporisce il riso che si completa con il tocco finale dello zafferano. Se volete fare un soffritto più ricco con carota e sedano, fate pure. Per dargli un quel non so che in più, anche dal punto di vista estetico, ho fritto dei pezzetti di baccalà, impanati semplicemente con farina e serviti insieme al risotto. Et voilà. Ottimo. Provate per credere.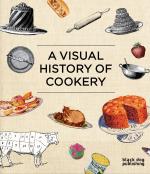 A proposito di estetica e di immagine, vi propongo un libro che illustra la storia culinaria di Inghilterra, Francia, Spagna, Italia e Stati Uniti, dalle origini di ogni Paese fino ad arrivare ai giorni nostri:
A Visual History of Cookery
. Dalle immagini storiche ai quadri, dalle fotografie contemporanee ai manifesti pubblicitari del tempo, 352 pagine di immagini che fanno viaggiare da un posto all'altro, regalando piccole curiosità e aneddoti. Nonostante questo non sia un libro di ricette, se ne trovano una qua e una là, si parla inoltre di chef famosi come Jamie Oliver o Gordon Ramsey piuttosto che di Giorgio Locatelli o di Gualtiero Marchesi, e di come questi si siano ispirati alla cucina di un tempo, riadattando certi piatti al passo con i nostri giorni. Un libro da tenere sul comodino o in salotto, da mangiare con gli occhi, ottimo spunto per conversazioni culinarie sull'origine storica di ricette e curiosità. Dal Tiramisù, alla Tarte Tatin, dalle Crepes agli Hot Dog, c'é né per tutti.
Per chi volesse acquistarlo,
il libro é in offerta speciale con il
40% di sconto
. Per ottenerlo, scrivete a Jessica all'indirizzo email jess(at)blackdogonline.com ed inserite nel soggetto
"Fiordizucca Offer"
.
352 pagine, 512 illustrazioni a colori e in bianco e nero, ISBN: 978 1 906155 50 6, UK: £29.95
Ingredienti per due


riso per risotti
un pezzo di baccalà dissalato
1 cipolla piccola
burro
vino bianco secco
un pizzico di zafferano a piacere
baccalà da friggere, facoltativo

Mettete il baccalà a bagno per il tempo necessario affinché perda tutto il sale. Scolatelo e sciacquatelo nuovamente. Fate bollire un po' di acqua in un pentolino e sobbollite il baccalà per 3 minuti. Togliete il baccalà dal pentolino, rimuovete la pelle dal baccalà, conservate l'acqua di cottura. Sciogliete una noce di burro in una padella, soffriggete una piccola cipolla tagliata a pezzetti. Versate il riso e fatelo tostare per qualche istante. Sfumate con un po' di vino bianco secco e versate un po' di acqua di cottura del baccalà fino a metà della cottura del riso. Aggiungete il baccalà spezzettato ed ultimate la cottura utilizzando sempre l'acqua del baccalà. Mantecate con una noce di burro aggiungendo qualche filo di zafferano a piacere. A parte impanate dei pezzi piccoli di baccalà con un po' di farina e friggeteli per 2 minuti per lato in abbondante olio di semi.

Sognando:
sognare baccalà cotto indica pensieri ingiusti; sognare baccalà secco indica trionfo sulle opposizioni; sognare baccalà fritto indica necessità di agire.

Parolando:
Il termine
baccalà
deriva dal fiammingo KABEL-JAB (bastone di pesce). A differenza dello stoccafisso che si ottiene facendo seccare il merluzzo all'aria fredda delle regioni nordiche, il baccalà si ottiene salando il merluzzo e poi facendolo seccare. Questa differenza di conservazione del merluzzo si deve al popolo basco. Grandi cacciatori di balene, inseguendole verso i mari del nord, i baschi vennero in contatto con i vichinghi, primi tra i popoli nordici a seccare il merluzzo per utilizzarlo come cibo durante i loro lunghissimi viaggi esplorativi. I baschi, non vivendo a latitudini così estreme come i vichinghi dovettero aggiungere il sale per consentire la conservazione e l'essiccazione del merluzzo. Piccola curiosità: i baschi utilizzavano un baccalà anche come barometro. Dopo averlo messo sotto sale, lo appendevano a bordo con delle corde. Quando il baccalà cominciava a gocciolare, voleva dire che era in arrivo una tempesta: la maggiore umidità dell'aria faceva, infatti, sciogliere il sale.

Archiviando:
clicca qui
per scaricare questa ricetta in formato .pdf
English please
Salt cod risotto with saffron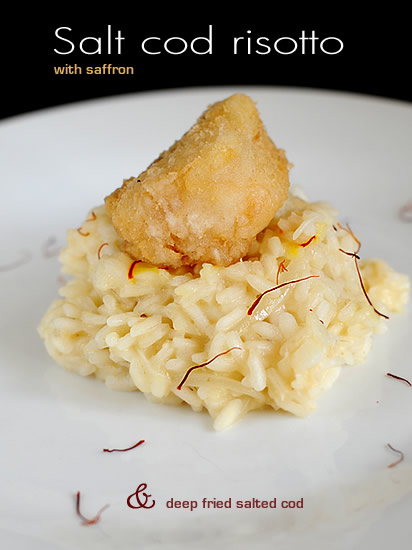 Ingredients for 2

rice for risotto
1 piece of soaked salt cod
1 pinch of saffron threads
1 small onion
butter
half glass of dry white wine
soaked salt cod to deep fry, if you like

Soak the salt cod in cold water for 3 days until it loses most of its salt. Drain it and wash it again. Bring some water to a boil in a small pan and boil the salt cod for 3 minutes. Remove it from the water, discard the skin and save the water to cook the rice. Melt a knob or two of butter in a pan, add the chopped onion and fry gently. Add the rice and toast it for a few seconds. Pour the wine and let it evaporate then start adding the water previously saved and keep stirring. After about 10 minutes add the chopped salt cod and keep cooking. When the rice is cooked through, remove the pan from the heat, melt a knob or two of butter inside and some saffron threads. If you like, serve it with some deep fried salt cod, simply battered in flour. Deep fry for 2 minutes each side and serve it along with the rice.