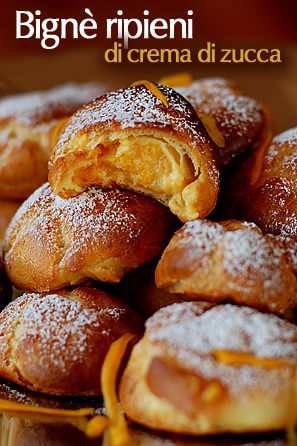 Con la zucca avanzata dalla ricetta precedente, ho pensato di fare un po' di bignè. Gli ingredienti sono quelli che avevo a portata di mano. Non ero convinta sul mascarpone ma non avevo la panna quindi ho usato quella per addolcire ed ammorbidire la crema, poi magari si può sicuramente perfezionare.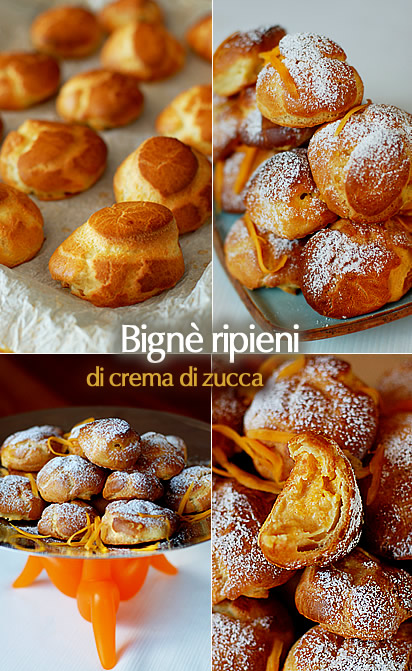 Ho persino usato lo zenzero fresco che udite udite si trova anche qui a Vasto. E a dire il vero qualche giorno fa al supermercato ho notato una mescolanza di etnie non indifferenti. Gli inglesi sono sbarcati anche qui e così anche lo scaffale dedicato ai celiaci ed ai prodotti asiatici. Insomma, è pure moderatamente nuvoloso, ma che vuoi di più dalla vita?
Ingredienti per circa 20 bignè medi


60gr di burro
125ml di acqua

75gr di farina

2 uova

zucchero a velo per guarnire (o cioccolato fuso)

Ingredienti per il ripieno


300gr di polpa di zucca
40gr di zucchero
2 cucchiai di mascarpone
1 pizzico di vaniglia in polvere

1/2 cucchiaino di cannella
2cm di zenzero fresco


In un pentolino fate sciogliere il burro, aggiungete l'acqua e portate ad ebollizione. Spegnete subito e versate questo liquido in un contenitore più grande e capiente. Aggiungete la farina tutta insieme e con una frusta, mescolate energeticamente e velocemente per evitare la formazione di grumi. Assicuratevi che il composto si sia intiepidito per evitare che le uova si rapprendano. Versate un uovo alla volta e mescolate energeticamente, versate l'uovo successivo solo quando quello precedente si è amalgamato perfettamente. Riscaldate il forno a 190 C. Riempite una tasca per dolci, versate il composto dei bignè e formate delle palline di circa 3cm di diametro distanziate tra di loro almeno un paio di centimetri. Infornate per 20/30 minuti e fate raffreddare i bignè nel forno stesso con lo sportellino semi aperto, onde evitare che si sgonfino all'istante.
Preparate il ripieno cuocendo la zucca in forno o a vapore. Riducetela in purea ed aggiungete lo zucchero, la cannella, lo zenzero grattugiato, la vanillina e il mascarpone. Mescolate con cura fino ad ottenere un composto omogeneo.
Bucate un piccolo angolo di ogni bignè e con una siringa per dolci riempiteli con la crema di zucca. Mettete i bignè in frigo per un paio di ore. Spolverizzate con zucchero a velo o con cioccolato fondente fuso prima di servire.


Sognando:
so
gnare di riempire una bottiglia indica un carattere tranquillo; sognare di riempire un bicchiere indica saggia previdenza; sognare di riempire una botte indica incostanza affettiva; sognare di riempire una borsa indica cattive relazioni; sognare di riempirsi le tasche indica decisioni da prendere; sognare di riempirsi la bocca indica insicurezza.



Quando cesserai di voler riempire la tua coppa di felicità ed inizierai a riempire quella degli altri, scoprirai, con meraviglia, che la tua coppa sarà sempre piena. (
P. Yogananda
)

Archiviando:
clicca qui per scaricare questa ricetta in formato .pdf
---
English please:
Cream puffs filled with pumpkin cream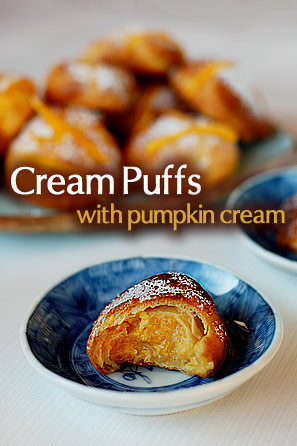 Ingredients for about 20 medium cream puffs


60gr butter
125ml water

75gr flour

2 eggs

icing sugar to garnish (or dark melted chocolate)

Ingredients for the filling


300gr pumpkin flesh

40gr sugar
2 Tbsp mascarpone cheese

1 pinch vanilla powder

1/2 tsp cinnamon

2cm fresh grated ginger


In a small saucepan, melt the butter, then add water and bring to a boil. Remove immediately from heat and pour it in a bigger bowl. Quickly add the flour all together and whisk fast to avoid lumps. Let it cool for a bit then incorporate 1 egg at the time, use a wooden spoon, do not beat the eggs. Warm up the oven at 190 C. Use 2 tsp and lay a bit of mixture on a oven tray, separate 3cm from each other. Bake for about 20/30 minutes or until golden and puff. Switch the oven off and cool the cream puffs inside with the oven door open.
Cook the pumpkin flesh in the oven or steam it. Mash it to a puree, add sugar, cinnamon, grated ginger, vanilla and mascarpone cheese. Mix well until until creamy.
Slowly make a small hall in each cream puff using a thoothpick or something handy and fill with cream. Put in the fridge for about 2 hours then sprinkle with icing sugar or melted chocolate just before serving.