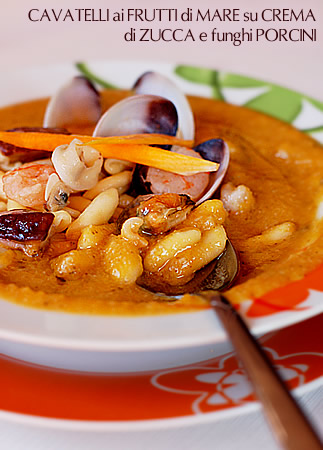 Il tempo della scorsa settimana ha
affettato
per bene il mio umore. Affettato, dal verbo
to affect
, ovvero influenzato, condizionato, soggetto ad una emozione. Voglia di cucinare, in sostanza, zero. Il week end invece mi ha regalato un sole caldo e splendente come non se ne vedeva da un po', l'occasione giusta per mettere il naso fuori casa, giusto appena per essere ispirati dai colori e dai sapori di stagione.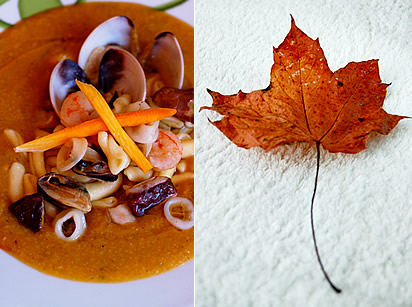 Ebbene sono tornata con una piccola manciata di funghi porcini (i miei erano congelati, ovviamente se usate quelli freschi o quelli secchi le proporzioni variano), un pugno di frutti di mare e dei cavatelli freschi. Un piatto completo sotto molti punti di vista, capace di mettere di buon umore chiunque abbia voglia di lasciarsi
affettare
da odori inebrianti e sapori veri. Buon mese di novembre a tutti.
Ingredienti


300gr di zucca già pulita

100gr di funghi porcini (freschi, secchi o congelati)

2 cucchiai di grana grattugiato
brodo vegetale

200gr di frutti di mare misti (vongole, cozze, gamberetti, anelli di moscardini)

cavatelli freschi
1 cucchiaio di rosmarino e salvia tritati grossolanamente
2 spicchi d'aglio
sale e pepe


In un tegame riscaldate l'olio con l'aglio e il cucchiaio di rosmarino e salvia tritati. Versate la zucca tagliata a dadini e fate rosolare, poi aggiungete i funghi porcini tagliati grossolanamente e rosolate ancora un po'. Salate, pepate e coprite con brodo vegetale lasciando cuocere per circa 15 minuti o fino a quando la zucca non sarà cotta. Frullate il tutto usando il brodo necessario per ottenere un composto cremoso. Aggiungete 2 cucchiai di formaggio grattugiato e mescolate ancora. In un altro pentolino riscaldate un po' di olio ed un altro spicchio d'aglio. Saltate i frutti di mare per qualche minuto, salate e pepate. Cuocete i cavatelli e scolateli al dente, poi fateli saltare con i frutti di mare. Disponete la crema di zucca nel piatto, riscaldandola se necessario ed adagiate la pasta con i frutti di mare. Condite con un filo d'olio e servite.


Sognando:
so
gnare un
porco nel porcile
indica esperienze insolite; sognare un
porco grasso
indica avarizia.



La fibra amante dell'uomo non può mai stare inerte del tutto: osservate attentamente l'egoista più incallito e finirete per trovare, come un fiorellino dietro ai sassi, un affetto nascosto in una piega della sua anima. (
Tiller
)

Archiviando:
clicca qui per scaricare questa ricetta in formato .pdf
---
English please:
Cavatelli pasta with seafood on pumpkin and porcini mushrooms's cream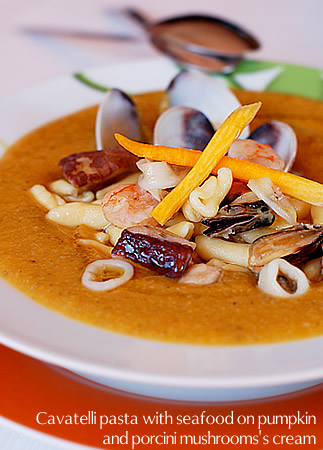 Ingredients


300gr pumpkin flesh

100gr porcini mushrooms (fresh, dried or frozen)
2 Tbsp grated cheese
vegetable stock

150gr mixed seafood (mussels, cockles, shrimps)
fresh cavatelli pasta
1 Tbsp dried rosemary and sage
2 garlic cloves
salt and pepper


Heat the oil in a saucepan with garlic and mixed herbs of rosemary and sage. Add diced pumpkin and roast for a bit, then add the porcini mushrooms and do the same for a few minutes. Add salt and pepper, cover with vegetable stock and cook for about 15 minutes or until the pumpkin is tender. Remove from heat, mix or blend everything using as much stock in order to get a creamy mixture. Add grated cheese and mix again. In another small saucepan, heat a bit of olive oil and another garlic clove. Cook the mixed seafood for a few minutes and add salt and pepper. Cook the cavatelli pasta and drain al dente. Put them in the seafood pan and toast together. Pour the cream in a dish, warming it up again if needed then arrange the pasta over it with the seafood. Drizzle with olive oil and serve immediately.