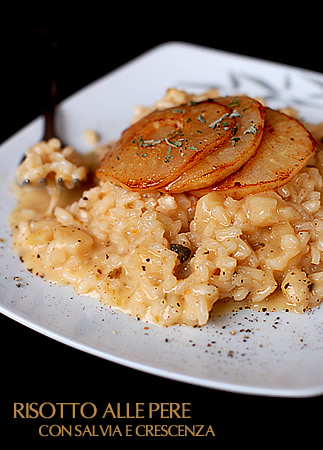 Al contadino non far sapere... ma quanto é buono il risotto con le pere? Tempo fa ho mangiato uno splendido risotto con pere e gorgonzola a Dublino. Quando sono tornata a casa ho voluto riproporre la ricetta ma ne è venuto fuori un disastro visto che avevo abbondato con la quantità delle pere ed alla fine sembrava di mangiare un pudding di riso e pere piuttosto che un risotto salato. Questa volta, nonostante la dolcezza della crescenza, il tutto è risultato molto più equilibrato grazie anche all'utilizzo della salvia che spezza con il dolce di pera e crescenza. Davvero un ottimo accostamento anche per i più scettici.

Ingredienti per 2

180gr di riso
2 pere Williams

50gr di crescenza
4 foglioline di salvia secca
1 cipolla piccola
1/2 bicchiere di vino bianco

burro
formaggio parmigiano grattugiato

brodo vegetale
pepe

Soffriggete la cipolla e la salvia sbriciolata con un po' di burro ed aggiungete la pera sbucciata e tagliata a dadini. Aggiungete il riso e tostatelo per qualche secondo poi bagnate con mezzo bicchiere di vino bianco. Fate evaporare l'alcol poi bagnate con brodo vegetale e fate cuocere il riso per il tempo necessario. Mantecate il riso a fuoco spento con la crescenza e un po' di formaggio grattugiato. Sbucciate l'altra pera e tagliatela in largo. Rosolate le fettine di pera con un po' di burro e adagiatele sul piatto prima di servire spolverizzando con un po' di pepe macinato ed una fogliolina di salvia sbriciolata.

Sognando:
so
gnare pepe macinato indica gaiezza e salute; sognare di macinare pepe indica necessità; sognare di mangiare pepe indica gravi contrasti.



Chi mangia un pugno di riso in più a pranzo, ne mangia uno in meno a cena. (
Proverbio cinese
)

Archiviando:
clicca qui per scaricare questa ricetta in formato .pdf
---
English please:
Pear Risotto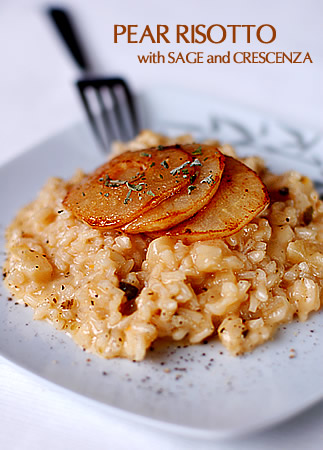 Ingredients for 2

180gr rice for risotto

2 Williams pears

50gr crescenza
4 dry sage leaves
1 small onion
1/2 glass white wine

bit of butter
bit of grated parmesan cheese

vegetable stock

pepper

Gently fry the chopped onion and sage with a bit of butter, then add the diced and peeled pear. Add the rice and toast for a bit then pour the half glass of wine and let the alchool evaporate. Add vegetable stock and cook slowly until the rice is cooked through. Remove the pan from the heat and add the crescenza, mix well until melt and finally add the grated parmesan cheese. Peel the other pear and cut it horizontally. Gently fry the slices in a bit of butter and put them above the rice. Sprinkle with black pepper and some dry sage.