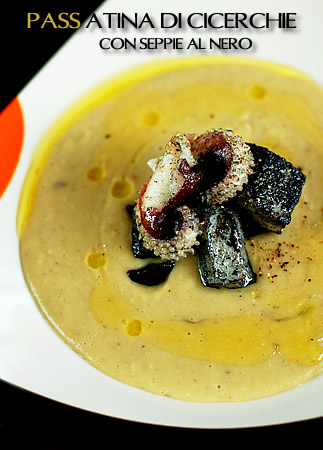 Era una vita che non mangiavo le cicerchie. Mia nonna le faceva cuocere sulla stufa in una pentola di terracotta e di solito le mangiavamo con le cicorie, un po' come si fa con le fave. Le cicerchie vanno lasciate a mollo molto più a lungo rispetto agli altri legumi perché hanno una scorzetta più dura. Anche queste mia madre le ha messe sotto vuoto facendole cuocere sul gas nella pentola di terracotta. Io ho solo aggiunto una piccola seppia soffriggendola con il nero, condito le cicerchie ed irrorato il tutto con l'olio nuovo che renderebbe speciale anche un piatto di pasta in bianco.

Ingredienti


250gr di cicerchie già cotte

1 seppia media

1 spicchio d'aglio
1 piccola cipolla
1 carota piccola
1 gambo di sedano
1 cucchiaino di rosmarino secco tritato
sale, pepe
olio extra vergine di oliva

Preparate un soffritto di cipolla, carota, sedano, rosmarino e aglio. Versate le cicerchie già cotte e rosolate per qualche attimo, poi bagnate con brodo vegetale e frullate o mixate fino ad ottenere una crema omogenea. Pulite la seppia tenendo da parte il sacchetto di nero. Tagliatela a pezzettini poi rosolatela in padella con un po' di olio e aglio. Salate, pepate e solo alla fine aggiungete il nero. Versate la passata nei piatti e adagiate la seppia nel centro. Irrorate con olio extra vergine di oliva e un pizzico di pepe nero.

Sognando:
so
gnare
di
raccogliere legumi indica critiche dannose; sognare legumi cotti indica disaccordo con un figlio; sognare di mangiare legumi indica perdita di denaro.



Non voglio essere né poeta, né galante. Lenzuola bianche perché tu ci svenga! Tu non conosci il sonno né il fulgore del giorno. Come le seppie, con inchiostro di effluvi acciechi nuda. (
"Carmen" Federico Garcia Lorca
)

Archiviando:
clicca qui per scaricare questa ricetta in formato .pdf
---
English please:
Cream of cicerchie with black squid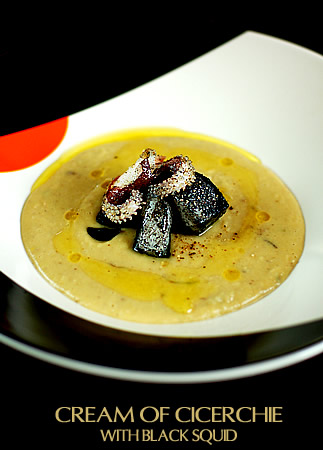 Ingredients


250gr cooked cicerchie

1 medium squid

1 garlic clove
1 small onion
1 small carrot
1 small celery stack
1 tsp dry rosemary
salt, pepper
extra virgin olive oil

Chop the onio, carrots, celery and gently stir fry them with a clove of garlic and the dried rosemary. Add the cicerchie previously cookedin unsalted water, stir well then add a bit of vegetable stock. Mix or blend it until you get a soft cream. Clean the squid reserving the black ink. Cut the squid into small squares, stir fry them with olive oil and a bit of garlic. Finally add he black ink and mix well until all pieces are black. Put the cream in a plate then decorate with the black squid and drizzle with extra virgin olive oil and a bit of pepper.