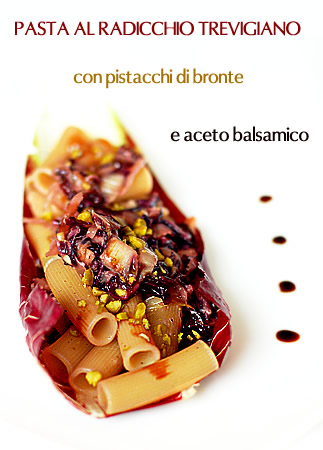 Pasta, pasta e ancora pasta! Ma quanti modi ci sono per condire la pasta? Il radicchio Trevigiano mi piace soprattutto crudo perché così sento tutto il dolceamaro di questo splendido ortaggio, colorato di rosso. Con la pancetta, o con lo speck, ci va a braccetto, e devo dire che è l'unica carne che ultimamente mi concedo, ormai non ne mangio quasi più.

L'
aceto balsamico tradizionale di Modena
è gentilmente offerto da Omar. Thanks a lot! Ora vienimi a dire che qualche goccia di aceto balsamico qui non ci stava, visto che tu lo metteresti su qualsiasi cosa!
Ingredienti


1 piccola cipolla
5 grosse foglie di radicchio trevigiano
50gr di pancetta
1/2 bicchiere di vino rosso
olio, sale, pepe
200gr di pasta tipo millerighe
pistacchi di bronte a piacere
qualche goccia di aceto tradizionale balsamico di Modena


Soffriggete la cipolla in un po' di olio, aggiungete la pancetta e rosolate. Aggiungete il radicchio tagliato grossolanamente e cuocete per qualche minuto, poi bagnate con il vino e fate evaporare. Aggiustate di sale e pepe. Cuocete la pasta al dente, scolatela e conditela con il radicchio risottando per qualche secondo in padella. A piacere servite con qualche pistacchio sbriciolato e qualche goccia di aceto balsamico tradizionale di Modena.

Sognando:
so
gnare
di raccogliere radicchio indica coglierlo piccole gioie; sognare di comprare radicchio indica impetuosità da frenare; sognare di vendere radicchio indica distrazione pericolosa; sognare di lavare radicchio indica tristezza e solitudine; sognare di condire radicchio indica buon accordo in famiglia; sognare di mangiare radicchio indica salute da controllare.



Una donna senza pancia è come un cielo senza stelle. (Proverbio arabo)

Archiviando:
clicca qui per scaricare questa ricetta in formato .pdf
---
English please:
Pasta with Trevisan Radicchio, pistachios and balsamic vinegar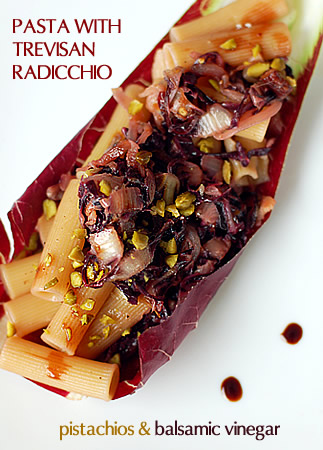 Ingredients


1 small onion

5 big leaves of trevisan radicchio
50gr pancetta
1/2 glass red wine

olive oil, salt, pepper
200gr pasta
pistachios to serve

a few drops of aceto tradizionale balsamico di Modena


Gently fry the chopped onion in a bit of oil, add the pancetta and fry for a few minutes. Add the chopped radicchio and cook for a few minutes, then pour the half glass of wine and let evaporate the alchool. Adjust with salt and pepper. Cook the pasta al dente, drain it and pour it into the pan with the radicchio, stir for a few seconds until all its mixed together. Finally serve with some chopped pistachios and a few drops of balsamic vinegar.