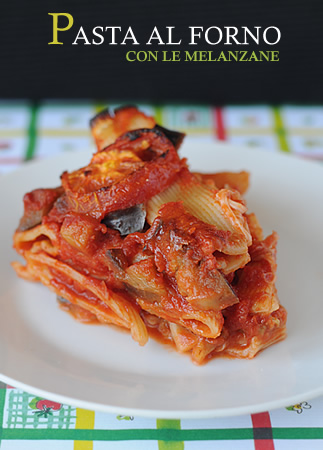 Ci voleva proprio un bel sabato di primavera piena (eh si perché domenica il sole già s'era nascosto sopra le nuvole!). A Londra abbiamo sfiorato i 20 gradi centigradi ed è stato veramente piacevole passeggiare a maniche corte senza sentire freddo.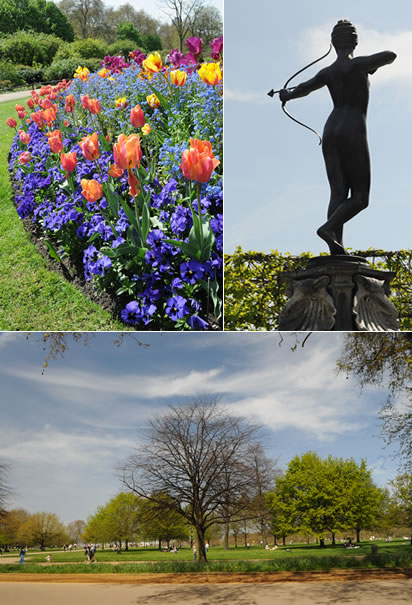 Ne ho approfittato per confezionare questa pasta al forno quasi vegetariana, ricca di sole, calore e amore, quasi come farebbe la mia mamma.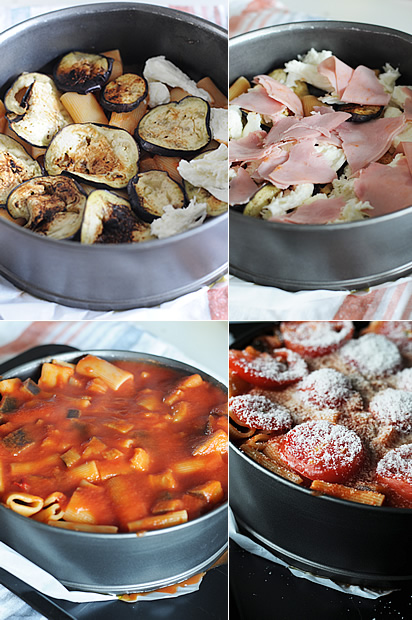 La padella è sempre la stessa, il contenuto varia a seconda dei giorni. Per ovvi motivi di spazio ho un corredo di pentolame molto ridotto, ma ho scoperto che con una sola teglia si possono fare più cose, anche se il risultato ha sempre la stessa forma rotonda! Quattrocento grammi di bontà che il giorno dopo diventano ancora più buoni e mi risolvono il problema del pranzo da preparare. Ottimo per un picnic a Hyde Park, o stando comodamente seduti a casa propria.
Ingredienti


400gr di pasta tipo rigatoni
1 melanzana grande
700gr di passata di pomodoro
100gr di prosciutto cotto
1 mozzarella
1 peperoncino
2 pomodori freschi
1 cucchiaio di formaggio grattugiato
basilico fresco

1 spicchio d'aglio

sale, pepe


Tagliate la melanzana a cubetti e se volete grigliatene qualche fettina da mettere nel centro della pasta. Soffriggete l'aglio ed il peperoncino in un po' di olio, aggiungete le melanzane tagliate a cubetti e rosolate per qualche istante. Versate la passata di pomodoro, salate, aggiungete il basilico e cuocete finché le melanzane non saranno ben cotte. Cuocete la pasta al dente e scolatela. Conditela con un po' di sugo, mescolate ed iniziate a formare un primo strato di pasta in una teglia capiente. Disponete il prosciutto e la mozzarella tagliata a cubetti, coprite con un po' di sugo ed infine un altro strato di pasta. Tagliate due pomodori freschi a fettine e disponeteli sull'ultimo strato. Spolverate con formaggio grattugiato ed infornate a 200 C per circa 30 minuti o fino a quando la parte in alto non si sarà dorata.


Sognando:
so
gnare
un forno acceso indica serena agiatezza; sognare un forno chiuso indica qualche aspro litigio; sognare di aprire un forno indica attività intensa.



Il pittore subisce stati di pienezza e di restituzione. È questo il segreto dell'arte.
Vado a passeggiare nella foresta di Fontainebleau, faccio indigestione di verde,
devo pur liberarmi di questa sensazione in un quadro.
(Picasso
)

Archiviando:
clicca qui per scaricare questa ricetta in formato .pdf
---
English please:
Oven baked pasta with aubergines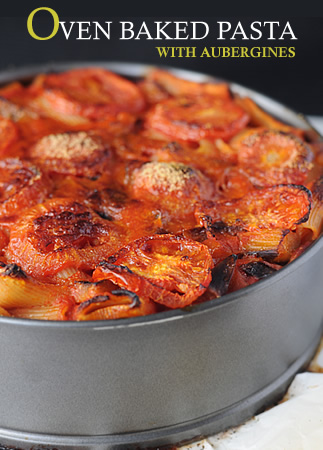 Ingredients


400gr rigatoni or similar pasta

1 big aubergine
700gr tomato sauce
100gr cooked ham
1 mozzarella
1 small chilly pepper

2 fresh tomatoes

1 Tbsp grated cheese
1 garlic clove
fresh basil

salt, pepper
olive oil


Dice aubergine and if you like, grill a few slices to put in the middle of the pasta later on. Gently fry the garlic and chilly in a bit of olive oil. Add diced aubergine and fry for a few minutes. Pour the tomato sauce, adjust with salt, add a few leaves of basil and cook until aubergines are tender. Cook the pasta in boiling salted water and drain it at al dente. Toss it in a bit of tomato sauce then prepare the first layer of pasta in a oven tin. Cover the first layer of pasta with the cooked ham and diced mozzarella and finally a bit of tomato sauce. Add the rest of the pasta, a bit of sauce and finish by topping up with slices of fresh tomatoes and a sprinkle of grated cheese. Bake at 200 C for about 30 minutes or until golden on top.