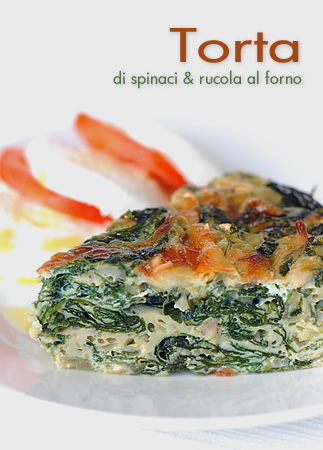 La prima volta che ho mangiato una "frittata al forno" è stato tempo fa a casa della zia Cenzina. Quando la mise in forno invece di friggerla rimasi un tantino perplessa, pensai che il gusto ne avrebbe risentito ed anche la consistenza. E invece no. Non solo è più salutare cuocerla in forno ma a mio avviso è anche più facile da realizzare specialmente per chi non ha il polso magico per fare le acrobazie da far girare la frittata in aria in un sol colpo. A me piace moltissimo questa versione che si presta a tantissime varianti. Ideale nei giorni in cui si è inondati di lavoro, come questi appena trascorsi.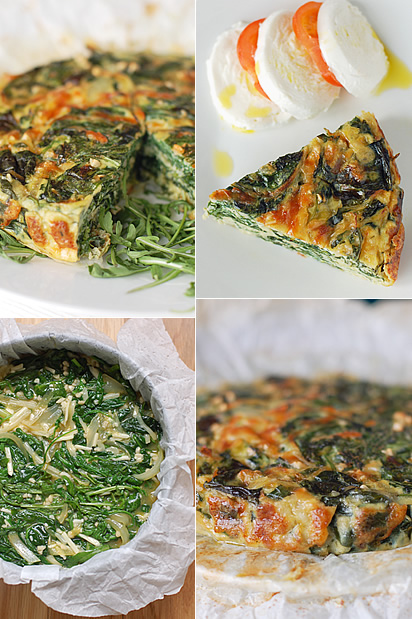 Sostituite il formaggio cheddar, se non lo trovate, con altro formaggio duro tipo quello con i buchi. Utilizzate gli spinaci piuttosto che le bietole o la rucola o altre verdure a piacere.
Ingredienti


6 uova
300gr di spinaci
100gr di rucola
1 cipolla piccola
1 cucchiaio di noci tritate
50gr di formaggio cheddar grattugiato
sale, pepe, olio

In un padella capiente, rosolate la cipolla con un po' di olio. Aggiungete gli spinaci lavati e leggermente scolati e fateli cuocere per qualche minuto, poi aggiungete la rucola e fate lo stesso. Lasciate le verdure croccanti e fate evaporare l'acqua in eccesso. In una terrina capiente, sbattete le uova, aggiungete il formaggio grattugiato, gli spinaci e la rucola. Salate, pepate ed infine aggiungete le noci tritate. Mescolate bene il tutto poi oleate leggermente una teglia a cerniera o ricopritela con carta da forno. Versate il composto ed infornate a 180 C per circa 40 minuti o fino a quando non si sarà dorata. Servite calda o fredda.

Sognando:
so
gnare di raccogliere spinaci indica
notizie attendibili; sognare di lavare spinaci indica posizione di privilegio; sognare di cuocere spinaci indica acume negli affari; sognare di mangiare spinaci indica debolezza fisica.

Una torta di riso dipinta non placa la fame. (Detto antico)

Archiviando:
clicca qui per scaricare questa ricetta in formato .pdf
---
English please:
Spinach and rucola cake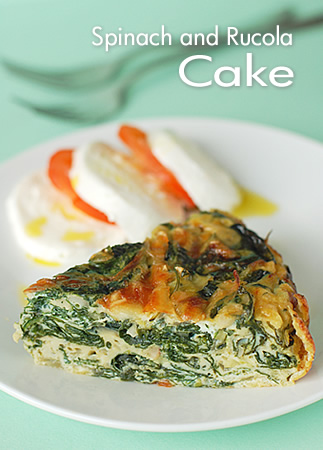 Ingredients


6 eggs
300gr spinach
100gr rucola
1 small chopped onion
1 Tbsp ground walnuts
50gr grated mature cheddar cheese
salt, pepper, olive oil

Gently fry the chopped onion with a bit of olive oil. Wash the spinach and the rucola and add them to the pan cooking until the water has evaporated. Beat the eggs with a fork, add the grated cheese, spinach and rucola. Adjust with salt, pepper and add the ground walnuts. Gently grease an oven cake tin and pour the mixture. Bake at 180 for about 40 minutes or until golden on top. Serve hot or cold.