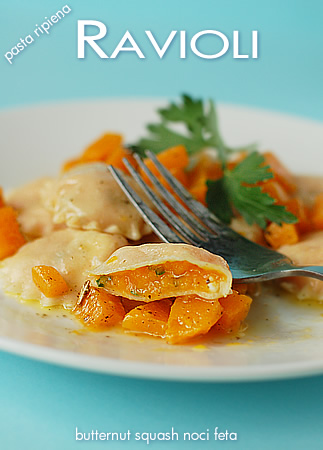 Due delle domande più richieste ultimamente sono:
cosa capperi fai nella vita
e
perché ti sposti in continuazione
. Quel che faccio per mestiere lo si può anche leggere nel
profilo
e perché mi sposto in continuazione non è un mistero, basta leggere qua e là nei post per capirlo, ma a scanso di equivoci, qui lo dico e qui lo ripeto. Di professione faccio la Web Designer, ovvero disegno siti e lo faccio da casa, ed è anche per questo che il lavoro si sposta con me e non viceversa. All'inizio gli spostamenti erano una necessità, i primi 7 almeno lo sono stati, gli ultimi due invece sono stati una scelta. Ciò che all'inizio poteva sembrare una rottura di scatole, nonché apertura e richiusura delle stesse, adesso è diventato un modo per esplorare posti nuovi pur facendo lo stesso lavoro che è il mio punto fermo e costante da 4 anni e mezzo a questa parte. Quanto tempo rimarrò qui a Londra dipende molto da quel che accadrà, giorno dopo giorno, non è detto che mi sposterò altrove ma non è neanche detto il contrario. In genere non mi piace programmare e faccio fatica a decidere persino dove andare in vacanza se lo devo pianificare mesi prima. Solitamente i miei viaggi preferiti sono quelli last minute, che mi portano dove anche
il caso
ha scelto per me. Quindi nessuno mi ha chiamata per fare la chef da qualche parte (non avrei comunque le competenze per farlo visto che non ho mai fatto un corso di cucina in vita mia), non lavoro in nessun ristorante e non faccio nulla che sia legato al mondo del cibo (tranne continuare a cucinare e mangiare a casa mia). Sono fortunata, ecco.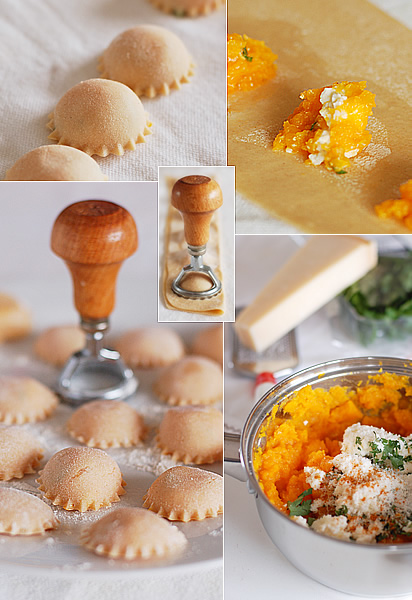 La mia settimana si conclude con
the ingredient of the week
, ovvero la feta, quella avanzata dalla ricetta precedente. A volte basta un attrezzo nuovo o uno vecchio per scatenare la fantasia. E' il caso di questo piccolo taglia-ravioli che avevo da non so quanto tempo e che non ho mai usato, regalatomi dalla zia Cenzina, altro oggettino portato con me, ma non in valigia come qualcuno ha pensato, bensì spedito in un pacchetto prima della partenza, insieme alla macchina per la pasta e ad altri aggeggi. Avendo fatto tutto ad occhio mi è avanzato un bel po' di ripieno che ho usato a mo' di sugo il giorno dopo, con una semplice pasta. Non fatevi prendere dalla pigrizia come accade a volte a me, ed utilizzate il bianco dell'uovo per
legare
la pasta, altrimenti rischiate di vedere aprire i ravioli durante la cottura e non è un bello spettacolo!
Ingredienti per circa 20 ravioli


100gr di farina bianca
1 uovo
1 pizzico di sale
1 bianco d'uovo


Ingredienti per il ripieno


2/4 di butternut squash piccola
25gr di feta
1 cucchiaio di formaggio grattugiato
1 cucchiaino di noci tritate

1 cucchiaino di prezzemolo tritato
1 pizzico di noce moscata
burro
spezie secche (rosmarino, timo, alloro, basilico, santoreggia)

sale, pepe

Preparate la sfoglia con la macchina per la pasta e tiratela sottile con il numero 5. Scottate la zucca in acqua, oppure cuocetela a vapore o in forno. Tenetene da parte una piccola quantità che userete per condire i ravioli. Riducetela in purea poi aggiungete tutti gli altri ingredienti e mescolate. Posizionate una piccola quantità di ripieno sulla sfoglia e tagliate i ravioli della forma che più vi piace o con l'attrezzo che preferite. Cuocete i ravioli in acqua bollente salata e scolateli non appena saranno venuti a galla. Tagliate a dadini piccoli la restante zucca e stufatela con un po' di burro in un pentolino, salate ed aggiungete le spezie. Condite i ravioli e servite subito.


Sognando:
so
gnare
ravioli in brodo indica attaccamento alla famiglia; sognare ravioli al sugo indica unione difficile; sognare di fare ravioli indica idee originali; sognare di mangiare ravioli indica vitalità in aumento; sognare di comprare ravioli indica capricci passeggeri; sognare ravioli di carne indica turbamento e delusione; sognare ravioli di ricotta indica rivalità segreta; sognare ravioli di verdura indica atteggiamenti polemici.



Val sempre la pena di fare una domanda, ma non sempre di darle una risposta.
(Oscar Wilde
)

Archiviando:
clicca qui per scaricare questa ricetta in formato .pdf
---
English please:
Butternut squash and feta ravioli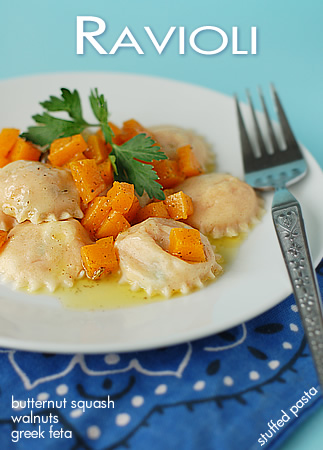 Ingredients for about 20 ravioli


100gr white flour

1 egg

1 pinch salt
1 egg white


Ingredients for the filling


2/4 small butternut squash
25gr feta
1 Tbsp grated cheese
1 tsp ground walnuts

1 tsp chopped parsley
1 pinch nutmeg
butter
dried spices (rosemary, thime, bay leaves, basil, savory)

salt, pepper

Mix flour and egg together with a pinch of salt and work it until you get a soft ball. Fix the pasta maker on the table divide the dough and roll it out with number 4 for 3 times and finish with number 5. The sheets are now ready to be cut out. Boil, bake or steam the butternut squash leaving a little bit for the final decoration. Mash the squash and add parsley, walnuts, nutmeg, grated cheese and feta, adjust with salt and pepper and set aside. Put a little bit of the mixture on a sheet of pasta and cover with the another on top. Cut with a knife or with a ravioli cutter. Before closing the ravioli make sure you brushed them with a bit of egg white to prevent them from opening while cooking. Cook the ravioli in salty boiling water until they float in the water, about 3 minutes. Dice the remaining squash and gently fry it with a bit of butter and the spices, pour over the ravioli and serve immediately.