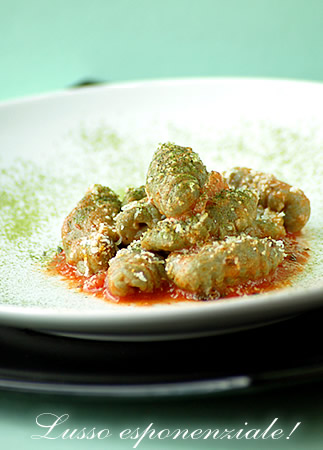 Ci siamo! Domani si parte per
una settimana
per la madre terra, ovvero la
Puglia
. Ma prima di andare, potevo io lasciarvi a stomaco vuoto? Un'ultima ricetta con un ingrediente che mi sta davvero a cuore e con il quale ho sperimentato maggiormente durante il corso dell'ultimo anno. Chi mi visita spesso conoscerá il
matcha
, le sue
proprietá
e la
versatilitá
con il quale si puó utilizzare. Per le altre ricette, guardate nel menú a destra sotto la voce
matcha/té verde
.
Nella speranza di
ritrovarvi
tutti al mio ritorno, vi auguro una piacevole continuazione e
buone vacanze
a tutti coloro che partono in questi giorni.
Vi lascio con un piccolo passo di un libro che mi segue quasi quotidianamente intitolato
"The art of happiness"
di
HH Dalai Lama & Howard C. Cutler.
A proposito della felicitá:
"Non abbiamo bisogno di piú soldi, non abbiamo bisogno di grandi successi o di fama, non abbiamo neanche bisogno di un corpo perfetto o di un compagno perfetto. Adesso, in questo preciso istante, abbiamo una mente, l'attrezzatura di base necessaria per raggiungere la felicitá."
Ingredienti:
500gr di patate, 30gr di burro, 1 uovo, 200gr di farina, 1 cucchiaio di matcha in polvere, sale, pepe
Pelate le patate, bollitele in acqua appena salata, scolatele e e schiacciatele fino a ridurle a puré. Mettetele in un recipiente capiente, aggiustate di sale e pepe, aggiungete il burro, l'uovo sbattuto, la polvere di matcha ed iniziate a versare la farina mescolando con una forchetta. Quando gli ingredienti si saranno amalgamati un po' tra di loro, versate il composto su una spianatoia infarinata. Lavorate ed aggiungete tanta farina quanta necessaria per ottenere un impasto morbido ma abbastanza solido, non troppo appicicaticcio. E' possibile che serva molta piú farina di 200gr, a seconda dell'umiditá delle patate utilizzate.
Quando avrete raggiunto la consistenza desiderata, tagliate la pasta a pezzetti e formate dei rotolini abbastanza spessi, circa 1cm. Infarinate l'apposito attrezzo per fare gli gnocchi e passateci sopra la pasta fino a farla rotolare, affinché si formino i classici righelli dello gnocco.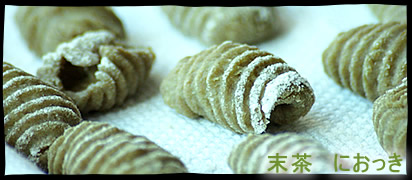 In mancanza del fattapposta, potete utilizzate una forchetta ma io ho provato e non mi sono trovata per niente bene, ci va una vita intera. Mentre con il fattapposta é tutto piú veloce e pratico.
Cuocete gli gnocchi poco alla volta, in acqua bollente e salata. Scolateli a poco a poco con una spumarola e condite con un sugo a piacere.
Io ho usato un sugo di pomodoro molto semplice fatto con un soffritto di
aglio ed olio
,
pomodori pelati
,
salvia secca
,
sale
e
pepe
. Abbondate di
parmigiano reggiano
per far si che il sugo si attacchi meglio agli gnocchi. Infine, spolverizzate ancora con un po' di matcha in polvere.

Sognando:
sognare
vacanze estive
indica richiesta di denaro; sognare
vacanze al mare
indica sospetti infondati; sognare
vacanze in montagna
indica intraprendenza; sognare di
prendere giorni di vacanza
indica giorni sereni; sognare di
concedere vacanze
indica amici premurosi.

Haiku:
Giorni felici - lascian tracce di luce - nei nostri occhi
(Frank)

Semplice-mente - assapora la vita - felice-mente
(Pib)
---
English please:
Green tea matcha gnocchi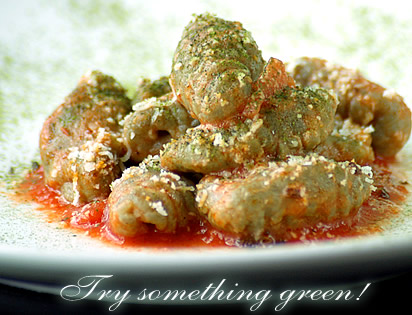 Matcha is definitely one of those ingredients I have discovered since living abroad. The first time I tasted it, I was in America, in a Japanese restaurant. I think I had green tea ice cream, then biscuits, then I started looking for anything that contained this green powder and ultimately bought a big quantity for myself and never stopped since. I drink green tea matcha and I also cook with it. There are two different type of matcha. One is very expensive and it is the one used for the Japanese Tea Ceremony, the other one is made especially for cooking and it's a bit cheaper. Yet the price is still quiet high but definitely worth it. You can still make
gnocchi
without adding any matcha powder, or make them half with matcha and half without, so to have a nice coloured dish!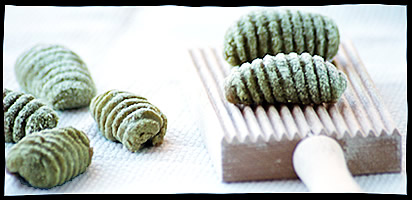 I am about to go
in vacanza
on holiday
, so I am about to go and prepare my
valigia
suitcase
.
Questa valigia é troppo pesante!
This suitcase is too heavy!
Surely it will be when I return from
Puglia
Apulia
, where my parents live and where I hope to gather a small supply of local
delizie
delicacy
!
I am going to leave you with this small passage from one of my favourites book. It's called "The art of happiness" by the
HH Dalai Lama & Howard C. Cutler.
About
felicitá
happiness
:
"We don't need more money, we don't need greater success or fame, we don't need a perfect body or even a perfect mate. Right now, at this very moment, now, we have a mind, which is all the basic equipment we need to achieve complete happiness."


Arrivederci a tutti, a presto!
Goodbye everybody, see you soon!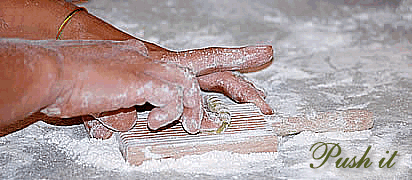 Peel the potatoes, cut them and boil in slightly salty water. Drain and put them in a big container, add salt, pepper, butter and 1 beaten egg. Mix well than add the sifted flour and matcha (if you don't like or don't have matcha, keep going without). When all the ingredients start to come togheter knead with your hands on a floured board. Work it adding more flour as much as it's needed to get a solid mixture but not too dry. You might need a lot more flour, it depends on the humidity of the potatoes you have used. When you get the right consistency, cut the dough into quarters then rool each portion in a segment about 1cm wide. You can use the back of a fork to get the marks, but it's really time consuming and much difficult in my opinion. So if you have it, you could use the right tool, which has been previously well floured. Cook the gnocchi in salty boiling water in small banches. Drain them as they come up to the surface and serve with your favourite sauce. Now gnocchi really need a big quantity of sauce in order to really melt in your mouth. I have prepared a simply sauce by frying a bit of garlic in olive oil, added some canned chopped tomateos, a bit of dried sage, salt, pepper. When you drain the gnocchi, first add a very good amount of grated parmesan, mix well, and then add the sauce. The parmesan will stick on the gnocchi, making the sauce stick on top. Finally add some matcha powder if you like.