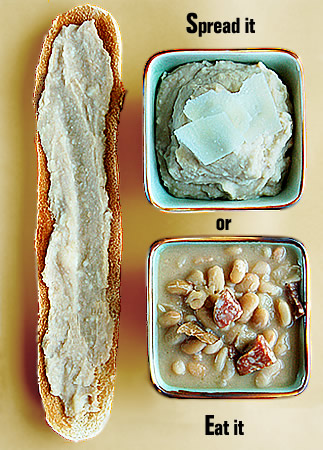 Con il 21 settembre appena trascorso, é quasi ufficialmente arrivato l'Autunno ed é anche arrivato il momento per me di far fuori quel gelato qui sopra che mi ha accompagnata per tutta l'estate. L'autunno é di sicuro la mia stagione preferita, non fosse altro perché in questa stagione ci sono nata. Finalmente é arrivato il momento per andare a caccia di more (che qui maturano veramente tardi rispetto al resto del mondo), funghi, ortiche e quant'altro la natura ci regala. Dell'autunno adoro i colori, le sfumature, il tempo che cambia, le foglie che cadono, la malinconia che porta, gli stessi colori che questa foto mi ricorda. Il cibo che si fa un po' più calorico per aiutare il corpo e lo spirito, a superare lo shock del cambiamento.

Ingredienti per lo stufato


300gr di fagioli cannellini secchi
1 cipolla media
1 spicchio d'aglio
100gr di salame
2 foglie di alloro
1lt di brodo vegetale (o di carne)
olio

Ingredienti per il purè

50gr di parmigiano reggiano grattugiato
80ml di olio di oliva

Mettete i cannellini a mollo per una notte. Preparate un soffritto con olio, cipolla e aglio. Aggiungete il salame tagliato a dadini o se preferite usate la pancetta affumicata. Rosolate bene, poi aggiungete i cannellini, le foglie d'alloro e mescolate. Versate il brodo vegetale o di carne e cuocete a pentola coperta e fuoco basso per 40/50 minuti o fino a quando i cannellini non saranno cotti. Potete mangiare i fagioli già così, da soli o come contorno ad un piatto di carne.


Per il puré invece procedete eliminando le foglie d'alloro e frullando i fagioli insieme al parmigiano grattuggiato e all'olio d'oliva. Aggiungete piú o meno olio a seconda della consistenza che desiderate. Infine guarnite con scaglie di formaggio e servite con crostini di pane. Si conserva bene in frigo per un paio di giorni.

Sognando:
sognare
alloro
indica piaceri e buone relazioni; sognare una
corona di alloro
indica spirito conciliante; sognare di
cucinare con l'alloro
indica nuove responsabilitá.

Naturalmente:
I semi del
fagiolo
(Phaseolus vulgaris), noti a tutti semplicemente come fagioli, sono originari dell'America e sono stati infatti tra gli alimenti principali per le popolazioni pre-colombiane, Aztechi, Inca, Maya. Di fagioli ne esistono numerose varietà, accumanate dagli stessi principi nutritivi. Chiamati spesso "carne dei poveri" per il loro notevole contenuto di proteine (sopratutto nei fagioli secchi, fino a 24%), i fagioli contengono inoltre
vitamine A, C, B1 e B2, niacina, calcio, potassio, ferro, fibre, fitoestrogeni
. Si consiglia sempre di abbinare i fagioli a pasta o cereali, poichè essendo il fagiolo povero di aminoacidi essenziali, consumandolo con i cereali si complementa. Il consumo di questi legumi ci aiuta inoltre a tenere basso il livello di colesterolo, a regolarizzare la glicemia e ad aiutare i reni. Il contenuto di fibre limita l'assorbimento dei grassi che fanno lavarare meglio l'intestino.
Se consumate fagioli freschi potete sfruttare anche i principi attivi dei baccelli, anch'essi ricchi di aminoacidi, vitamine A, B e C, sali minerali, fibre. Un decotto di baccelli ha proprietà diuretiche, cardiotoniche ed ipoglicemizzanti grazie all'arginina, uno degli aminoacidi presenti che abbassa la glicemia.



Haiku:
Come la foglia - al tempo si arrende - cosí la vita
(Frank)
---
English please:
Stewed Cannellini bean puré
Autumn has definitely arrived, no questions about that, and with it all that delicious food that this season brings.
Settembre e Ottobre
September and October
in particular are two of my favourite months of the year, which is also one of the best time to go out there and pick up some delicious wild food such as
frutti di bosco
wild berries
,
funghi
mushrooms
,
ortiche
stinging nettles
, and even
fichi
figs
if you have a neihgbour that has
un albero
a tree
near you!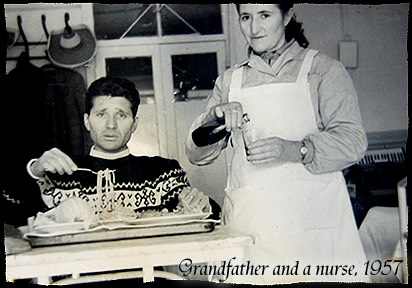 This is another picture of
mio nonno
my grandfather
, back in 1957 when he was
in ospedale
in the hospital
. I never knew my grandfather as he died shortly after that year, but I have always looked at his pictures and found them very tender. The lady on his side is
un infermiera
a nurse
in the act of
versare
(
to pour
) pouring him a glass of
vino rosso
red wine
! It certainly appears to me that hospitals were a bit more different at that time, and I am glad that grandfather did enjoy the best of food and drink before he left.
Ingredients for the stewed


300gr cannellini beans
1 medium onion
1 clove of garlic
100gr salame or smoked pancetta
2 bay leaves
1lt vegetable stock (or meat stock), olive oil

Ingredients for the puré


50gr grated parmesan, 80ml olive oil

Soak cannellini beans in water overnight. In a big saucepan, heat olive oil and gently fry the chopped onion with garlic and salame or bacon. Add cannellini beans, bay leaves stir well. Pour vegetable or meat stock and cook at a law temperature for about 40/50 minutes or until beans are tender. You can eat the beans at this stage, on their own or with a main dish that includes meat.
To make the puré, simply discard the bay leaves and with an electric mixer mash them by adding olive oil and grated parmesan. Add more or less olive oil accordingly to the consistence you want to reach. Finally guarnish it with shaved parmesan. Serve it as a dip or as a side dish to other meat main courses. You can keep it covered in the fridge for a couple of days.