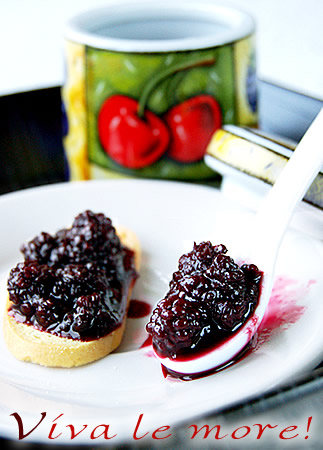 L'autunno é sbocciato come una rondine a primavera. Il grigiume ci sovrasta, la pioggia ci lava, é la stagione, passerá. Ma finalmente anche per noi é arrivato il momento di andare a raccogliere le more. Quest'anno non eravamo soli, con noi c'erano anche Anto e Gab ed il raccolto é stato ricco. Per conservare il profumo ed i colori di questo autunno anche in inverno, ho fatto questa marmellata di more che, dopo quella alle
arance di Seviglia
, é diventata la mia preferita. Personalmente non amo le marmellate perché sono troppo dolci per i miei denti e non ho la santa abitudine di fare colazione perché, proprio come un'abitudine, se non ce l'hai non ci riesci, a fartela (l'abitudine). Invece questa ha poco zucchero e la tollero perfettamente e l'abitudine é diventata un piacere.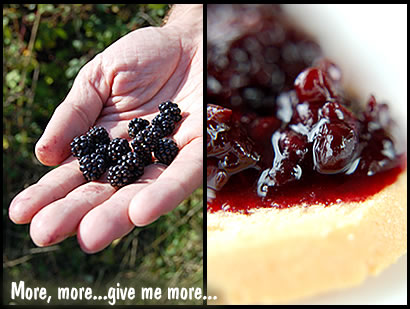 So che molti usano zuccheri appositi per fare le marmellate, ma io preferisco farla come la faceva mia nonna e come la fa ancora mia madre, con lo zucchero, perché é cosí che l'ho sempre vista fare. L'anno scorso ci siamo deliziati con una
torta di more in versione vegana
, alcune le abbiamo messe
sotto spirito
, altre le abbiamo mangiate
al cucchiaio con i cranberries
.
Ingredienti: 1kg di more, 500gr di zucchero, mezzo bicchiere di acqua, il succo di 1 limone

Raccogliete delle belle more con le vostre manine, possibilmente belle sode in modo che durante la cottura non si spappolino completamente ma alcune restino intere. Anche l'occhio vuole la sua parte. Lavate bene e lasciatele scolare per un'oretta.
Mettetele in una pentola capiente con mezzo bicchiere d'acqua e lasciate macerare cosí a fuoco basso per
10 minuti
. A questo punto potete decidere se passare le more per tritare i piccoli semini oppure continuare con la cottura. Se volete quindi, fate raffreddare un pochino e passate questo composto nel passaverdure. Riportate in pentola e procedete aggiungendo il succo di 1 limone e lo zucchero. Mescolate bene, portate ad ebollizione a fiamma viva ma non altissima. Fate cuocere per un totale di
30/40 minuti
circa, schiumando con una schiumarola fino a quando la schiuma smetterá di formarsi. Continuate a cuocere piú o meno a seconda della consistenza che desiderate. A me non piace molto densa quindi per me sono stati sufficienti 30 minuti circa. Considerate che durante il raffreddamento la marmellata si solidifica un po' di suo.
Sterilizzate i vasetti di vetro facendoli bollire in acqua calda. Scolateli poco prima di invasare. Invasate la marmellata ancora ben calda e chiudete subito i vasetti ermeticamente. Capovolgeteli e metteteli sotto una copertina. Lasciateli capovolti per
4 o 5 ore
e poi ricapovolgeteli lasciandoli sotto la coperta fino a quando non si saranno raffredati completamente ed avranno formato il sottovuoto. In questo modo la marmellata non necessita di bagnomaria. Una volta aperto il barattolino, conservate in frigo.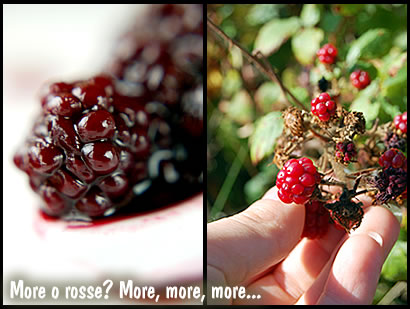 Sognando:
sognare
marmellata
indica piacevoli sorprese e nuove scoperte; sognare di
fare la marmellata
indica che avrete o state avendo un periodo felice; sognare di
spalmare marmellata
indica che avete troppe responsabilitá e dovete imparare a dire di no.

Naturalmente:
Le
more
(Rubus fruticosus, ulmifolius) sono i frutti del rovo, arbusto di cui ne esistono varie specie. Sono bacche ricche di tannini, zuccheri, pectina, provitamina A, vitamina C, acidi organici (citrico, lattico, ossalico, succinico, salicilico), sali minerali di potassio, ferro e rame. Il loro succo oltre che delizioso al palato ha anche
proprietà astringenti per l'apparato digerente, rinfrescanti e tonificanti
, ottimo ricostituente in caso di febbre ed influenza, aiuta a combattere la fragilità capillare, anemia, ritenzione idrica, mal di gola e infiammazioni alla bocca.

Haiku:
Colsi la mora - per gustarla nel bosco - era matura (Frank)
Frutto di bosco - protetto dalle spine - la nera mora
(Pib)
---
English please:
Blackberry Jam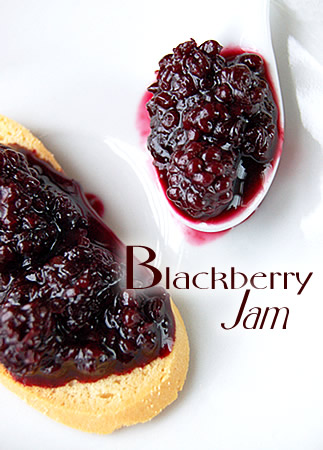 Finally we have been able to go out and pick up some free delicious food.
More!
Blackberries
! Yes, in Italian the word
more
means
blackberries
, plural,
mora
blackberry
, singular. Last year we had them in a few different ways but didn't make the jam (
non mi ricordo perché
,
can't remember why!
). I like how it has come out, as I don't usually like jams in general, they are too sweet for me. This recipe instead uses little sugar and I can tollerate it very well, so much that I am taking the habit
di fare colazione al mattino
,
to have breakfast in the morning
! It's really easy and it's free, so go out this weekend and
prova anche tu
!
Try it!
Ingredients: 1kg blackberry, 500gr sugar, 1/2 glass of water, juice of 1 lemon

Pick up some good blackberry possibly not too ripe so they won't lose their consistency during cooking time. Wash them very well and drain for an hour at least.
Put them in a big saucepan with half glass of water and let them cook slowly for about
10 minutes
. This is the right time to act if you want to get rid of those little seed. Let cool the blackberry a little bit, then mash them with a vegetable masher and put them back in the saucepan. I have skipped this passage though and kept cooking my jam. Add then sugar and lemon juice, mix well and start boiling at a medium temperature. Let cook for a total of
30/40 minutes
, scumming all the way until there is no more. Let cook until you reach the right consistency for you. I personally don't like it too thick, so 30 minutes
were enough for me. Consider that the jam will get thicker as it cools down.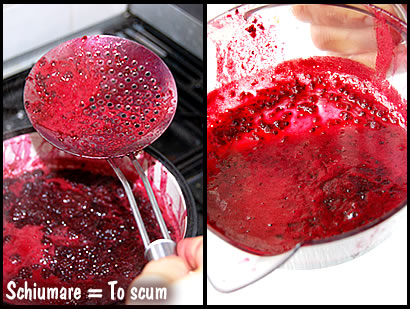 Sterilize the jars by boiling them in hot water. Or prepare hot boiling water from the kettle, fill the jars and leave them for at least
20 minutes
. Remove the water and put them upside down only a few minutes before you are using them so that they stay sterilized all the way through until you are ready to fill them with jam. Pour the jam when is still very hot. Close them ermetically and put them upside down under a blanket. Leave them to cool for at least
4/5 hours
, then put them straight and leave to cool completely always under a blanket. This way the sterilization will happen gradually and you don't need to boil the jars afterwards. Just remember to refrigerate the jam after opening.