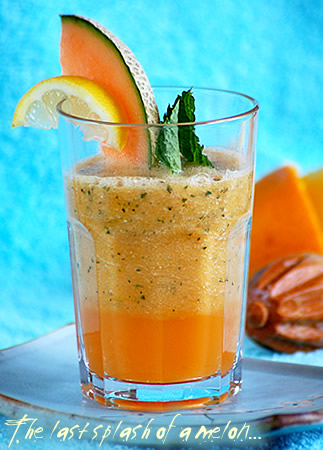 Qui li chiamano Cantaloupe Melon, io in Italia li ho sempre chiamati meloni arancioni. Il colore ovviamente é quello che a prima vista colpisce di piú, ma anche la scorza esterna e la formazione di certe linee che ne delimitano una fetta quasi perfetta, fanno pensare ad una natura che sa sempre come trattarci al meglio. Mi ci voleva proprio un po' di colore stamattina, guardando fuori non se ne vede neanche l'ombra. Quasi l'ultimo soffio d'estate, o forse no.

Ingredienti: mezzo melone, 2 arance, mezzo limone, 10 foglie di menta

Potete centrifugare il tutto oppure frullare e filtrare. A me a volte dispiace buttare via la polpa di certi frutti cosí gustosi ed opto per la seconda opzione. Diventa un valido aperitivo aggiungendo abbondante ghiaccio ed una goccia di vodka.

Ed infine, forse molti di voi lo sapranno giá, vi segnalo i
Macchianera Blog Awards 2006
. Si vota attraverso una scheda in formato Excel, scaricabile sul sito dello stesso oppure
cliccando qui
. Le categorie sono tantissime ed i blog anche. Fiordizucca é stata nominata (grazie a chi lo ha fatto) nella categoria "
MIGLIOR BLOG BUONGUSTAIO
" accanto ad altri autorevoli blog di cibo. Votate
entro il 16 settembre
e che vinca il migliore!

Sognando:
sognare di
fare un voto
religioso indica serenitá e giorni tranquilli; sognare di
dare a qualcuno il proprio voto
indica felice ottimismo; sognare di
promettere un voto
indica grande senso di responsabilitá; sognare di
raccogliere voti
indica sicurezza e fiducia.

Naturalmente:
La
menta
(Mentha piperita, Mentha spicata, Menta arvensis, ect.) è una pianta versatile, come quasi tutte le erbe aromatiche, utilizzabile in cucina ma anche per tisane, infusi, impacchi. Tra i vari componenti della menta troviamo tra i primi il mentolo (contenuto nel suo olio essenziale), tannini e flavonoidi, sostanze amare, resine. Ha
proprietà espettoranti, antisettiche, carminative, digestive, antifermentative, antispasmodiche emmenagoghe, calmanti, rinfrescanti
ed il mentolo in essa contenuto ha un leggero effetto analgesico, antinevralgico. L'infuso di menta (o anche della menta essiccata aggiunta ad un tè) è un buon digestivo dopo pranzo ed ha un effetto calmante anti-insonnia.
Come da quasi ogni pianta aromatica, anche dalla menta si estrae l'olio essenziale, con il metodo di distallazione in corrente di vapore (contrallate sempre la purezza degli oli essenziali in commercio, che non siano solo essenze per profumare la casa o che non siano stati estratti con solventi chimici).
Con l'olio essenziale di menta si può preparare una maschera rinfrescante per pelli grasse, rivitalizzante ed astringente grazie all'aggiunta del cetriolo. Frullate 1/4 di cetriolo insieme a 1 cucchiaio di olio d'oliva, unite 2 gocce di olio essenziale e 4 cucchiaini di argilla verde (in erboristeria). Formate una pasta densa e applicatela sul viso e il collo. Lasciate agire per 10-15 minuti ed infine risciacquate con acqua tiepida.

Haiku:
Scesa la notte - sulle bianche stradine - salì la luna
(Frank)

Sali e scendi - quotidiano vivere - della natura
(Pib)
---
English please:
Cantaloupe Melon and mint juice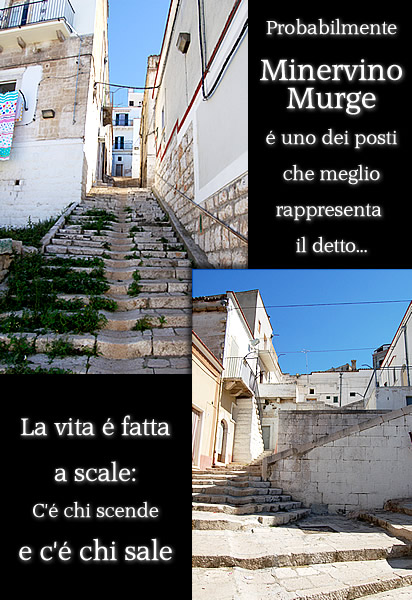 Might really be the last splash of summer. Here in Devon the temperatures have dropped down a little bit but the sky really tells that there isn't much to hope!
Ingredients: half melon, 2 oranges, 1/2 lemon, 10 fresh mint leaves
If you have a juicer, you can squeeze everything in and that's it. If you haven't, use an electri mixer and filter the juice if you don't like the pulp. For a different aperitif, just add some ice and a splash of vodka.
Ieri
,
yesterday
I went to Scotland for a one day business trip. Got lost on my way to Exeter Airport, but luckily I had left home 2 hours earlier and managed to find my way back on the motorway! I thought though that only women could get lost easily and had a bad sense of direction, but lately I discovered that also men get lost (they just don't like to admit it!), so that makes me feel much more confident!
Just in case you were like me and got lost somewhere, you can always say
Mi sono persa/o
(fem. mas.)
I am lost
.
Come faccio a tornare indietro da qui?
How do I go back from here?
Per favore potrebbe aiutarmi?
Could you please help me?

To avoid all of this buy a personal GPS or have a handy mobile phone to call husband or anyone else that can give you directions on where to go!