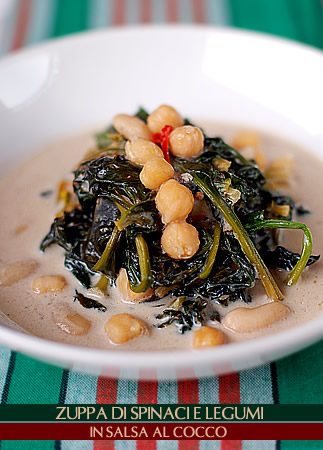 Questa è una di quelle ricette che probabilmente avrei cucinato se fossi stata in Inghilterra, non tanto per il luogo in se, quanto per la reperibilità di alcuni ingredienti. C'è a chi piaceva quello che cucinavo prima, c'è a chi piace quello che ho cucinato in questi mesi. In ogni caso avete avuto modo di vedere entrambi i mondi e magari prossimamente ne vedrete un terzo.

Per una che non ha mai amato particolarmente il cocco e si fa piacere ricette di questo tipo è una bella soddisfazione. La pasta di tamarindo in realtà conferisce un sapore di limone e con l'aggiunta del peperoncino il latte di cocco risulta gradevole, almeno per me. Il piatto si serve così oppure si accompagna con un po' di riso basamati bianco o del pane. Se vi piacciono gli ingredienti esotici, date un occhiata al giochino in basso.


Ingredienti

150gr di spinaci
300gr di legumi tra cannellini e ceci già cotti
1 cucchiaio di pasta di tamarindo
1 cucchiaio di olio
1 cucchiaio di semi di mostarda
1 spicchio d'aglio
250ml di latte di cocco
2 peperoncini piccanti freschi o secchi
1 cucchiaino di zucchero


Cuocete i legumi o usatene di già cotti. Prendete una pentola capiente e soffriggete i semi di mostarda, lo spicchio d'aglio, il peperoncino e l'olio. Sciogliete la pasta di tamarindo e lo zucchero nel latte di cocco. Versate gli spinaci nel soffritto, poi aggiungete il latte di cocco ed infine i legumi. Salate, portate ad ebollizione, poi cuocete per 5 minuti circa e servite.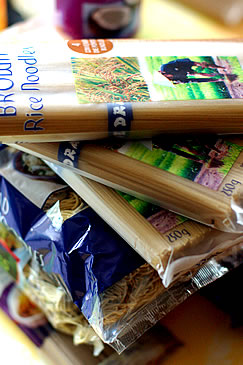 ...a proposito di cocco ed ingredienti asiatici, ho delle cose che sicuramente non riuscirò a riportare indietro con me e probabilmente non riuscirò ad utilizzare prima della mia partenza.
Per questo ho pensato di metterle tutte in un pacchetto e di regalarle alla prima persona che risponderà a qualche piccola domanda!
Le risposte sono contenute tutte all'interno del blog, alcune magari le sapete, altre le dovrete cercare. Scrivete le vostre risposte all'interno della casella dei commenti in ordine dalla numero 1 alla numero 11.
Le risposte incomplete non verranno considerate e quindi il partecipante successivo potrà essere avvantaggiato e vincere il premio, quindi assicuratevi che la risposta sia accurata! Vince la prima persona che risponde esattamente a tutte e undici le domande.

Ed ecco le domande:
1.
In che giorno cade il compleanno del blog Fiordizucca? (Giorno e mese)
2.
Come si chiama il paesino in cui vivevo in Inghilterra, prima di trasferirmi in Italia?
3.
Cita almeno un titolo tra i miei libri preferiti. (Titolo e autore)
4.
Quale macchina uso per fotografare? (Modello e marca)
5.
Da piccola a Carnevale mi piaceva travestirmi. Da cosa?
6.
Cita almeno uno dei miei brani musicali preferiti. (Titolo e interprete)
7.
Da piccola suonavo uno strumento musicale. Quale?

8.
Cita almeno 3 ingredienti per preparare il Chai.

9.
Qual'è la prima ricetta postata sul blog Fiordizucca?

10.
Quante ricette sono contenute ad oggi nel menu di Fiordizucca?

11.
In che giorno cade il compleanno di Fiordizucca? (Giorno e mese)
Facili, difficili? Dipende da quanto siete frequentatori del blog e da quanto sapete smanettare per cercare le informazioni. In bocca al lupo!
Cosa si vince?
2 confezioni di latte di cocco
1 confezione di pasta di tamarindo
3 confezioni di Brown Rice Noodles sottili tipo vermicelli (250gr l'una)
2 confezioni di Soba Noodles (250gr l'una)
1 confezione di Express Instant Noodles (375gr)
1 confezione di Noodles agli spinaci all'uovo (250gr)
1 confezione di Noodles all'uovo (250gr)
+ 1 oggetto a sorpresa!



Sognando:
so
gnare
di
ricevere un premio
indica necessità di riposo; sognare di
consegnare un premio
indica vita privata tranquilla.



Sono contrario a tutto ciò che compromette l'ignoranza naturale. L'ignoranza è come un delicato frutto esotico: toccalo, e ne viene meno la freschezza. (
Oscar Wilde
)

Archiviando:
clicca qui per scaricare questa ricetta in formato .pdf
---
English please:
Soup of spinach and pulses in coconut sauce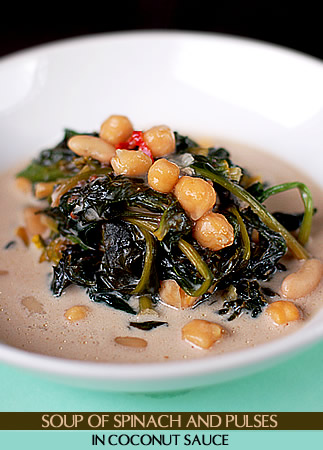 Ingredients

150gr spinach
300gr pulses between cannellini and chickpeas

1 Tbsp tamarind paste
1 Tbsp olive oil
1 Tbsp mustard seeds
1 garlic clove
250ml coconut milk

2 red chilly peppers, fresh or dried
1 tsp sugar


Cook the pulses or use the ready made ones. In a big saucepan stir fry the mustard seeds, garlic clove and the chilly peppers. Melt the tamarind paste and sugar in the coconut milk. Put the spinach in the pan, then add the coconut milk and the pulses. Mix well, bring to a boil then cook for 5 minute and serve.