22 February 2009
Pubblicato il:
Sunday, February 22, 2009
da
fiordizucca
-
45 commenti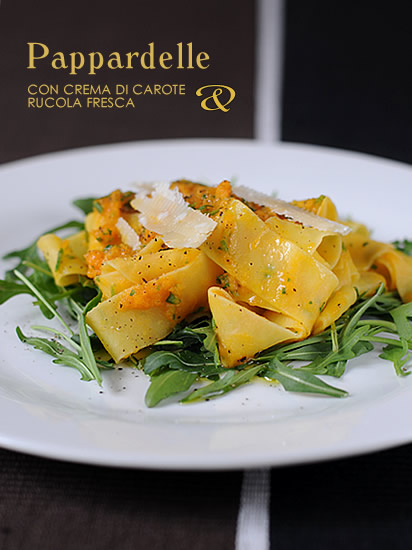 E' passato quasi un mese dall'ultimo post, eppure il mio trasloco effettivo è avvenuto solo questa settimana. E' stato il trasloco più lungo della storia dei miei traslochi. Quattro settimane in cui non sono stata né carne né pesce, un po' di roba di qua, un po' di roba di là, la mattina a lavorare di qua, la sera a pulire di là. Menomale che le due case non erano lontane altrimenti non so quanto avrei impiegato a trasferirmi. Mi restano due porte da imbiancare, poi ho finito almeno la parte che riguarda la cosiddetta "rinfrescata". Dopodiché potrò sbizzarrirmi con qualche tocco creativo di qua e di là. La nuova casa è semivuota, se non fosse per il letto che mi sono regalata, il salotto è privo di ogni forma di arredo, infatti non ha nessuna forma definita né definitiva, ma piano piano arriverò anche a quello. Del resto una delle cose più eccitanti di questo trasloco è quello di poter finalmente scegliere ogni minimo particolare senza che nessuno poi venga a lamentarsi dei muri verdi, delle porte arancioni o di qualsiasi altro cambiamento apportato internamente. Ho cercato in lungo ed in largo mattonelle verdi per il mio nuovo bagno, ma ad averne trovate! Alla fine ho trovato delle belle mattonelle verde foresta che arrivavano da Roma, ma sfortunatamente costavano anche troppo per il mio budget e quindi ho dovuto rinunciare, ripiegando su un colore neutro. Chissà magari un giorno di questi vi farò un piccolo reportage della mia casa, una volta che avrò finito di mettere a posto completamente.
La cucina è rimasta pressappoco così come me l'hanno lasciata, incluso tutte le magagne del caso. Ho giusto scoperto oggi che dei due forni a disposizione, quello più grande ventilato non funziona. Va beh, se è per questo non funziona neanche la lavastoviglie e l'asciugatrice è meglio non accenderla proprio. Tutte cose che più o meno avevo messo in conto e tutto sommato mi sono fatta anche una risata (dopo, molto dopo). Alla fine poteva andarmi anche molto peggio. The good news is... va beh, non so neanche se dirlo per scaramanzia. Ma insomma, fino ad ora non ho riscontrato tracce di invasori sospetti. Vedi alla voce roditori. Schhhhh!! Per me è già una vittoria non dover vivere con una trappola in salotto, che ormai nella vecchia abitazione era diventata parte dell'arredamento.
Ecco. Tiro un sospiro di sollievo. Finalmente oggi mi sono ritagliata un piccolo spazio di tempo per tornare ai fornelli, dopo averli accuratamente sterilizzati. I colori di questo piatto sono quelli che vorrei guardare tutti i giorni e da questo piatto prendo ispirazione per qualche decorazione futura. Intanto, benritrovati.

Ingredienti


2 carote

un mazzetto di rucola
pappardelle all'uovo
formaggio in scaglie per guarnire
1 cucchiaio di formaggio grattugiato

olio
sale
pepe

Pulite le carote e lessatele in acqua non salata per circa 5 minuti o finchè non si saranno ammorbidite. Frullatele ed amalgamate il formaggio grattugiato, aggiustando di sale e pepe. Tritate un po' di rucola finemente e mescolatela a alla crema di carote. Preparate il piatto adangiando foglie di rucola sul fondo. Cuocete la pasta, scolatela al dente ed amalgamatevi la crema di carote e abbondante olio extravergine di oliva. Versate sul letto di rucola e servite con scaglie di parmigiano.

Sognando:
so
gnare
di
cambiare casa
indica riconciliazione in famiglia; sognare di
cambiare abitudini
indica pericolo imminente.

I traslochi sono come la fine di una storia d'amore: pieni di ricordi e di cose che non saranno più uguali.

Archiviando:
clicca qui
per scaricare questa ricetta in formato .pdf
English please
Pappardelle with carrot cream and fresh rocket leaves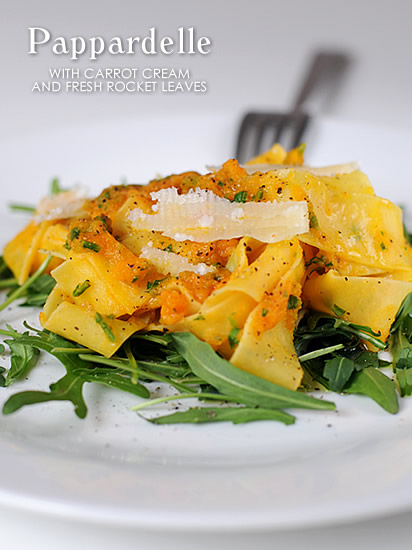 Ingredients


2 carrots
a small bunch of fresh rocket leaves
pappardelle pasta or any other egg pasta
grated parmesan cheese
slices of parmesan cheese to decorate

olive oil
salt
pepper

Wash the carrots and boil them in unsalted water for about 5 minutes or until tender. Blend them with a mixer then add the grated cheese, extra virgin olive oil, salt and pepper. Chop a bit of rocket leaves and add them to the cream too. Prepare the serving dish by laying a few rocket leaves on the plate. Cook the pasta in salted water, drain al dente and finally mix it with the carrot and rocket cream. Serve the pasta on the rocket leaves and decorate with slices of parmesan cheese.
Le piu' lette
Ma dov'é finito il tempo? Non si sa. Non ho piú tempo neanche di grattarmi in testa. E si che ho pure tagliato i capelli e dovrebbe e...

Oltre a consumarlo sopra i dolci, il vino cotto si può utilizzare anche dentro i dolci. Così la zia Cenzina qualche giorno fa ha prepar...

Ingredienti per le tagliatelle: farina di semola di grano duro, acqua quanto basta Ingredienti per il condimento: 150gr di rucola selv...

Ingredienti: 700gr di polpa di zucca, 20gr di Ener-g (pari ad 1 uovo), 100gr di farina, 60gr di grana grattuggiato, mezzo cucchiaino di n...

Ingredienti provolone dolce pasta fillo miele noci sgusciate porro per legare burro Spennellate i fogli di pasta fillo con un po' di ...

Ingredienti: 125gr di azuki , 125gr di zucchero, acqua, 1 pizzico di sale Per prima cosa si mettono i fagioli a bagno per tutta la nott...

Prendo la palla dal blog Troppo Buono e faccio anch'io questo test divertente e banale. Che ogni tanto non guasta. Dimmi come mangi e ...

Per kaki (柿), s'intende il frutto prodotto dalla pianta kaki. Pianta originaria della Cina settentrionale (il cui frutto é anche chia...

Latitante, lo so. La settimana scorsa è stata lunga e piena di cose da fare, da pensare, da organizzare. Un viaggio intenso pieno di incon...

Photo Tour
•
Sagres, Part 2, Portugal
•
Sagres, Part 1, Portugal
•
Lagos, Portugal
•
Portimão, Portugal
•
Crete, Greece
•
St. Patrick's Day, Dublin, Ireland
•
Bettystown, Ireland
•
Capri, Amalfi, Sorrento
•
Marrakech, Morocco
•
Puglia, Italy
•
Eastbourne, East Sussex, U.K.
•
Battersea Park, London
•
Hastings, East Sussex, U.K.
•
Isle of Wight, U.K.
•
Richmond Park, London
•
Venezia, Italy
•
Oxford, U.K.
•
Highgate Cemetery, London
•
Canary Wharf and Greenwich, London
•
Regent's Park, London
•
London Gay Pride 2008
•
The Italian Garden, London
•
Tower Bridge, London
•
Holland Park and Kyoto Gardens, London
•
Urbino, Italy

Published