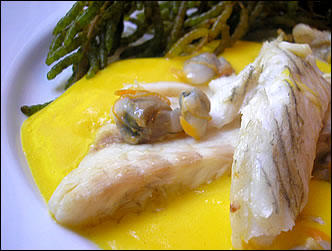 Il samphire è un'erba marina, che cresce in zone rocciose e sabbiose ma sempre in prossimità del mare. Questi li ho trovati appunto al mare, in una zona di bassa marea. In Italia sono anche chiamati Erba di San Pietra e Finocchio di mare.
Hanno un gusto salato e succulento, sono pieni di acqua. Comunemente mangiati facendoli bollire in acqua non salata per circa 5 minuti e serviti con burro e/o accompagnati a piatti di pesce. La stagione migliore per raccoglierli va da maggio a settembre.

Ingredienti: 2 filetti di branzino, 1 noce di burro, qualche vongola per guarnire, samphire

Ingredienti per la salsa: 1 bustina di zafferano, 1 cucchiaio di farina, 1 noce di burro, 300ml di latte
Faccio sciogliere una noce di burro in una pentola e cuocio i filetti di branzino da entrambe le parti, fino a quando non saranno cotti bene all'interno.

Per la salsa procedo facendo sciogliere una noce di burro in un pentolino, aggiungo il latte e spolvero con un cucchiaio di farina, lo zafferano e un pizzico di sale. Mescolo bene, porto ad ebollizione e faccio cuocere a fuoco basso fino a quando la salsa non si sara' addensata. Circa 5 minuti.

Servo con qualche vongola, crema di zafferano e samphire precedentemente scottati in acqua.

Sognando:
sognare
pesce
indica introspezione.
Il
pesce
rappresenta il simbolo della cristianita' e delle credenze cristiane. Sognare di
mangiare pesce
simbolizza le vostre credenze, la vostra spiritualita', fortuna ed energia. E' cibo per l'anima.
Vino: bianchi:
Graves Bianco
secco (Francia-Bordeaux),
Semillon Australiano
,
Sauvignon Blanc Neozelandese
,
Tocai Friuliano

---
The Samphire is a succulent, smooth, much-branched herb, woody at the base, growing freely on rocks on the sea-shore moistened by the salt spray. Best picked between May and September. Usually served with butter and/or with fish plate. Boil them in unsalted water for approximately 5 minutes.
Ingredients:
2 sea bass fillet, clams to guarnish, butter
Ingredients for the sauce:
pinch of fresh saffron, 1 Tbsp flour, 300ml milk, butter

Melt a bit of butter in a saucepan and fry the sea bass 3/4 minutes each side.
In another small pan, prepare the sauce by melting a bit of butter. Add milk, flour, saffron and a pinch of salt. Bring to boil, then cook for approximately 5 minutes until thick.
Serve the seabass with a bit of sauce, clams opened in a covered saucepan, and samphire previously boiled in water.