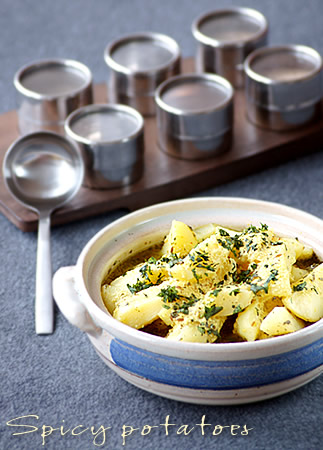 E' ufficialmente arrivato l'inverno! Si perché come si sa, le mezze stagioni non esistono più, quindi l'autunno l'abbiamo superato da un pezzo. Pioggia di quella stupida che in inglese si chiama misty, mista stupida insomma. C'è quasi venuta voglia di accendere i termosifoni ma desistiamo, almeno aspettiamo di vedere sul calendario la data del 1 Settembre! Menomale che ci sono le patate a consolarci.

Ingredienti


500gr di patate
500gr di yogurt naturale
250ml di acqua
1 punta di curcuma
1 cucchiaino di peperoncino in polvere
1 cucchiaino di coriandolo in polvere
1/2 cucchiaino di cumino in polvere
1 cucchiaino di sale
1 cucchiaino di zucchero
2 cucchiai di olio vegetale o ghee
1 cucchiaino di semi di cumino
1 cucchiaio circa di coriandolo fresco tritato

Sbucciate le patate e tagliatele a spicchi. Cuocetele in abbondante acqua, scolatele e passatele sotto l'acqua corrente per bloccarne la cottura. In un pentolino unite lo yogurt, l'acqua e le spezie, tranne il cumino in semi ed il coriandolo fresco. Mescolate e mettete da parte. In un'altra pentola capiente, soffriggete i semi di cumino interi con l'olio. Aggiungete la crema di yogurt con le spezie e riscaldate a fuoco basso per un paio di minuti, sempre mescolando. Quando le patate saranno cotte, aggiungetele alla crema di yogurt e riscaldatele per un paio di minuti per amalgamarle alla salsina. Servite calde o tiepide, cospargendo di coriandolo fresco tritato.

Sognando:
sognare una
pentola di metallo
indica buona salute; sognare una
pentola di terracotta
indica intuizioni; sognare una
pentola con coperchio
indica benevolenza; sognare una
pentola senza coperchio
indica probabili difficoltá; sognare una
pentola vuota
indica amore poco felice; sognare una
pentola piena
indica speranze; sognare una
pentola sul fuoco
indica rettitudine e onestá; sognare una
pentola che bolle
indica rispetto delle tradizioni; sognare di
rovesciare una pentola
indica chiacchiere e pettegolezzi; sognare di
lavare una pentola
indica propositi assurdi.

Haiku:
Luce velata - dalle nebbie precoci - e voglia di sud
(Frank)
---
English please:
Spicy potatoes in yogurt sauce
Today's word is
patate
(plural) (
patata
singular),
potatoes
. In Italy we don't eat much
patate fritte
french fries
, but we bake them a lot more. When I was a child
il puré di patate
mashed potatoes
, was a very delicacy, especially
a Capodanno
,
New Year's Eve
, at least it was a delicacy to me.
Today's sentence then is:
Possiamo avere delle patatine fritte per favore?
Can we have some french fries please?
(Hopefully you won't need this, as there are so many better things to eat when going to Italy!)
Ingredients


500gr potatoes
500gr natural yogurt
250ml water
1/t tsp turmeric
1 tsp chilly powder
1 tsp coriander powder
1/2 tsp cumin powder
1 tsp salt
1 tsp sugar
2 Tbsp vegetable oil or ghee
1 tsp cumin seeds
1 Tbsp fresh chopped coriander leaves

Peel potatoes and chop them. Cook them in boiling water, rinse and wash them in cold water so to stop the cooking process. Put the yogurt in a small saucepan, add water and spices, except cumin seeds and fresh coriander. Mix well with a spoon and set aside. In another pan, pour the oil and stir fry the cumin seeds for a couple of minutes. Add the yogurt cream, stir and cook for a couple of minutes. Add potatoes, mix well and cook for a couple of minutes until the potatoes are covered with the yogurt sauce. Serve hot or warm, garnish with fresh chopped coriander leaves.