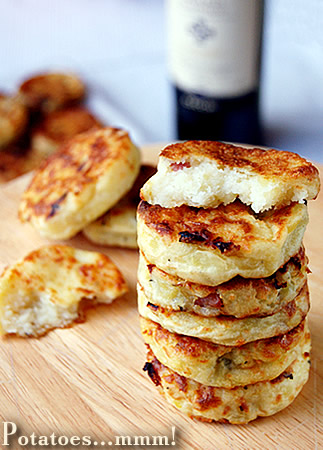 C'è chi prima delle vacanze svuota il frigo, c'è chi invece il frigo ce l'ha quasi mediamente vuoto e invece di svuotare quello, fa fuori scorte di patate. Mancano pochi giorni alla partenza e già non vedo l'ora di respirare aria italiana, scorpacciarmi di mozzarelle di bufala, burrate, frutta e verdura dell'orto di papà, sentire il sole caldo sulla pelle, rubare ricette alla
zia Cenzina
e tornare con mille e più foto. Partire é una cosa che mi mette tristezza ed eccitazione al tempo stesso. Lasciare le abitudini quotidiane per adeguarsi ad altri modi di vivere che diventeranno abitudini a loro volta e che mi dispiacerà abbandonare per tornare alle mie, abitudini di sempre. Intanto, l'ultimo tormentone estivo: Disco patata. Se vi piacciono le cose fritte,
help yourself
e friggete i dischi. Io che l'olio lo preferisco assolutamente crudo, ho preferito passare al forno, spennellando con il burro, che con le patate, ci va a braccetto.
Ingredienti


500gr di patate
100gr di farina
1 cipolla piccola
50gr di burro
50gr di parmigiano grattugiato
50gr di pancetta
1 uovo
sale, pepe
burro extra per spennellare

Bollite le patate, spellatele e schiacciatele fino ad ottenere un purè. Soffriggete la pancetta nel burro, con la cipolla. Aggiungete la farina alla patate, mescolate bene, poi aggiungete il soffritto di cipolla e pancetta, il formaggio grattugiato ed infine l'uovo sbattuto. Regolate di sale e pepe e lavorate fino ad ottenere un composto abbastanza solido da poter formare dei dischi di patate. Versatelo su un foglio di carta da forno, dategli una forma rettangolare e schiacciatela con le mani. Prendete una formina rotonda per biscotti e tagliate i dischi. Spennellateli con un po' di burro da entrambe i lati e passateli al grill per qualche minuto, fino a che non saranno dorati. Servite caldi o tiepidi con insalata o un dip a scelta. Da mangiare il giorno stesso perché il giorno dopo avranno perso la loro naturale sofficità.

Sognando:
sognare un
disco musicale
indica sentimenti corrisposti; sognare
dischi volanti
indica novità fortunata.

Haiku:
Dal vecchio disco - scovato in soffitta - s'alza uno swing
(Frank)

Ferie d'estate - parti per ritrovare - gusti d'amore
(Pib)

---

English please:
Potatoes cakes with pancetta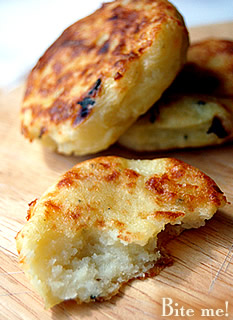 The versatility of potatoes is incredibile. You can do just anything with them, from starters to main course and desserts!
Speaking of desserts, one word I really like is
dolce
sweet.
Dolce
can be used in different ways and has different meanings. For example one could use it as a noun
Ho proprio voglia di un dolce!
I would really like a dessert!
Or one could use it as an adjective
Questa torta é troppo dolce!
This cake is too sweet!
Ingredients: 500gr potatoes, 100gr flour, 1 small onion, 50gr butter, 50gr grated parmesan cheese, 50gr pancetta, 1 egg, salt, pepper, extra butter to grease
Boil the potatoes, peel them and mash when still warm. Warm up the butter and fry the pancetta and the onion. Add flour to potatoes, mix well, then add the fried pancetta and onion, grated cheese and one beaten egg. Add salt and pepper, mix well and work until you get a solid but soft mixture, add more flour if needed. Put this mixture on a kitchen foil paper and give it a rectangular shape, moulding flat with your hands. Cut the cakes with a round biscuit shape, brush lightly with some butter and grill them for a few minutes until gold. Serve hot or warm with salad or a dipping of your choice. Best eaten the same day you make them as they lose their softness as time passes.