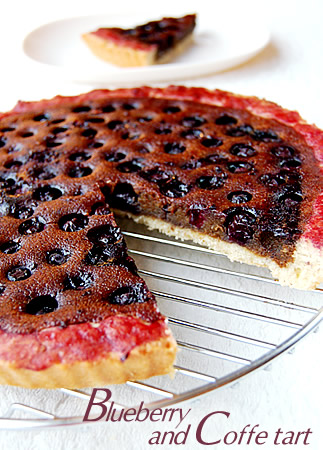 Accostamento bizzarro questo, mi sono detta persino io, ma ho dovuto ricredermi. L'abbinamento caffé con frutta l'ho giá sperimentato qualche tempo fa con il
tiramisú alle fragole
. I gusti sono gusti ed in quella occasione il risultato fu piú che soddisfacente. Con questa avevo le mie riserve, ma con l'aggiunta finale di una bella spennellata di marmellata di more, ogni dubbio é svanito ed il connubio ha funzionato. E' persino piaciuta al
compare
al quale di solito non piace il caffé, l'abbiamo spazzolata via nel giro di una colazione, direi che ha funzionato alla grande.
Ingredienti per la pasta:
200gr di farina, 50gr di zucchero, 120gr di burro, 1 uovo, la scorza grattuggiata di 1 limone
Ingredienti per il ripieno: 1 cucchiaio di caffé solubile, 3 cucchiai di latte, 50gr di burro, 1 uovo, 50gr di zucchero, 100gr di mandorle tritate, 1 cucchiaio di farina, 200gr di mirtilli blu, 2 cucchiai di marmellata di more (o altro gusto a scelta)


Preparate la pasta della crostata mescolando tutti gli ingredienti con un mixer elettrico. Iniziate con lo zucchero ed il burro morbido, poi l'uovo, lo zucchero e la scorza grattuggiata di limone. Mixate fino a quando non si sará formata una palla compatta, aggiungete 2 cucchiai di acqua fredda se fosse necessario. Avvolgete la pasta nella pellicola trasparente e lasciate in frigo per
30 minuti
.
Sciogliete il caffé solubile nel latte bollente, altrimenti non si scioglie. Sbattete il burro con lo zucchero, aggiungete l'uovo, le mandorle tritate finemente e la farina. Infine aggiungete il caffé sciolto nel latte.
Versate questo composto all'interno della base per la crostata che avrete steso precedentemente in una teglia di circa 22/24cm di diametro. Livellate con una spatola piatta ed infine spargete i mirtilli blu pressandoli leggermente nel composto al caffé.
Cuocete in forno pre-riscaldato a
190 C
per circa
20 minuti
. Coprite con un foglio di alluminio e cuocete ancora per altri
10 minuti
o fino a quando la crostata non si sará dorata. Togliete dal forno e prima di farla raffreddare completamente, spennellatela con un paio di cucchiai di marmellata.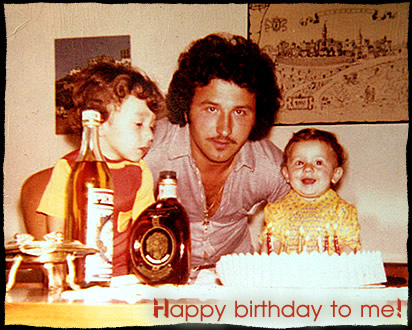 Tra le altre cose, oggi é anche il mio compleanno e lo voglio festeggiare con questa foto di famiglia scattata dalla mamma.
Qualche tempo fa
, quando non avevamo tante comoditá e nemmeno tanti soldi per i festeggiamenti, le torte erano un grande evento e si facevano giusto per il compleanno o addirittura per piú compleanni messi insieme. In questo caso infatti si festeggiava il compleanno di noi tre, benché mio padre e mio fratello siano nati nel mese di settembre. La torta peró era in comune e le foto ricordo si facevano una volta sola. Credo s'intuisca abbastanza quanto mi stessi divertendo e quanto i dolci mi facessero sorridere.

Sognando:
so
gnare una
caffettiera d'argento
indica riconoscimenti meritati; sognare una
caffettiera vuota
indica costanza negli affetti; sognare una
caffettiera piena
di caffé indica liberazione dai rimpianti; sognare una
caffettiera rotta
indica perspicacia nel lavoro.

Naturalmente:
Il
mirtillo
nero o blu (
Vaccinium myrtilllus
) oltre ad essere una deliziosa bacca da usare in cucina, per dolci e non solo, è anche un prezioso dono della natura, grazie alle sue proprietà terapeutiche, non ancora eguagliate dai prodotti di sintesi e per questo spesso usate in preparati farmaceutici. Nei mirtilli troviamo acidi organici (malico, citrico, etc.) che tonificano l'apparato digerente, zuccheri, tannini, pectine, vitamine A, C, B e le preziose antocianine, sostanze che agiscono proteggendo e riforzando le pareti venose e dei vasi capillari, quindi utili in caso di varici, pesantezza alle gambe, degenerazione della retina e diminuzione della vista. Inoltre il mirtillo ha
proprietà astringenti, antidiarroiche, vermifughe e antisettiche delle vie urinarie, utile a chi soffre di cistite
.
Per uso esterno il succo di mirtillo ha effetti astringenti e antinfiammatori, toccasana in caso di pelle irritata, eczemi, per sciacqui alla bocca in caso di mal di gola o irritazioni del cavo orale. Per i suoi benefici sui capillari e vene, in casa, possiamo preparare una
maschera contro la couperose
, riducendo in poltiglia 1 cucchiaio di bacche ed unendolo 2 cucchiai di farina d'avena. Stendere sul viso e lasciare agire per 15 minuti, risciacquando con acqua tiepida.

Haiku:
L'onda del tempo - mi risveglia nel cuore - fremito d'ali (Frank)
---
English please:
Blueberry and coffee tart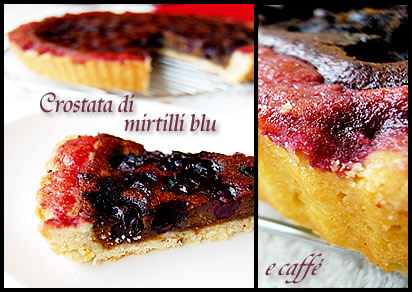 Celebrating
il mio compleanno oggi
my birthday today
! As you can see from the picture
sopra
above
, I always had a sweet tooth since a was little and sweets in general made me smile, and still do.
Nella foto
in the picture
are also
mio fratello
my brother
and
mio padre
my father
. They celebrated their birthday in September, but we used to have a party all at once, with one cake and one picture for all.
Ingredients for the pastry:
200gr flour, 50gr sugar, 120gr butter, 1 egg, rind of 1 lemon
Ingredienti for the filling: 1 Tbsp ground solubile coffee, 3 Tbsp milk, 50gr butter, 1 egg, 100gr ground almonds, 50gr sugar, 1 Tbsp flour, 200gr bluebarries, 2 Tbsp blackberry jam (or other jam of your choice)


Mix all the ingredients for the dough with an electric mixer, starting with the sugar and butter, then the almonds and mix until it resembles bread crumbs. Then add 1 egg and flour and keep mixing until all ingredients come together. Finally add 2 Tbsp of cold water if necessary. Take it out from the mixer, give it the shape of a ball, wrap it into cling film and put into the fridge to rest for about
30 minutes
.
Bring the milk to a boil and infuse the coffee. Beat butter and sugar until pale, add egg, ground almonds and flour. Finally pour the coffee.
Spread this mixture into the base of the prepared tart base. Spread well with a spatula or a spoon and scatter blueberries pushing down slightly.
Cook in a pre-heated oven at
190 C
four about
20 minutes
. Cover with foil and cook for another
10 minutes
or until the tart is cooked through and has a goldish crust. Remove it from the oven and before it cools completely spread it with a couple of tablespoon of jam.