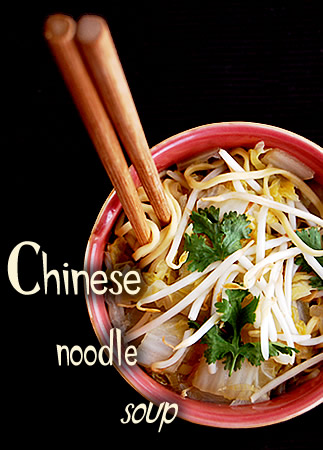 Il cavolo cinese é simile al nostro cavolo italiano ma non fa puzza ed ha un gusto decisamente meno forte, tant'é che si puó facilmente mangiucchiare a crudo, se siete amanti del crudo come me.
La zuppa si presenta leggera e delicata ma se volete qualcosa di piú sostanzioso, aggiungete pezzettini di petto di pollo sminuzzati o carne di maiale. Io non mangio nessuna delle due da molto tempo, specialmente la carne di maiale non rientra nella mia alimentazione né nei miei ingredienti preferiti. Ma se vado al ristorante cinese sicuramente la variante con il pollo é tra le mie scelte preferite. Se non avete il cavolo cinese a disposizione potete sempre usare quello non cinese e tagliarlo finemente, benché quello cinese essendo molto piú sottile, cuoce in metá del tempo. Se vi piacciono le cinesate e le zuppe (
Franci
dove sei?) questa é l'ideale per le giornate fredde ed uggiose.
Ingredienti:
200gr di cavolo cinese, 1.5lt di brodo vegetale (o di pollo), 4 cipollotti, 1 pezzetto di zenzero grattuggiato, 2 cucchiai di salsa di soia, 1 cucchiaio di sherry secco o sake, 120gr di noodles, coriandolo per guarnire, germogli di soia per guarnire
Tagliate i cipollotti e il cavolo, grattuggiate lo zenzero e mettete il tutto in una pentola capiente. Versatevi il brodo, la soia, lo sherry o il sake e portate ad ebollizione. Cuocete i noodles all'interno del brodo stesso e servite decorando con foglie di coriandolo e germogli di soia.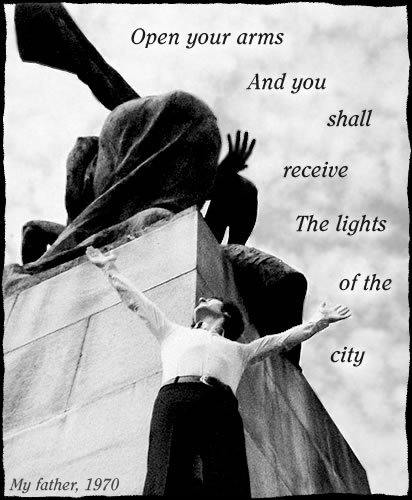 Questa é una foto di mio padre, scattata intorno al 1970 a Torino. Mio padre aveva uno zio fotografo ed insieme a lui hanno prodotto una serie di scatti inusuali. Questo é uno di quelli. Da papá ho sicuramente preso l'estro creativo e gliene sono grata. Buon fine settimana a tutti.

Sognando:
sognare un cavolo indica che non dovreste perdere tempo con le cose futili della vita e che vi piacciono le sfide e le competizioni.



Naturalmente:
Lo zenzero (Zingiber Officinale Roscoe) è una pianta originaria dell'India, diffusa nei secoli in tutto l'Estremo Oriente ma anche in Messico e nelle Antille. Della pianta si utilizza il rizoma (fusto sotterraneo) ricco di oli essenziali e altre sostanze che lo rendono un ottimo rimedio naturale con proprietá antinfluenzali, antinausea, digestive, antireumatiche. La tisana allo zenzero stimola la sudorazione e con le sue proprietà riscaldanti è un aiuto in caso di influenza, tosse e raffreddore ed è un utile aiuto in caso di indigestione e per elimanare gas intestinali. L'olio essenziale di zenzero é ottimo per massaggi antidolorifici e antireumatici (3 gocce in 1 cucchiaio di olio d'oliva o crema).

Haiku:
Le braccia stese - come ali nel vento - a volar via (Frank)
---
English please:
Chinese cabbage and egg noodles soup
This is one of those zuppe soups you can make in no time, if you have all the right ingredients. Although you can improvise and add more vegetables like funghi shiitake shiitake mushrooms or use a normal cavolo cabbage. If you are going to use a normale cabbage, the cooking time will be a bit longer as it's harder than a chinese one. Finally, if you like a more strong flavour or if you are not a vegetariano vegetarian, you can add shreds of filetto di maiale pork fillet or petto di pollo chicken fillet.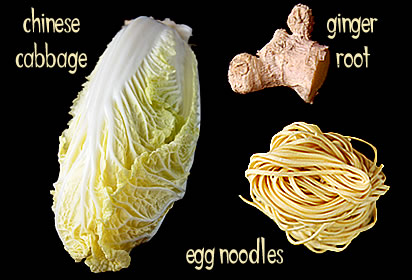 Ingredienti: 200gr chinese cabbage, 1.5lt vegetable stock (or chicken stock), 4 green onions, 1 small piece of grated ginger, 2 tsp soy sauce, 1 tsp dry sherry or sake, 120gr egg noodles, coriander leaves to garnish, bean sprouts to garnish


Cut green onions and chinese cabbage, grate the ginger and put everything in a sauce pan. Add stock, soy sauce, sherry or sake and bring to a boil. Cook noodles and serve garnishing with coriander and bean sprouts.