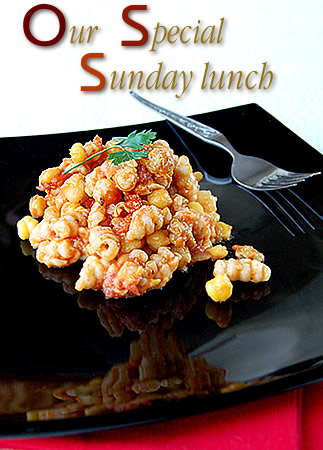 Io e la commara ieri abbiamo avuto la geniale idea di preparare questo piatto. No, in realtá l'idea l'hanno avuta i compari. Infatti erano stati proprio loro a dire: "Andiamo noi a raccogliere le vongole, si si si, dai dai dai, andiamo noi! Facciamo come
l'anno scorso
!". Ma vuoi una cosa, vuoi un'altra, vuoi l'alta marea, non é stato possibile e cosí abbiamo optato per le vongole giá pronte a bagno maria, perché di quelle vive, al supermercato, nemmeno l'ombra. Intonato con l'atmosfera autunnale é sicuramente un piatto da preparare quando é meglio starsene in casa a raccontarsi chiacchiere e produrre quantitá industriali di gnocchetti sardi, piuttosto che passeggiare sotto il cielo pesante e grigio.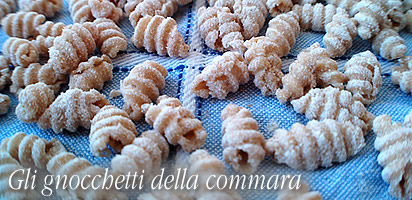 La
commara
si é svegliata di buon ora per venire a cucinare ed ha persino scovato il suo metodo per fare la pasta senza tagliarsi le unghie. Geniale! Peccato che mi sono scordata di fotografarti, ma di sicuro questi gnocchetti li rifaremo presto, quindi prepara la manicure! Il
compare
, come da copione domenicale, é arrivato "all'ora del piatto" e a giudicare da quanto abbiamo mangiato e da quello che abbiamo mangiato, mi pare abbia gradito notevolmente. Il nostro modesto modo di trattarci bene in una domenica di ottobre.
Ingredienti per i gnocchetti: 500gr farina di grano duro '0', acqua

Ingredienti per il sugo di ceci e vongole: 200gr di ceci secchi, 150gr di vongole sgusciate, 1 barattolo di pomodori pelati, 1 cipolla piccola, 1 spicchio d'aglio, 2 acciughe sott'olio, 1 pizzico di peperoncino, 2 foglie d'alloro, sale, pepe, olio, prezzemolo per guarnire


Impastate farina ed acqua fino ad ottenere una pasta morbida e compatta. Formate dei rotoli di pasta e con il coltello tagliatene un pezzettino per volta in modo da poter formare gli gnocchetti. Fateli asciugare su un canovaccio pulito per almeno un'ora in modo che perdano un po' di umiditá.
Per il sugo procedete cuocendo i ceci precedentemente messi a bagno per una notte, con acqua, 1 spicchio d'aglio e un paio di foglie di alloro.
A parte soffriggete cipolla, aglio e acciuga, aggiungete i pomodori pelati, il peperoncino, il sale e un po' di pepe. Cuocete a fuoco basso per circa
30 minuti
senza far asciugare il sugo. Alla fine aggiungete le vongole e spegnete. In questo modo le vongole rimarranno morbide.
Cuocete gli gnocchetti in acqua bollente e salata per circa
3/4 minuti
da quando l'acqua ricomincia a bollire. Scolateli bene e conditeli con il sugo ed i ceci. Irrorate con olio per non fare attaccare la pasta, pepate ancora e servite subito con un po' di prezzemolo se vi piace.

Sognando:
sognare di
pescare vongole
indica aiuto concreto e imprevisto; sognare di
comprare vongole
indica progetti realizzabili; sognare di
mangiare vongole
indica miglioramento di posizione; sognare una
zuppa di vongole
indica malintesi da chiarire; sognare
pasta con le vongole
indica umore incostante.

Haiku:
Volersi bene - tra chiacchiere e cibo - in compagnia (Frank)
---
English please:
Gnocchetti sardi with cockles and chickpeas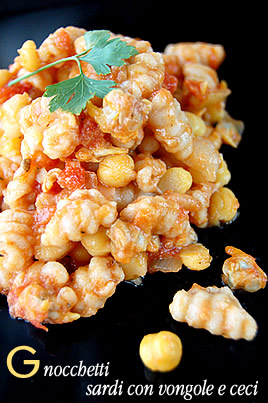 Gnocchetti sardi it's a tipical pasta shape that comes
dalla regione della Sardegna
from the Sardinia region
. The pasta is made with
farina di grano duro
durum weath flour
and although the shape it's the same of the
gnocchi
, in this dough we don't use potatoes but only
farina
flour
. Some people use the back of a fork to make these small gnocchi but with it's own wooden tool the job is done in no time. You might find this kind of pasta shape in some supermarket, or you can make the same dish by breaking up pieces of ready made lasagne layers, as shown in
this picture
from last year recipe.
Ingredients for gnocchetti: 500gr durum weath flour, water
Ingredients for the sauce: 200gr chickpea, 150gr cockles, 1 can chopped tomatoes, 1 small onion, 1 garlic clove, 2 anchovies in oil, 1 pinch dried chilly, salt, pepper, 2 bay leaves, olive oil, parsley to garnish


Prepare the dough for the pasta and by using the appropriate tool, make little gnocchi. See this
small animation
as a reference. Let them dry on a clean towel for about
1 hour
so that they lose umidity.
Prepare the sauce by cooking the chickpea which you have left in water for the night before. Cook them in unsalted water with 1 clove garlic and a couple of aby leaves.
In another saucepan, gently fry the chopped onion, garlic and che anchovies. Add canned tomatoes, salt and pepper. Simmer for about
30 minutes
with a cover lid so that the sauce doesn't dry out. In the end add the cockles and leave it to rest. This way the cockels won't become hard to eat but will remain soft.
Cook gnocchetti sardi in salty boiling water for about
3/4 minutes
starting counting from when the water boils again. Drain them well and mix with the sauce and chickpea together. Drizzle with olive oil so that the pasta doesn't stick together, add more pepper and garnish with parsley if you like. Serve immediately.