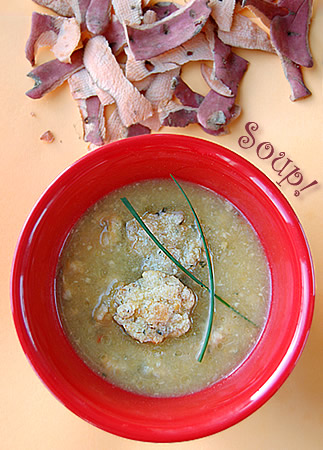 Ancora zuppe? Si, ancora ed ancora e soprattutto patate dolci, le mie preferite. E' questa un'alternativa un po' piú sostanziosa al solito brodino o alla zuppa classica liscia. Le polpettine di patate, leggere ma saporite, danno consistenza ed in piú soddisfano stomaco e palato. Ovviamente le patate dolci sono sostituibili con patate normali e se preferite il brodo di carne puó essere utilizzato al posto di quello vegetale.

Ingredienti: 3 porri, 400gr di patate dolci, 2lt di brodo vegetale, 50gr di burro, 1 spicchio d'aglio.

Ingredienti per le polpette: 400gr di patate dolci, 20gr di burro, 2 cucchiai di parmigiano reggiano grattuggiato, 1 cucchiaio di prezzemolo tritato, 1 cucchiaio di farina autolievitante, 1 uovo sbattuto


Tagliate il porro a fettine sottili e stufatelo con il burro insieme all'aglio tritato. Aggiungete le patate tagliate a dadini e il brodo e cuocete a pentola coperta per circa
20 minuti
o fino a quando le patate non saranno cotte. Frullate la zuppa aggiungendo piú o meno brodo a seconda della consistena desiderata.
Cuocete le patate restanti, riducetele in purea ed aggiungete il burro, il parmigiano, il prezzemolo, l'uovo sbattuto e la farina. Formate delle piccole polpettine.
Riportate la zuppa nella pentola e portate ad ebollizione. Formate delle piccole polpettine con due cucchiai e uno alla volta versatele nel brodo. Cuocetele cosí fino a quando non saranno tornate tutte a galla. Servite caldo con altro parmigiano e un filo d'olio.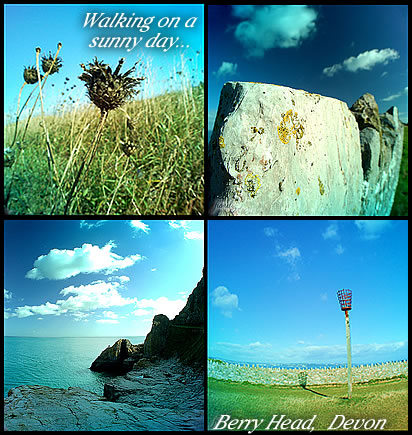 Sognando:
sognare formaggio
grattugiato
indica contrarietá momentanee; sognare di
mangiare formaggio
indica salute in miglioramento.

Haiku:
Sguardi rubati - attraverso la veste - zuppa di pioggia (Frank)
---
English please:
Leek soup with sweet potatoes and parmigiano cheese dumplings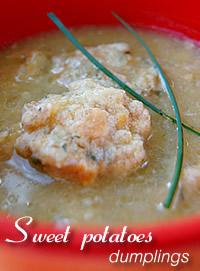 Ingredients: 3 large leeks, 400gr sweet potatoes, 2lt vegetable stock, 50gr butter, 1 garlic clove
Ingredients for the dumplings: 400gr sweet potatoes, 20gr butter, 2 Tbsp parmigiano reggiano cheese, 1 Tbsp parsley, 1 Tbsp self-rasing flour, 1 egg beaten

Cut the leeks and stir fry it with the butter and garlic. Add the diced sweet potatoes and the stock. Cook for about 20 minutes or untile potatoes are coocked. Blend or process the soup adding more or less stock accordingly to your tastes.
Boil the remainin potatoes and mash them. Add butter, parsley, grates parmigiano chesse and beaten egg. Shape little dumplings and put aside.
Return the soup to the saucepan and bring it to a boil. Shape little dumplings with two spoons and drop them into the soup. Let them cook for about 10 minutes or until they come back on the surface. Serve very warm with some more parmigiano and a drizzle of olive oil.