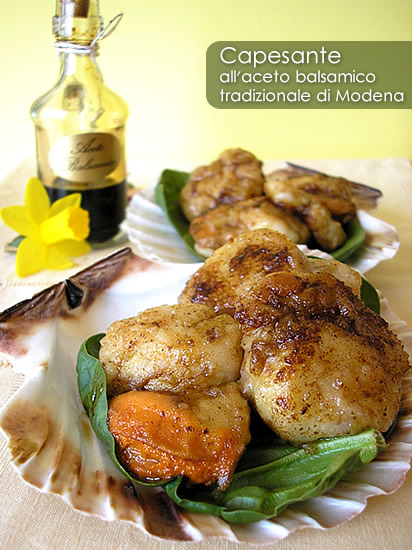 Le capesante qui in Inghilterra si trovano sempre sul banco del pesce, anche se costano un po' di più rispetto al resto dei crostacei, non so bene perché, ma intanto ci sono. Uno dei modi per cucinarle secondo me è proprio questo, semplice ma di sicuro successo. Vanno infarinate e soffritte appena con un po' di burro, senza nemmeno aggiungerci sale. L'aceto balsamico poi farà il resto. Succulente non é nemmeno la parola esatta. Per una divoratrice di ostriche come me, credo di poter dire che le capesante così condite quasi superano le ostriche stesse. Va beh, diciamo pari merito!
Ingredienti


capesante
farina
burro
qualche foglia d'insalata o spinaci

Infarinate leggermente le capesante, soffriggetele in una padella appena imburrata per circa 2 minuti per lato o fino a quando non saranno dorate. Mettetele nei piatti di portata o usate i gusci stessi se li avete, decorati con qualche foglia d'insalata o foglie di spinaci. Irrorate con qualche goccia di a.b.t.m. e servite subito ben calde.
Vino:
Champagne Brut Rosè
o altro spumante analogo

Sognando:
sognare
pesce vivo
indica che state facendo valutazioni obiettive; sognare
pesce morto
indica speranze che cadono; sognare
pesce fritto
indica calunnie dannose; sognare
pesce
affumicato
indica lavoro duro e tormentato; sognare
pesce fresco
indica che riceverete una sorpresa meravigliosa; sognare
pesce che puzza
indica cambiamento d'indirizzo sociale; sognare di
comprare pesce
indica arrivo di denaro; sognare di
vendere pesce
indica miglioramenti progressivi.

Naturalmente:
L'
aceto balsamico
(26 cal per dl) è ricchissimo di vitamina C, sali minerali, aminoacidi e proteine. L'utilizzo in cucina rende più digeribili i cibi, aiutando la secrezione di saliva, succhi gastrici.
1 cucchiaino
di aceto balsamico alla mattina rinforza le pareti di stomaco ed intenstino. Inoltre queste sostanze protettive aiutano anche a lenire e purificare pelli miste/grasse e acneiche.
English please
Pan fried scallops with traditional balsamic vinegar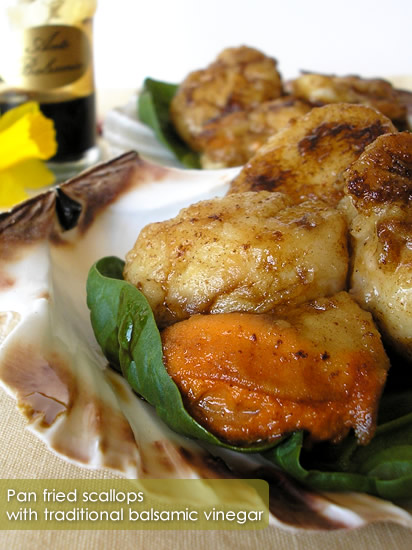 Ingredients


scallops
flour
butter
aceto balsamico tradizionale di Modena
a few leaf of salad or baby spinach

Lightly coat the scallops with flour. Melt a bit of butter into a frying pan. Fry the scallops lightly about 2 minuts each side or until golden, not brown. Arrange them on a plate or in their shells, where you previously put some fresh salad leaves or baby spinach leaves. Guarnish with some drops of balsamic vinegar and serve immediately while still warm.