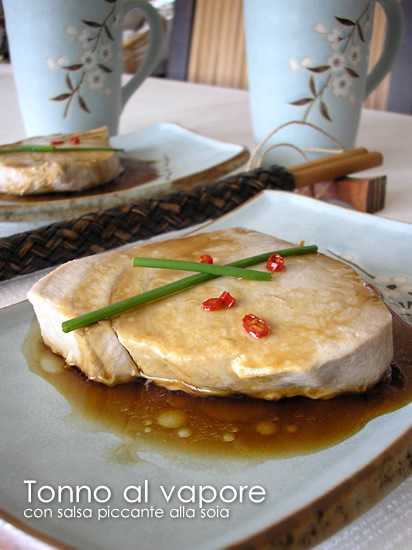 Una delle mie salsine preferite da abbinare con il pesce é questa salsina cinese composta da pochissimi ingredienti, giusti ma essenziali per esaltare il gusto stesso del pesce. Ottimo per chi in questo periodo è a dieta, veloce da preparare ma di sicuro effetto. Insomma, se siete a dieta che almeno apprezziate i gusti ed i sapori, che quei piatti insipidi fanno impressione solo a pensarci. Se poi siete proprio a dieta stretta, potete ridurre o eliminare del tutto l'olio. La stessa salsa va benissimo con altri tipi di pesce, quali il palombo o il pesce spada.


Ingredienti


4 tranci di tonno
2 cucchiai di salsa alle ostriche (oyster sauce)
2 cucchiai di olio di semi di sesamo (o vegetale)
1 cucchiaio e 1/2 di aceto di riso
1 cucchiaio di salsa di soia
1/2 cucchiaino di zucchero
1 peperoncino rosso piccolo piccante

Bagnate un pezzo di carta da forno e strizzatelo bene. Riponetelo nel bamboo, adagiatevi sopra i pezzi di tonno e cuocete a vapore per 5 minuti circa o meno, a seconda della grandezza dei tranci. Il tonno non deve cuocere a lungo per non perdere la sua morbidezza, quindi fatelo cuocere giusto quanto basta. In una scodellina mescolate tutti gli ingredienti per la salsa e tagliuzzate un piccolo peperoncino rosso. Quando il tonno sará pronto, versate la salsa sopra e se volete servite con verdure cotte.
Vino:
rossi:
Syrah siciliani
o altri rossi siciliani a base di uve locali come ad esempio i vini della zona dell'Etna.

Sognando:
sognare un tonno indica tendenza alla prodigalità; sognare tonno fresco indica orgoglio e impulsività; sognare tonno cotto indica gelosia e diffidenza; sognare tonno sott'olio indica intuizione rapida; sognare tonno in scatola indica individualismo e indipendenza; sognare di pescare un tonno indica nuovi legami sentimentali; sognare di mangiare tonno indica scatti di collera.


English please
Steamed tuna dressed with soy and chilli sauce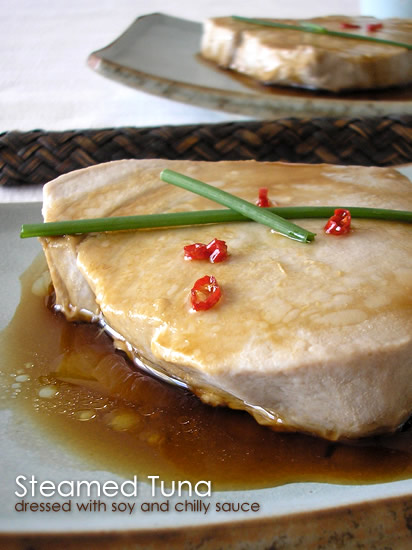 Ingredients


4 pieces of tuna
2 Tbsp oyster sauce
2 Tbsp sesame oil
1 Tbsp and a half rice vinegar
1 Tbsp soy sauce
1/2 tsp sugar
1 small red chilli

Line steamer with baking paper or with some cabbage, whatever you like or prefer, so to avoid that the bamboo steamer gets dirty afterwards, it will be difficult to remove traces of fish. Although you can clean the bamboo steamer, it will be more hygenic to put something in between fish and steamer. Cook covered for about 5 minutes or until tuna is just cooked.
Put all other ingredients in a bowl and mix well, cut the red chilli in small pieces and add to the sauce. Serve tuna drizzled with chilli dressing and if you like with with steamed vegetables.